Drs. Thomas and Susan Quinn
(Press Release) DENVER – Optometry Giving Sight has announced that the Vision Source Million Dollar Campaign has now achieved its target. The campaign, which was initiated in April of 2014, sought to increase the amount of funds available to support all of Optometry Giving Sight's funded projects throughout the world, with a specific focus on the proposed new School of Optometry in Haiti. The target was achieved at the recent Vision Source Exchange meeting in San Antonio.
"It's been an incredible effort that has involved all our monthly donors, the member support center teams who raised close to $300,000 as part of the World Sight Day Challenge, key sponsors such as Essilor, CooperVision and Bausch + Lomb, and all the practices who participate in the I Care & Share program, World Sight Day Challenge, Chairman's Club, Mobile Eye Unit campaign or who have made individual gifts," says Clive Miller, CEO of Optometry Giving Sight. "We thank them all sincerely for their support."
The Exchange Meeting was also an opportunity for Optometry Giving Sight to celebrate 59 individuals and practices for their 10 years of continuous monthly giving through its Circle of Sight program. These donors were recognized as its 2016 Philanthropists of the Year.
Dr. Ted McElroy, SECO president and president and CEO of Vision Source Tifton in Georgia, was also honored with the Practice of the Year award for his long-term support of Optometry Giving Sight. Additionally, Drs. Thomas and Susan Quinn of Quinn, Foster & Associates, in Ohio, were honored with the World Sight Day Challenge Achievement award for their staff's enthusiastic commitment to the Challenge since 2007.
"We are so very fortunate to have the support of the Vision Source Leadership, network members and vendor partners," says Clive Miller, CEO of Optometry Giving Sight. "I am grateful to each of them for helping to ensure that we continue to fulfill our mission of funding sustainable eye and vision care projects for those in desperate need throughout the developing world. Thank you to all."
A list of the Philanthropists of the Year can be found here.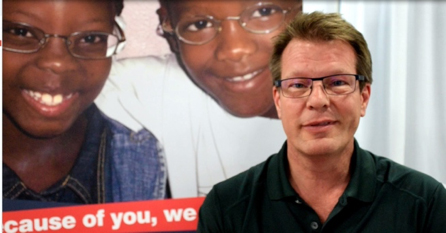 Dr. Ted McElroy
Hear What the Industry Thinks About the Ultimate Lens Package by Essilor
Eye care professionals, patients, and Essilor sales consultants shared their feedback on the Ultimate Lens Package. Watch to see why they believe the innovation behind the lens can make the difference for your practice and for your patients. For more information on the Ultimate Lens Package, contact an Essilor Sales Consultant or click here.
---