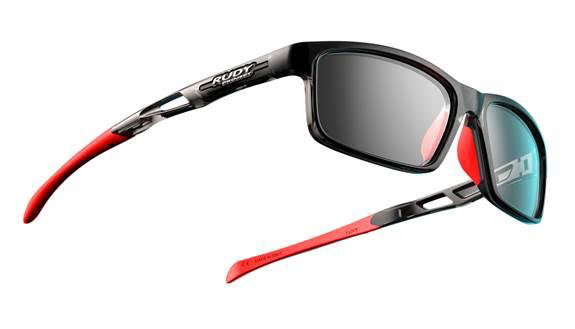 (Press Release) DENVER, CO - Rudy Project, the Italian prescription sports eyewear maker, has revealed the newest frame in its Technically Cool Rx lineup: the Intuition. The new Rx frame utilizes a lightweight Grilamid chassis for high-impact resistance, while streamlined temple arms feature racing accents and are easily adjusted.
"The Intuition takes our Rx game to a whole new level," says Paul Craig, president and co-founder of Rudy Project North America. "Rudy Project has received numerous accolades and recognition for our groundbreaking prescription technology, and this new model simply solidifies our place as an innovator in style and performance prescription solutions. Sporty and practical elements have come to together here to make something that is just flat out cool and functional."
Intuition can be crafted with either in-house Rx lenses made by an optician, or with Rudy Project's ImpactRX-2 lenses, which incorporate a casted substrate originally developed for Apache helicopter windshields with photochromic particles.
Similar to most Rudy Project performance eyewear frames, the Intuition comes standard with fully adjustable temple tips, allowing for a customizable fit. It will launch in three colors and two frame sizes.
For more information, visit e-rudy.com or any authorized optician.
Hear What the Industry Thinks About the Ultimate Lens Package by Essilor
Eye care professionals, patients, and Essilor sales consultants shared their feedback on the Ultimate Lens Package. Watch to see why they believe the innovation behind the lens can make the difference for your practice and for your patients. For more information on the Ultimate Lens Package, contact an Essilor Sales Consultant or click here.
---