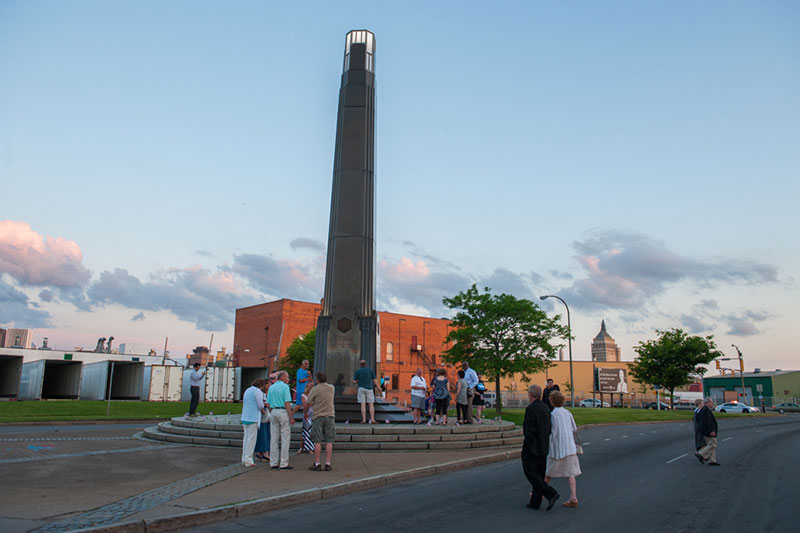 (Press Release) ROCHESTER, NY – Mayor Lovely A. Warren and Bausch + Lomb, a global eye health company, stood with members of the Lomb family and the greater Rochester community as the Henry Lomb Memorial on Upper Falls Boulevard was illuminated for the first time in more than 30 years Monday evening.
"I'm proud that we reclaimed this monument, just like we are reclaiming this park, reclaiming our neighborhoods and reclaiming Rochester," says Mayor Lovely A. Warren. "This memorial symbolizes our legacy – our past, our present and our future as a national leader in innovation and manufacturing. By bringing vibrancy to our Northeast neighborhoods through this restoration effort, we are moving further along in our efforts to create more jobs and better educational opportunities."
During Monday's ceremony, Mayor Warren read the speech initially given by then-Mayor Charles Owen, during the memorial's original dedication on Memorial Day in 1932 as a tribute to Captain Henry Lomb, the co-founder of Bausch + Lomb, for his love for humanity, as well as for the citizens of Rochester and Bausch + Lomb employees. The Lomb monument was gifted to the City of Rochester from the Bausch + Lomb family in front of 40,000 spectators, and was presented as a symbol for success based on hard work, courage, self-sacrifice and devotion to others.
Members of the Lomb family attended Monday's ceremony, which also included performances by Garth Fagan Dance School and the East High School Step Team.
The Lomb family offered the following statement:
"As surviving family members of the late Captain Henry Lomb, we are proud of his legacy and we are honored to be a part of this ceremonial re-dedication of the Henry Lomb Memorial. We thank Mayor Lovely Warren, Pamela Reese Smith, Bausch + Lomb and so many others whose efforts made this rededication possible. We hope that shining light on this memorial of a man who believed in furthering education and bettering our City of Rochester will spark a light and light an inspiration within others of our great city to do the same and continue the legacy of men like Captain Henry Lomb to make Rochester a place we are all proud to call our home."
During the ceremony, George Grobe, vice president of research and development, vision care and surgical, Bausch + Lomb, provided a historical depiction of Henry Lomb including an overview of his vast accomplishments in the greater Rochester area.
"Eighty-five years ago, the City of Rochester dedicated this property to honor the legacy of one of its own, Captain Henry Lomb, a man who inspired many important developments that ultimately helped improve the way we live," says Grobe. "Today Bausch + Lomb continues to carry forward and build upon the legacy of dedication to innovation, quality, and craftsmanship established by its founders. Therefore, it is only fitting that we take a moment on Memorial Day to reflect on what Captain Lomb has meant to our community, to our company, and to many lives he helped improve."
It has been 85 years since the City of Rochester named the property "Lomb Memorial Park" in 1931. It was also at this time when work began to design the unique memorial, which today stands as a classic example of mid-century Art Deco sculpture. Designed by Rochester architect Walter Cassebeer, (the first Rochester architect to be trained at the Ecole des Baeux Arts in Paris), the 48-foot tall obelisk is constructed of black Minnesota granite, cast aluminum and glass. On each of the four sides of the shaft are inscriptions expressing Capt. Lomb's various interests as patriot, philanthropist and community leader.
The relighting of the Lomb Memorial is part of a broader effort to restore Lomb Memorial Park, which is bounded by Lowell Street, St. Paul Street and Upper Falls Boulevard, to create a gateway to the city's Northeast neighborhoods.
Hear What the Industry Thinks About the Ultimate Lens Package by Essilor
Eye care professionals, patients, and Essilor sales consultants shared their feedback on the Ultimate Lens Package. Watch to see why they believe the innovation behind the lens can make the difference for your practice and for your patients. For more information on the Ultimate Lens Package, contact an Essilor Sales Consultant or click here.
---