(Press Release) TORRANCE, CA – Transitions Signature Flat Top 28 polycarbonate composite lenses are now available in both gray and brown.
Transitions Signature brown is the color of choice for many patients, both for fashion and to enhance contrast. This new lens provides an opportunity for eyecare professionals to heighten the satisfaction of patients who wear polycarbonate bifocals.
"Despite growing demand for progressive and digital designs, there is still a significant demand in the market for segmented lenses," says Catherine Rauscher, global director for lenscaster partners, Transitions Optical. "Offering patients a choice of color in the leading photochromic technology will allow eyecare professionals to meet this demand and enhance their patients' satisfaction."
"Younger Optics and Transitions Optical have developed a polycarbonate composite lens that incorporates a thin photochromic front surface bifocal layer made of Trivex – resulting in a lens delivering Transitions Signature VII performance and superb segment cosmetics in a product that is surfaced, polished, edged and dispensed just like a clear polycarbonate lens," says David Rips, president and CEO of Younger Optics.
Transitions Signature polycarbonate composite flat top 28 lenses are now available in both gray and brown exclusively from Younger Optics. Contact Younger Optics customer service at 1-800-366-5367 to find a distributing optical laboratory. Technical specifications can be referenced at youngeroptics.com/transitions.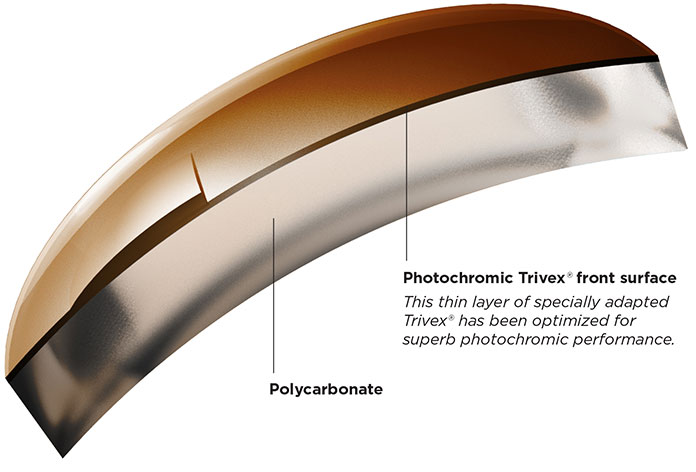 Hear What the Industry Thinks About the Ultimate Lens Package by Essilor
Eye care professionals, patients, and Essilor sales consultants shared their feedback on the Ultimate Lens Package. Watch to see why they believe the innovation behind the lens can make the difference for your practice and for your patients. For more information on the Ultimate Lens Package, contact an Essilor Sales Consultant or click here.
---