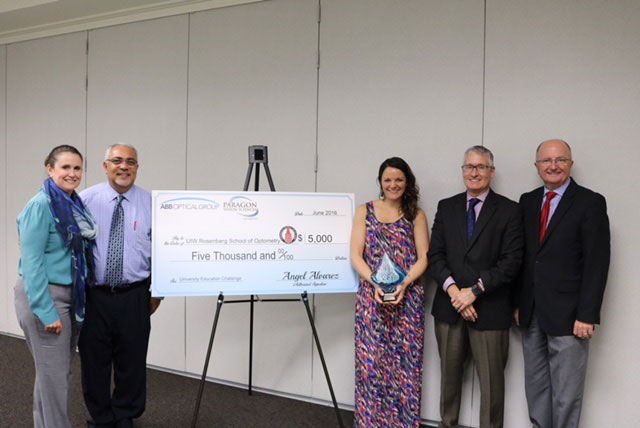 Left to right: Kristine Benne, Dr. Farshid Amir, Amy Belloli-Conner, Dr. William Miller, Dr. Timothy Wingert
(Press Release) CORAL SPRINGS, FL – ABB Optical Group announced that the UIW Rosenberg School of Optometry won the first University Education Challenge, a program hosted by ABB Optical and Paragon Vision Sciences to support the optometrists of tomorrow. The San Antonio-based school, which competed against six other colleges for the honor, received a $5,000 unrestricted educational grant as its prize.

UIW won based on the attendance and survey results of a webinar created and presented by third-year student Amy Belloli-Conner. Faculty members Dr. Farshid Amir and Dr. William Miller oversaw her efforts. Belloli-Conner's webinar focused on the importance of contact lens cleaning and compliance after physical activities such as mud runs, color runs and water slide adventures.

"We decided to take what might not be the most interesting topic and spice it up to make it more relatable and engaging," says Belloli-Conner, president of UIWRSO's Contact Lens Society. "Although races are fun, everyone should be mindful of bacteria that can harbor on contact lenses after participating in events like that, as well as the steps that can be taken to avoid negative effects."
ABB Optical announced UIW as the winning college at the 2016 Association of Optometric Contact Lens Educators (AOCLE) meeting in June. In addition to the $5,000 grant presented to the college, ABB Optical and Paragon Vision Sciences also awarded $500 to Belloli-Conner.
Other schools that participated in the challenge included runner-up Indiana University School of Optometry, the New England College of Optometry, Pacific University College of Optometry, Salus University Pennsylvania College of Optometry, Southern College of Optometry, and the University of Missouri College of Optometry.
Colleges were represented by third-year students who created and presented live, online webinars on contact-lens related topics. Held monthly from September through May, presentations were judged on overall webinar attendance as well as the scores of post-webinar surveys emailed to all optometrists and optometry students who viewed the webinar.
Speaking about the success of the program, GP Lens Institute Executive Director Ed Bennett, OD, says, "The University Challenge is an exemplary program fostering the next generation of leaders. It presented a great opportunity for students to get more involved in the industry, gain confidence and leadership skills, and inspire their peers."
For more information, visit ABBconcise.com/UniversityChallenge.
Hear What the Industry Thinks About the Ultimate Lens Package by Essilor
Eye care professionals, patients, and Essilor sales consultants shared their feedback on the Ultimate Lens Package. Watch to see why they believe the innovation behind the lens can make the difference for your practice and for your patients. For more information on the Ultimate Lens Package, contact an Essilor Sales Consultant or click here.
---