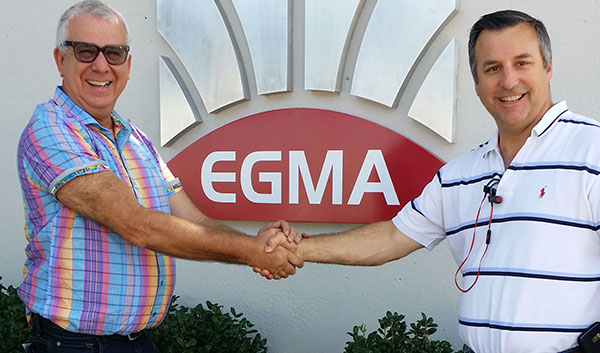 EGMA VP Alan Yuster and Ocuco Lab Division representative Brian Boddy
(Press Release)
DALLAS, TX – EGMA and Ocuco, an optical retail software company, have announced a partnership to manufacture progressive lenses utilizing Ocuco's proprietary software, Contour.
Contour ADT combines new digital free form designs with advanced fitting technology to provide patients with progressive lenses. Developed by the same team responsible for Innovations, Contour's adaptive design technology provides an interface that assesses active patient feedback to determine their ideal lens design based on each individual's needs. The process takes less than three minutes and includes lens treatments, accessory and additional pair suggestions to support the eyecare professional's recommendations.
"This new technology that EGMA is privileged to be the first to introduce is a natural extension of our eyeonx portfolio of lenses," says EGMA VP Alan Yuster. "The X100 is a non-compensated digitally manufactured lens where the refraction and lensometer values are equal. The X300 lenses are compensated by calculation for as worn, i.e. pantoscopic tilt, vertex and wrap. The X500 is personalized by individual measurements for the as worn individual measurement, and now the X700 Contour ADT is the perfect extension, allowing all the benefits of X500 with further individualization by preference and lifestyle."
All prescriptions are manufactured in the EGMA Optical Laboratory in Dallas, Texas. The software and lenses will be launched at Vision Expo West, Sept. 14 and may be seen at Ocuco's booth, #MS5072.
Hear What the Industry Thinks About the Ultimate Lens Package by Essilor
Eye care professionals, patients, and Essilor sales consultants shared their feedback on the Ultimate Lens Package. Watch to see why they believe the innovation behind the lens can make the difference for your practice and for your patients. For more information on the Ultimate Lens Package, contact an Essilor Sales Consultant or click here.
---