(PRESS RELEASE) Denver, CO – Rudy Project has announced an addition to the brand's 2017 performance sunglass lineup: the Fotonyk.
"Everyone at Rudy couldn't be more proud and excited to unveil the Fotonyk sunglass to our athletes, pros and weekend warriors alike, the ultimate gear piece they won't even notice is on and definitely won't want to take off," said Paul Craig, president and co-founder of Rudy Project North America. "Our design team spent years dreaming up a sunglass that is functional, fast, practically weightless at 0.89 ounces and, more importantly, totally customizable. A perfect match for any sport or any kit, the Fotonyk is sure to show up on the faces of all types of athletes all over the world wanting to show their colors and personal style."
The Fotonyk features a new Lens Bumper system crafted from a soft and resilient polymer. The feature is designed to offer enhanced protection to the face during falls or impacts, while offering a customizable and unique look. Independently mounted on the frame and secured with a smart lock system, the bumpers can be removed to create a half-rim lens with an unobstructed view. Bumpers are available in a range of colors and are interchangeable for individual style.
The Fotonyk also features air channels placed at the top of the lens where heat accumulates during activity. Users can manage the internal airflow with a single click up or down of the lens. Air also circulates in and out through large vents inside the temples for reduced aerodynamic drag and optimized fog control.
The frames additionally feature the new ErgonoseX, allowing the user to fully adjust the nosepiece.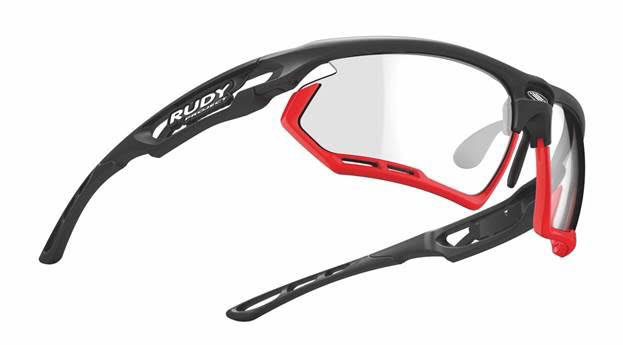 Rudy Project has announced an addition to the brand's 2017 performance sunglass lineup: the Fotonyk.
Hear What the Industry Thinks About the Ultimate Lens Package by Essilor
Eye care professionals, patients, and Essilor sales consultants shared their feedback on the Ultimate Lens Package. Watch to see why they believe the innovation behind the lens can make the difference for your practice and for your patients. For more information on the Ultimate Lens Package, contact an Essilor Sales Consultant or click here.
---