It's a 4,000-square-foot facility.
COLLEGEVILLE, PA -- The Eye Designs Group, which creates custom ophthalmic environments, announced the opening of its West Coast Showroom and Design Center located in Chino, CA.
According to a press release: "The new location allows The Eye Designs Group to deliver its inspiring customer experiences more efficiently to customers throughout the region. Clients throughout the Mid-West and West Coast will find this Southern California location a convenient way to access the latest in ophthalmic interiors and design along with the ability to experience the latest in retail technologies to help their optical environments excel."
The 4,000-square-foot facility houses multiple showrooms of optical displays and ophthalmic furniture and a full-service design center, along with corporate offices for regional sales representatives and interior designers.
Eyecare providers who are building or renovating an office can tour the facility and view an array of display collections as well as a comprehensive ORVOS Exam Environment console showroom. They can also see the latest in retail performance lighting through the LUM Retail Lighting Group, demo multiple merchandising and branding systems and see the newest merchandising technology "experience centers" through the Intelligent Retail Integrated Solutions division.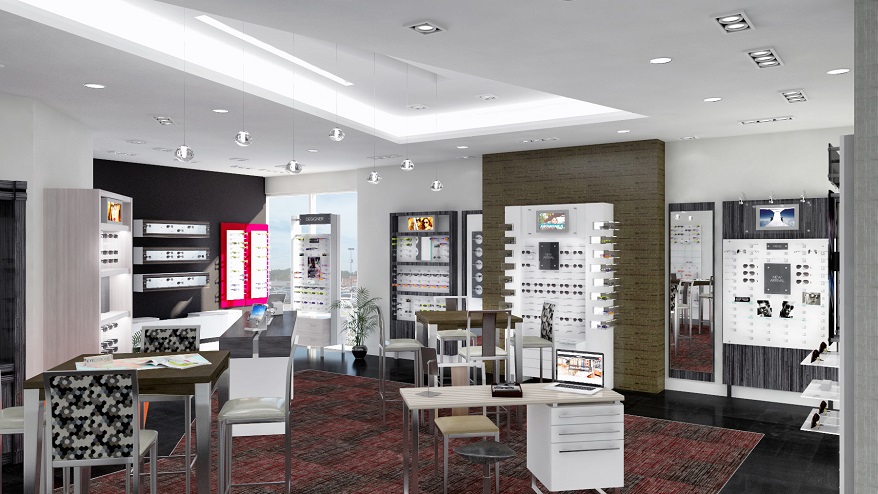 The Eye Designs Group opened its West Coast Showroom and Design Center, shown here, in Chino, CA.
Hear What the Industry Thinks About the Ultimate Lens Package by Essilor
Eye care professionals, patients, and Essilor sales consultants shared their feedback on the Ultimate Lens Package. Watch to see why they believe the innovation behind the lens can make the difference for your practice and for your patients. For more information on the Ultimate Lens Package, contact an Essilor Sales Consultant or click here.
---