It's reached 2,630 attendees.
(Press Release) The Vision Council secured a broadcast segment on afternoon news and lifestyle show KVUE ABC Austin Midday, garnering 21,368 viewers as part of its South by Southwest presence to share its blue light, digital eye strain and lens technology messaging.
Additionally, The Vision Council executed appointments with outlets such as "CNN en Español," Cheddar.com, Engadget.com, U.S. News World & Report and Optometry/Ophthalmology Web, as well as select fashion, lifestyle and health bloggers, to ultimately secure coverage surrounding this topic. Since unveiling its official health lounge at SXSW last Friday, The Vision Council has reached 2,630 attendees.
Jenn Falik, style guru and official ambassador of The Vision Council's blue light/digital eye strain consumer outreach campaign, made an appearance at Austin Midday to discuss the harmful effects of blue light on the eyes, the causes and symptoms of digital eye strain and the lens technology solutions available. She encouraged viewers to visit an eyecare provider for an annual eye exam, to discuss their digital device usage and to obtain a unique pair of frames with lenses to suit their specific eye health needs.
To further illustrate the message that lenses with blue light-filtering and anti-glare properties can be incorporated into any pair of frames – so style doesn't have to be sacrificed for eye health – Falik showcased on-trend glasses from Eyewear & Accessories Division members ClearVision Optical, Kenmark Group, Marcolin Group and WestGroupe, as well as Sunglass & Reader Division members FGX International, GUNNAR and Shwood Eyewear. The glasses were outfitted with lenses from Lens Division members Essilor, Hoya and Sutherlin Optical. To view a clip of the segment, click here.
The Vision Council is sponsoring the official health lounge at SXSW – titled "The T-Eye-Me Out Lounge: Give Your Eyes a Break with The Vision Council" – located in the Austin Convention Center and open to all conference badge-holders. Dr. Justin Bazan, and medical adviser to The Vision Council, as well as Falik have been on-site to meet with conference-goers and attending media.
A full recap from the event will be shared with The Vision Council's membership in coming weeks.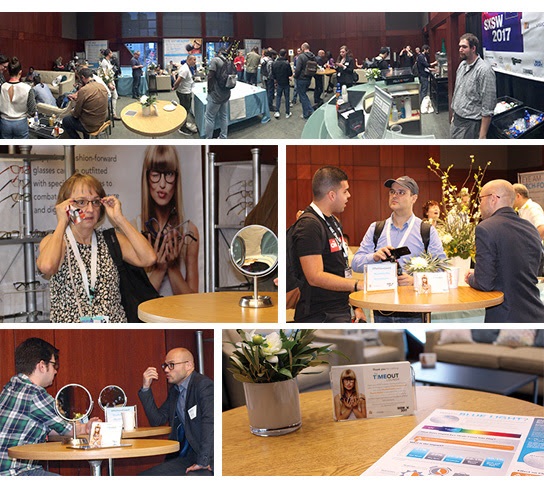 Hear What the Industry Thinks About the Ultimate Lens Package by Essilor
Eye care professionals, patients, and Essilor sales consultants shared their feedback on the Ultimate Lens Package. Watch to see why they believe the innovation behind the lens can make the difference for your practice and for your patients. For more information on the Ultimate Lens Package, contact an Essilor Sales Consultant or click here.
---