Illinois College of Optometry took home top honors.
(Press Release) DALLAS – The Essilor Optometry Student Bowl (OSB) is always a popular part of Optometry's Meeting, and this year was no exception.
Essilor of America once again pulled out all the stops to celebrate the 26th annual OSB held at Optometry's Meeting in Washington, DC. More than 2,000 attendees gathered to watch the contestants -- students from all 24 schools and colleges of optometry -- answer optometry-related questions while their fellow classmates energetically cheered them on wearing war paint, school colors and displaying brightly colored banners. This year, the OSB also welcomed the University of Pikeville, Kentucky College of Optometry as a first-time participant.
In addition to bragging rights, the winning school, Illinois College of Optometry, took home $1,000 and the coveted crystal trophy, renamed the "Ventura Cup" last year to honor Danne Ventura, FAAO, one of the event's founders. The winning question was: "You are performing retinoscopy on a baby's aphakic eye using loose trial lenses at a working distance of 40 cm. Your result is +22.50 DS at a vertex distance of 10 mm. What soft contact lens power should be ordered?" It was answered by Taylor Harris, class of 2018. (The answer was +25.00 Diopters.)
Second-place winner Fernando Elias from the New England College of Optometry received $750 and third-place winner Brennen Yaquinto from the Ohio State University received $500.
As in previous years, each OSB contestant was presented with a Volk Pan Retinal 2.2 blue ringed lens, generously donated by Volk Optical President Pete Mastores.
Additional awards included:
Spirit Award: University of Missouri at St. Louis (UMSL) which will create next year's rules video
The social media-based Virtual Spirit Award was a tie between: Kentucky College of Optometry and Northeastern State University at Oklahoma
AOSA t-shirt design competition: Massachusetts College of Pharmacy and Health Science (MCPHS)
"Year after year, the Essilor Optometry Student Bowl continues to be a highlight of the conference and this year is no exception," said Rod Tahran, OD, FAAO, vice president of professional relations and clinical affairs for Essilor of America and event co-creator. "We have had the privilege of challenging optometry students by putting their knowledge into practice in a fun and competitive setting for more than 25 years, and it's been an honor to watch them excel in furthering their own careers and while making a lasting impact on the industry."
This year's panel of judges included:
Lead Judge - Dr. Linda Casser, professor, Pennsylvania College of Optometry at Salus University; author, educator, clinician, and 1997 American Optometric Association (AOA) Optometrist of the Year.
Dr. Diane Adamczyk, author, lecturer and professor at State University of New York College of Optometry and 2016 PCO Alumna of the Year.
Dr. Joe Shovlin, president of the American Academy of Optometry (AAO), 2012 AOA-CLSC Legend Award winner who holds positions with Review of Optometry, Optometric Management, and Contact Lens Spectrum.
Dr. Samuel Pierce, VP of the AOA, UAB 2010 Alumnus of the Year, past-president of the Alabama Optometric Association and in private practice in Trussville, Alabama.
Dr. Karla Zadnik, past president, AAO, dean at the Ohio State University College of Optometry, 2014 National Optometry Hall of Fame Inductee and past president of ASCO.
For more information and to see some of the excitement from this year's Essilor Optometry Student Bowl, visit https://www.facebook.com/variluxoptometrystudentbowl/.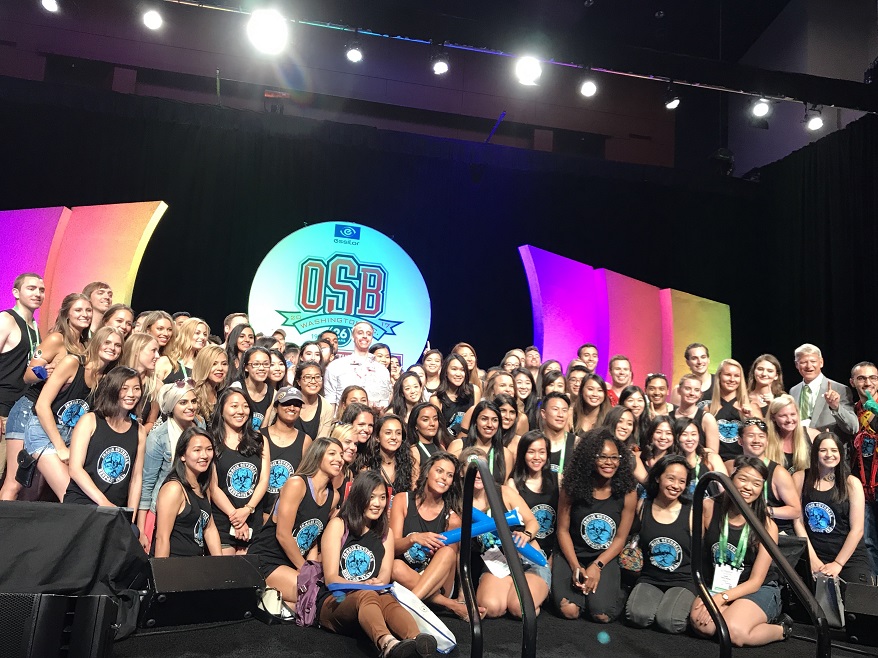 Students from the Illinois College of Optometry celebrate winning the Essilor Optometry Student Bowl.
Hear What the Industry Thinks About the Ultimate Lens Package by Essilor
Eye care professionals, patients, and Essilor sales consultants shared their feedback on the Ultimate Lens Package. Watch to see why they believe the innovation behind the lens can make the difference for your practice and for your patients. For more information on the Ultimate Lens Package, contact an Essilor Sales Consultant or click here.
---