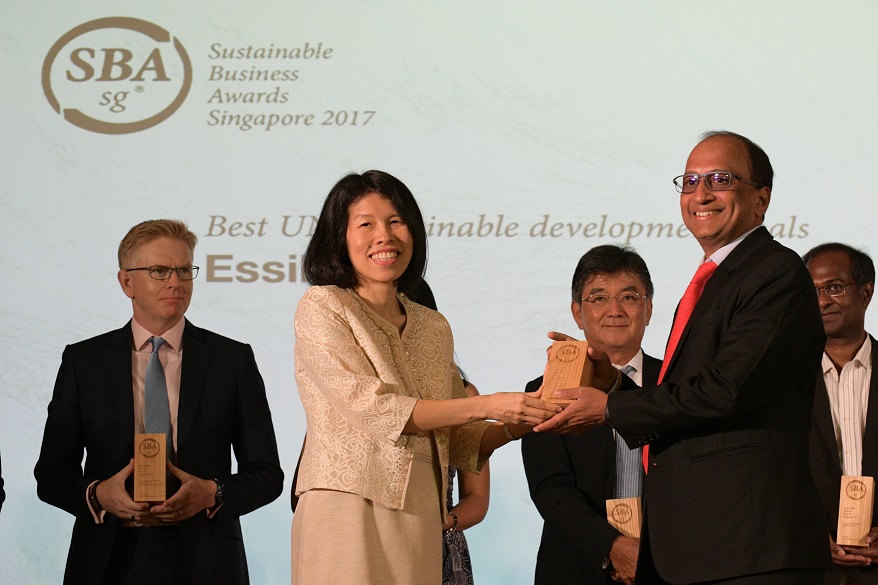 Amy Hing, policy deputy secretary, Ministry of the Environment and Water Resources, presents Jayanth Bhuvaraghan, Essilor's chief mission officer, with the award.
The firm contributes to 13 of 17 UN Sustainable Development Goals.
(Press Release) CHARENTON, FRANCE – Essilor was recognized by the Sustainable Business Awards, Singapore, in this year's newly added category "UN Sustainable Development Goals: Understanding the company's roles and initiatives in working to deliver the UN SDGs."
This award celebrates Essilor's commitment to responsibly fighting the world's largest disability, uncorrected poor vision. Through Essilor's Mission and the sustainable approach Essilor has adopted across its value chain, the company contributes to 13 out of 17 UN Sustainable Development Goals.
Essilor Chairman and CEO Hubert Sagnières said: "Essilor's mission to improve lives by improving sight, combined with the company's unique principles and values, are at the heart of the Group's long-term commitment to sustainable development. This award will help raise awareness that good vision is one of the key enablers to the Global Goals and help us achieve our Mission to bring good vision to all."
Essilor Chief Mission Officer Jayanth Bhuvaraghan said: "I am delighted to accept this award on behalf the 64,000 employees of Essilor. Our mission to responsibly provide everyone, everywhere, with quality vision care, pushes us to go further in our sustainability commitments. We're very proud of our team's achievements and stay strongly committed to the Sustainable Development Goals."
Read more on Essilor's contribution to the Sustainable Development Goals.
Hear What the Industry Thinks About the Ultimate Lens Package by Essilor
Eye care professionals, patients, and Essilor sales consultants shared their feedback on the Ultimate Lens Package. Watch to see why they believe the innovation behind the lens can make the difference for your practice and for your patients. For more information on the Ultimate Lens Package, contact an Essilor Sales Consultant or click here.
---