He's an assistant clinical professor.
(Press Release) Paul M. Karpecki, O.D., FAAO, has joined the faculty at the University of Pikeville-Kentucky College of Optometry as an assistant clinical professor.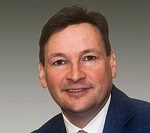 Karpecki received his doctor of optometry degree from Indiana University and completed a fellowship in medical cornea and refractive surgery in Kansas City in affiliation with the Pennsylvania College of Optometry, now Salus University. He previously served as the director of corneal services for The Advanced Ocular Surface Disease Center and Research at Kentucky Eye Institute in Lexington, KY, as well as the ocular surface disease clinic for Gaddie Eye Centers in Louisville, KY. Karpecki is also completing a preceptorship in advanced retinal disease management at Retina Associates of Kentucky.
Karpecki's accolades include an appointment to the Delphi International Society at Wilmer-Johns Hopkins, which included the top 25 dry eye experts in the world and the National Eye Institute's Dry Eye Committee to provide insights around dry eye and women. He also co-chaired the Dry Eye Summit for the profession, was a director in the Canadian Journal of Optometry-Optometric Dry Eye Guidelines, was selected for the Dry Eye Workshop II diagnostic sub-committee and appointed co-chair of the Tear Film and Ocular Surface Society Symposium that took place in Montpellier, France. Most recently, Karpecki was selected to moderate the presentation of Dry Eye Workshop II to the U.S. Congress on Capitol Hill.
A noted educator and author, Karpecki has given more than 1,000 invited lectures at various conferences and symposia covering four continents. He has also authored more than 1,000 papers in journals, book chapters, clinical e-blasts and newsletters.
Furthermore, he has been listed as one of the most influential optometrists in the areas of ocular surface disease and contact lenses as well as overall in the profession, based on surveys received from more than 1,800 of his peers and colleagues in the optometric profession. Karpecki serves as the chief clinical editor for Review of Optometry, the most widely read journal within the optometric profession, is a fellow of the American Academy of Optometry and also serves as a board member for the charity, Optometry Giving Sight.
Hear What the Industry Thinks About the Ultimate Lens Package by Essilor
Eye care professionals, patients, and Essilor sales consultants shared their feedback on the Ultimate Lens Package. Watch to see why they believe the innovation behind the lens can make the difference for your practice and for your patients. For more information on the Ultimate Lens Package, contact an Essilor Sales Consultant or click here.
---