(PRESS RELEASE) DAYTONA BEACH, FL – Designed for life on or near the coast, Costa has debuted two new lightweight frames made from corrosion-free titanium within its Beach Collection. The Piper, a petite aviator, and the Canaveral, a traditional navigator style, will be available for eyecare professionals to order in early December. Built off of the success of Costa's popular Cook and Shipmaster styles, the introduction of Piper and Canaveral will allow Costa to establish a more robust Beach Titanium Metal family of lifestyle frames within the Beach Collection.
"The Piper and Canaveral are top-trending frame shapes right now, and will appeal to the water lover who is spending time on the boat, dock or back deck," said John Sanchez, vice president, product development, Costa. "We're blending function with style with these pieces by building them with lightweight titanium and custom color rubber temple tips. Wearers can also now choose from more unique combinations of colors, textures and patterns for their frames. A soft Satin Rose Gold and rich Velvet Silver are two of the new colorways available in the Piper, for example."

Introducing a smaller aviator style, the Piper is a lightweight yet strong titanium metal frame. Built for young coastals with its bright colorways and trendy double-brow bar, the comfortable Hydrolite nosepads and temple sleeves enable the frame to stay put while providing a natural flex. Color options for this unisex, 6 base frame include Shiny Black, Shiny Gold, Velvet Silver and Satin Rose Gold.

The Canaveral incorporates a large 6-base, top-trending square navigator shape constructed with an ultra-strong, lightweight titanium front frame and beta-titanium temples for natural spring, flex action. Similar to the Piper, the Hydrolite nosepads and temple tips provide optimal comfort and prevent slippage. The Canaveral is a large-fit male frame and is available in colors including Shiny Palladium, Satin Black, Shiny Gold and Brushed Gray.
A Growing Beach Titanium Metal Family
The launch of the Piper and Canaveral complement the availability of the Shipmaster and Cook, establishing a wider Beach Titanium Metal family of lifestyle frame options within Costa's Beach Collection. The Beach Titanium Metal family offers options for both men and women, as well as small and large faces. All four lightweight titanium frames boast corrosion-free properties and feature flexible beta titanium temples.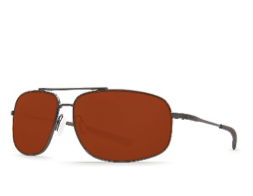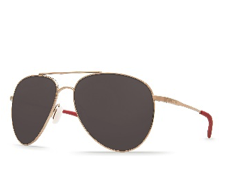 All polarized, no matter which lens the wearer chooses, the Piper and Canaveral feature Costa's 580 patented lens technology that filters out harsh yellow light and harmful shortwave blue light, while enhancing red, green and blue hues. Depending on their frame colorway or lens material selection, Beach Collection wearers who choose either the Piper or Canaveral can also now select the Gray Silver Mirror lens, which is ideal for bright light situations. The Piper and Canaveral range in price from $219-$299 and are available in plano and customized Rx, making them an option for patients to purchase for a gift or using end-of-the year flex spending dollars.
SPONSORED VIDEO: VISION SOURCE
Optometric Practice in a Small Town
Practicing in a small town gives you the diversity and opportunities to practice full-scope optometry. See how one OD found professional and personal fulfillment in a small town.