He previously worked for Fossil Group.
(Press Release) RANCHO CORDOVA, CA — VSP Global announced that it has hired Bill Vaughan as president of VSP Retail, the company's line of business formerly known as VSP Omni-Channel Solutions.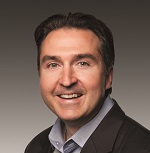 Vaughan will be responsible for developing the company's strategic direction and growth plans across all domestic and international retail initiatives.
He will oversee the strategy for the company's online and offline business models including Eyeconic, onsite clinics, retail stores, and Eye Designs, which offers design services and product displays for eye care practices. Additionally, Vaughan will also oversee strategy for the company's innovation lab, The Shop. Vaughan steps into the role as president following the retirement of Steve Wright in April 2017. He will report directly to the interim CEO.
"Within VSP Retail, we remain focused on strengthening the connection between patients and their eye doctor through the delivery of memorable consumer experiences," said Rob Lynch, VSP Global board member and interim CEO. "Bill brings nearly 25 years of experience and expertise across retail, franchising, fashion, and healthcare which will help us position the business for continued success."
Vaughan joins VSP Global from Fossil Group, the global design, marketing, distribution and innovation company specializing in lifestyle and smartwatch accessories, where he most recently served as vice president of global partnerships and travel retail, as well as vice president of global franchising. Previously, he worked for Pearle Vision Inc., a Luxottica Group company, in a variety of roles from 2001 to 2012, including as vice president of franchising and business development, where he led new growth strategies and execution for North America.
"Consumers are looking for more convenience and choice in their eye care and eyewear experiences, including differentiated retail offerings," said Vaughan.
"I'm excited to build on the foundation VSP has established in this space, while also supporting new opportunities for professional optometry across the spectrum of practice modalities."
Hear What the Industry Thinks About the Ultimate Lens Package by Essilor
Eye care professionals, patients, and Essilor sales consultants shared their feedback on the Ultimate Lens Package. Watch to see why they believe the innovation behind the lens can make the difference for your practice and for your patients. For more information on the Ultimate Lens Package, contact an Essilor Sales Consultant or click here.
---