(PRESS RELEASE) ACKSONVILLE, FL – Johnson & Johnson Vision announced the U.S. launch of expanded parameters for 1-Day Acuvue Moist brand contact lenses for astigmatism, a daily disposable contact lens that offers patients Blink-Stabilized Design for clear, stable vision and Lacreon Technology that provides a cushion of moisture for long-lasting comfort.
Nearly one out of every two vision-corrected patients have astigmatism in at least one eye, and full correction can provide them with improved visual quality of life. With the addition of 48 percent more lens parameters for patients with astigmatism, the 1-day Acuvue Moist brand contact lens family now offers coverage for nearly 96 percent of spherical and astigmatic eyes and the Acuvue family of 1-Day contact lenses for astigmatism now offers the largest range of parameters among daily disposable contact lenses.
Astigmatism is an imperfection in the curvature of the cornea that can cause blurred or distorted vision. Symptoms of uncorrected astigmatism may include eye strain and headaches, especially after reading or other prolonged visual tasks. Squinting also is a common symptom. Mild to moderate astigmatism can be corrected through eyeglasses, contact lenses or surgery.
"With nearly half of patients requiring correction for astigmatism in at least one eye, having access to 2,260 parameters helps ensure that nearly every astigmatic contact lens patient has the opportunity to try a leading daily disposable lens with 1-day acuvue moist for astigmatism," said Giovanna E. Olivares, OD, Global Astigmatism Platform Director, Johnson & Johnson Vision Care Inc. "And for the doctor and staff, being able to fit patients who previously may not have considered contact lenses at all is one more way that practices can deliver exceptional patient care."
The proprietary Blink-Stabilized Design found in 1-Day Acuvue Moist for astigmatism works naturally with the eyelids, helping to keep the lens in the correct position. Lacreon Technology embeds a moisture-rich wetting agent into the lens creating a cushion of moisture that won't blink away over time. The result is reduced friction of the lens and greater end-of-day comfort.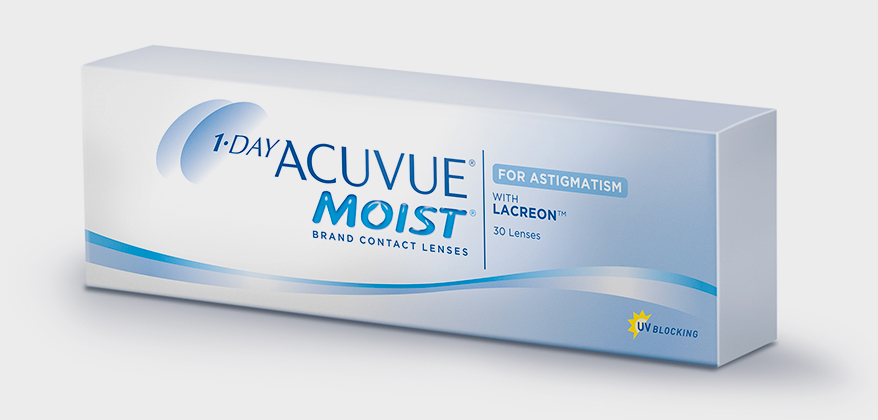 Hear What the Industry Thinks About the Ultimate Lens Package by Essilor
Eye care professionals, patients, and Essilor sales consultants shared their feedback on the Ultimate Lens Package. Watch to see why they believe the innovation behind the lens can make the difference for your practice and for your patients. For more information on the Ultimate Lens Package, contact an Essilor Sales Consultant or click here.
---