(PRESS RELEASE) SALT LAKE CITY, UT — Streampage, a SaaS marketing automation company, is turning heads in the optical industry with the release of its push-button marketing platform which empowers eyecare professionals to better connect with their customers.
Unlike current marketing automation providers in the optical space, Streampage's innovative technology allows eyecare professionals to send pre-packaged marketing messages within minutes, not hours. No training is required.
"Our intelligent platform doesn't just do the heavy lifting, it does all the lifting. Streampage takes the relationships eyecare professionals already have with their customers and infuses them with valuable, personalized content so that they come to life," says Streampage CEO and Founder, Jon Schmitt.
To accomplish this, Streampage is actively developing strategic partnerships with world-class lens and frame manufacturers. These manufacturers supply expertly-written content that eyecare professionals can then send directly to their customers' email inboxes via the Streampage system. This results in a win-win-win scenario for all parties involved. Customers receive personalized content that helps them make informed purchases, eyecare professionals enhance their credibility and develop better relationships with their clients, and manufacturers expand their brand's reach.
No other marketing automation provider uses this same model. Instead, they expect optical professionals to spend time creating their own content. Streampage is different. Here's how:
Streampage enables optical practices to launch social and email campaigns in 1/500th of the time when compared to other tools.
More for less. Streampage's patent-pending technology delivers double the engagement while sending a third of the emails when compared with other tools.
Happy customers. Since 2013, Streampage has retained 96 percent of its customers.
Drives real results. Streampage customers experience an average 250 percent ROI.
Streampage's unique content distribution method ensures that eyecare professionals only send content of the highest quality to their customers—content created solely by industry experts as opposed to watered down materials written by some marketer who did a a Google search on optical trends. Most importantly, you don't have to be a marketing guru to use Streampage. The technology and user-friendly platform are as easy to use as Netflix.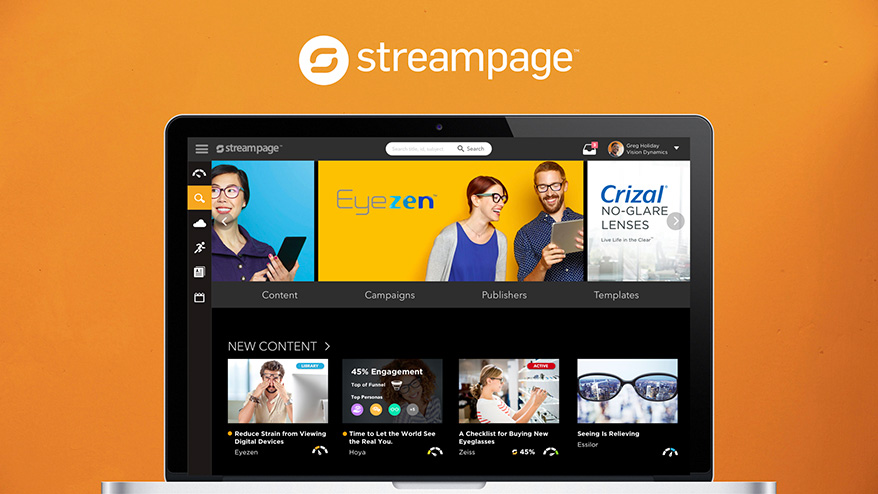 Hear What the Industry Thinks About the Ultimate Lens Package by Essilor
Eye care professionals, patients, and Essilor sales consultants shared their feedback on the Ultimate Lens Package. Watch to see why they believe the innovation behind the lens can make the difference for your practice and for your patients. For more information on the Ultimate Lens Package, contact an Essilor Sales Consultant or click here.
---