(press release) NStonehenge NYC, a real estate company in Manhattan, announced that Moscot had opened a store at 555 Sixth Ave., the retail portion of the residential building 101W15.
Moscot is an eyewear brand that has been in business for over 100 years. It operates four stores throughout New York City as well as an e-commerce site. Moscot also has four global locations: London, Rome, Seoul and Tokyo.
The newest store has floor-to-ceiling panoramic windows directly on Sixth Avenue and the space incorporates Moscot's classic design elements, beginning with the tin ceilings that add a reflective glow to the space (a feature in every Moscot store). Other distinctive design elements include the Peg and Groove throne chairs and custom-crafted "Fan-do-liers," which illuminate and fan customers. The vintage "Fig Trays" to hold the glasses pay homage to Grandpa Sol, 2nd Generation, who repurposed wooden trays used to package figs as optical trays back in the 1930s.
Podcast: Chatting With America's Finest Optical Retailer
Dee Carroll talks with Todd Rogers about how he built his award-winning business.
SPONSORED BY INVISION
"We are excited that Moscot chose to relocate to 555 Sixth Ave. from their Union Square shop," said Ofer Yardeni, CEO and chairman of Stonehenge NYC. "This unique store and luxury brand is the perfect addition to the Stonehenge NYC retail portfolio."
"Great Grandpa Hyman (Moscot founder) started with humble beginnings, selling eyeglasses from a pushcart along Orchard Street at the beginning of the twentieth century," said fourth-generation Moscot and CEO Dr. Harvey Moscot. "We are continuing this tradition of pushing our cart in a 21 century way and are excited to join Stonehenge NYC in our newest location."
Moscot is open Monday though Friday 10 a.m. to 7 p.m., Saturday 10:30 a.m. to 6 p.m., and Sunday noon to 6 p.m.
To view the Moscot space, visit: https://shm.nyc/Moscot-101W15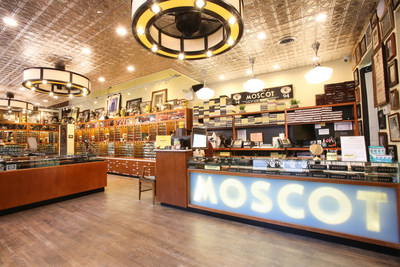 SPONSORED VIDEO: VISION SOURCE
Optometric Practice in a Small Town
Practicing in a small town gives you the diversity and opportunities to practice full-scope optometry. See how one OD found professional and personal fulfillment in a small town.