(PRESS RELEASE) DALLAS, TX – The Essilor Optometry Student Bowl is always a popular part of Optometry's Meeting, and this year was no exception. Essilor of America, manufacturer of optical lenses, celebrated the 27th annual OSB held at Optometry's Meeting in Denver, CO. More than 700 attendees gathered to watch the contestants — students from all 25 schools and colleges of optometry — answer optometry-related questions while their fellow classmates cheered them on wearing war paint, school colors and displaying brightly colored banners. This year, the OSB also welcomed the Chicago College of Optometry as a first-time participant.
"Essilor is committed to creating value for our students and investing in the future of our industry. We are honored to host the Optometry Student Bowl again this year, which continues to be a highlight of the conference" says Dr. Ryan Parker, director of professional relations at Essilor of America, "The passion and excitement created was contagious and we always appreciate seeing the creativity, innovation and team spirit that is fostered through this fun and competitive setting."
In addition to bragging rights, the winning school, Northeastern State University College of Optometry, took home $1,000 and will house the coveted crystal trophy until next year's meeting in St. Louis, MO. The winning question below, was answered by David Hurd, class of 2019.
"What toric soft contact lens axis would you order based upon the data below?" Spectacle Rx OS: -1.00 -1.75 x 080; Diagnostic CL OS: -1.00 -1.75 x 070; Rotation: 10° nasal (Answer 90°)
Second-place winner Steve McArty, from the Illinois College of Optometry, received $750 and third-place winner Jimmy Nguyen, from the New England College of Optometry, received $500.
As in previous years, each OSB contestant was presented with a Volk Pan Retinal 2.2 blue ringed lens, generously donated by Volk Optical President Dr. Jyoti Gupta. In addition, the first place winner was presented with a suite of 6 Volk diagnostic lenses.
Podcast: Chatting With America's Finest Optical Retailer
Dee Carroll talks with Todd Rogers about how he built his award-winning business.
SPONSORED BY INVISION
Additional Awards
The Spirit Award went to Southern California College of Optometry, who will create next year's "rules video" that is played at the beginning of the event.
The social media-based Virtual Spirit Award was given to four schools: Kentucky College of Optometry, Northeastern State University at Oklahoma, Southern California College of Optometry and University of Houston College of Optometry.
AOSA T-shirt design competition winner was Southern California College of Optometry.
This year's prestigious panel of judges included:
Lead Judge - Dr. Linda Casser, professor, Pennsylvania College of Optometry at Salus University; author, educator, clinician, and 1997 American Optometric Association (AOA) Optometrist of the Year.
Dr. Diane Adamczyk, author, lecturer and professor at State University of New York College of Optometry and 2016 PCO Alumna of the Year.
Dr. Jeffery Walline, representing the American Academy of Optometry, is Associate Dean of Research at the Ohio State University and was a two time OSB student contestant in the 90's.
Dr. Barbara Horn, 2006 AOA Young OD of the Year and VP of the American Optometric Association
Dr. Karla Zadnik, past president, AAO, dean at the Ohio State University College of Optometry, 2014 National Optometry Hall of Fame Inductee and past president of ASCO.
For more information and to see some of the excitement from this year's Essilor Optometry Student Bowl, please visit www.facebook.com/essilorPro.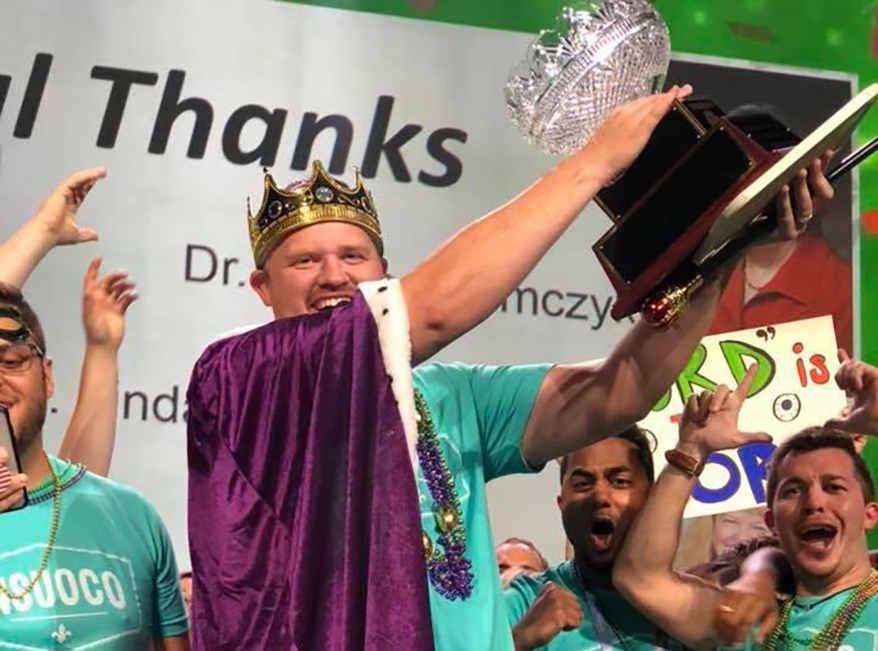 SPONSORED VIDEO: ESSILOR
Nominate a Difference Maker
Introducing #DifferenceMakers. Recognizing those who improve lives by improving sight.