Company's editorial awards now total 125.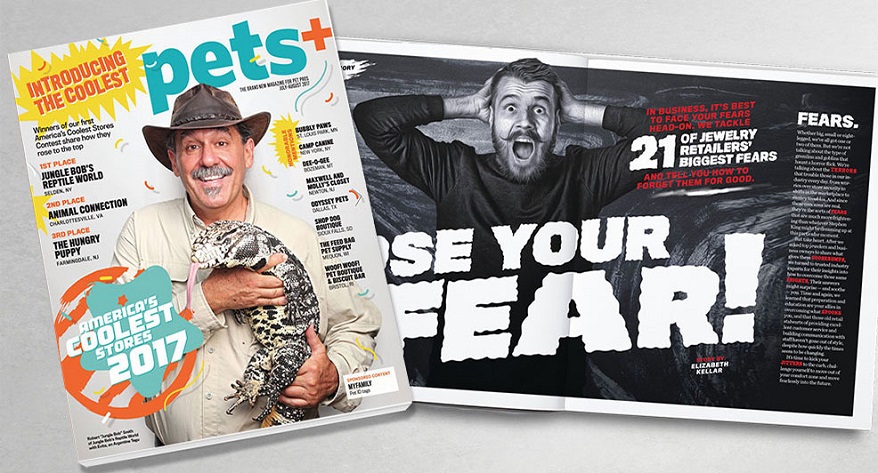 PETS+ was named one of 25 winners of "Best Single Issue" and INSTORE's art department earned a gold medal for "Lose Your Fear."
(Press Release) MONTCLAIR, NJ — SmartWork Media, the Montclair, NJ-based publishing company whose titles celebrate and support independent retailers in the eyewear, jewelry and pet products industries, has won seven 2018 Tabbie Awards. Organized by the Trade Association Business Publications International (TABPI), the awards are given annually to the best in trade magazine publishing worldwide.
The Gold for Best Feature Design was awarded for the article "Lose Your Fear," published in the January 2017 issue of INSTORE (Art Director: Mar Jefferson Go).
PETS+ earned two Silver Awards — one for Best B2B Website (produced by James Ritchie, Turquil Lambo and Rowena Pumihic) and one for Best Department ("Real Deal", edited by Ralf Kircher and Pam Mitchell and illustrated by Karla Durangparang). "The Real Deal" creates fictional scenarios that read like real-life business events, followed by real responses from store owners.
A Bronze in the Best How-To Article category was awarded for INSTORE's February 2017 feature "How to Be a PR Powerhouse" by managing editor Eileen McClelland.
In addition to these four awards, SmartWork Media was also the only publishing company whose entire lineup earned finalist positions for Best Single Issue, a category in which TABPI ranks 25. In this competition, INVISION took 10th place (for its May 2017 issue), PETS+ took 13th place (July-August 2017) and INSTORE took 17th place (September 2017).
Each of SmartWork Media's three titles earned recognition in TABPI's 2018 Tabbie Awards.
"This is a great recognition for our magazines and staff," said David Squires, SmartWork Media group editorial director. "With the award for PETSPLUSMAG.COM, it also shows our ability to carry a magazine's editorial philosophy into a web-based product that our readers have learned to love and log onto every day."
The seven Tabbies awards bring the company's total since 2004 to 125, making SmartWork Media one of the most highly decorated publishers, per title, in the world.
See the company's full list of awards here.
SPONSORED VIDEO: VISION SOURCE
Optometric Practice in a Small Town
Practicing in a small town gives you the diversity and opportunities to practice full-scope optometry. See how one OD found professional and personal fulfillment in a small town.