(PRESS RELEASE) Arch Crown now offers custom and pre-printed California Proposition 65 "WARNING" Op-Tags and static cling vinyl labels for eyewear that contain chemicals which require notification under California Proposition 65 compliance regulations.
Pre-printed Style 217 "WARNING" labels are black on clear static cling vinyl. Static cling vinyl labels can be reapplied many times without losing static cling or scratching the lenses. Pre-printed Style 830 non-slip Op-Tags are black on white plastic and stay in place keeping your displays neat and professional. Op-Tags are excellent carriers for bar code and other computer labels. Both styles are available in three "WARNING" versions: Cancer, Reproductive Harm, and both Cancer & Reproductive Harm.
The California Office of Environmental Health Hazard Assessment has established a website to provide the public and businesses with information on Proposition 65 warnings. For more information on Proposition 65 visit here
Custom printed Op-Tags and labels can be designed to meet your specific needs. For free samples and pricing, call toll free 1-800-526-8353.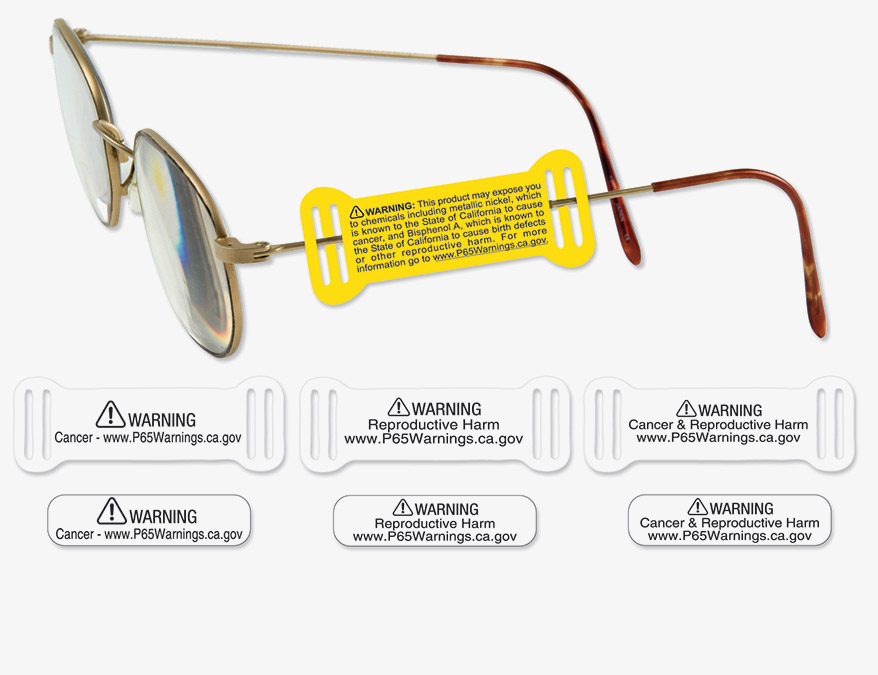 SPONSORED VIDEO: ESSILOR
Nominate a Difference Maker
Introducing #DifferenceMakers. Recognizing those who improve lives by improving sight.