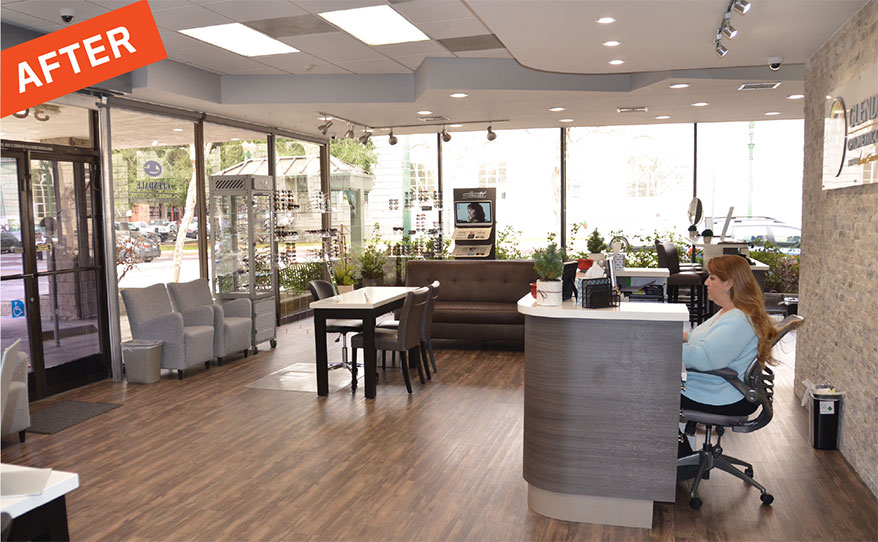 It only took 10 days for Dr. Stacey Gin to transform her practice into a modern technology haven. Over the week of Thanksgiving 2016, her practice underwent a major makeover to keep it at the forefront of technology.
Glendale Optometric Center

Glendale, CA
Owners: Dr. Stacey Gin and husband Dr. Jeffrey Nishi
Opened: 1986 by Dr. Duane deCroupet, this location since 1997
Renovated: Nov. 19-28, 2016
Renovation Cost: $150,000
Pre-renovation Revenue: $1.5 million
Estimated Post-Renovation Revenue: $2 million within five years
Website: glenopto.com
Just one day after finishing her residency program at VA San Diego hospital in 2007, Dr. Stacey Gin bought her practice from Dr. Duane deCroupet, founder of Glendale Optometric Center in Glendale, California. "It was quite scary to purchase a large practice (4,000 sq. ft.) but Dr. deCroupet was my amazing mentor and he helped transition his patients," Gin says.
He also continued to work part-time at the practice for the next three years until her husband, Jeffrey Nishi, OD, joined in 2010.
For 20 years, the optical, a stand-alone building in downtown Glendale, had only underwent minor paint improvements. That is, until November 2016, when it was completely transformed and re-opened with a brave new look and feel. The goal behind the new concept was to "modernize the office by providing digital information," Gin says. "There is a lot of digital integration. We've embraced iPads and touchscreens to further educate patients about our products."
Gin and her husband are pleased with the renovation. She is active in her profession and community and believes these experiences have helped her to become a stronger leader in the office. "I feel you can always learn from different organizations," she says. As a Vision Source administrator, she's fortunate to have had colleagues "who are great leaders and successful business owners." Her staff of ten is driven by best practices. "We are motivated to continually look for ways to improve," she says. "We're excited to implement and try out new ideas that have been successful at other offices."
Keys to the Redesign
Changes Out Front
Glendale Optometric Center's dated look was transformed to become more modern and to keep the office at the forefront of technology. Dr. Gin changed the shape of the front desk and reduced the size of the waiting room to better accommodate patients' needs, have a more open flow, and make way for more sales.
Education a Key
Gin worked with Bill Gerber, founder of OMG! Optical Marketing Group to put up signage and plaques to educate patients. "We wanted to embrace technology and better serve our patients by improving their experience through education," she says. They added descriptions about the purpose and function of each piece of equipment and information about the store's products to include brand stories. "Lighting and signage were two things we paid close attention to: to help us showcase our eyewear and better market our products," Gin says.
Open Shelf Plan
"One of our goals is to improve marketing to ultimately increase sales," Gin explains. Her favorite patient is one who embraces technology and is open to change. "Nowadays patients have an idea about what they're looking for when they come in, so we needed to set ourselves apart, to differentiate ourselves." Open shelves were installed to better merchandise products and encourage patients to try on frames. With the renovation, Gin hopes to grow revenue over the next five years from $1.5 million to $2 million.
---
PHOTO GALLERY
(4 IMAGES)
Dr. Stacey Gin and husband Dr. Jeffrey Nishi
---
This article originally appeared in the March 2017 edition of GO/OD.