Sherry Berry and Colleen Galanti work together as opticians at Pascarella Eye Care & Contact Lenses in Newtown, PA. Here, they've styled office manager Justin Davis with a few choice picks from among the 800 to 1,000 frames they have in stock. Says Galanti, "We approach frame styling by reading the patient's personal style. We try to push the boundaries. Too many people are walking around with boring glasses, and we love to see how their face can really pop with color and fun styles." Adds Berry, "Frame styling for me is about personality and telling a story. I look at face shape and take it from there. I try and form a bond with a client through conversation and basic lens education. This makes it easier for me to help get someone out of their comfort zone. Once that happens, you can actually see the smile in their eyes when I'm able to help guide them to a pair of eyewear that allows their true self to shine through. It's a win, win!"
This article originally appeared in the January 2016 edition of INVISION.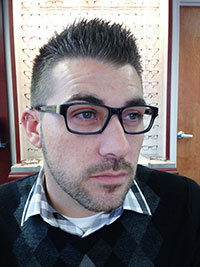 ProDesign 4686 color 67332
Sporty weekender with a lot of style to relax with coffee or to hit the soccer game.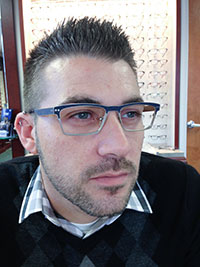 Ogi 4309 color 1810
This masculine edgy frame has a European metro feel with nice clean lines and fun color patterns, and the silver and denim looks great on Justin.
Charmossas Mana Pool color BLDB
Fashion-forward with the two-tone faux wood grain. It's the perfect marriage between complexion and eye color.
Hear What the Industry Thinks About the Ultimate Lens Package by Essilor
Eye care professionals, patients, and Essilor sales consultants shared their feedback on the Ultimate Lens Package. Watch to see why they believe the innovation behind the lens can make the difference for your practice and for your patients. For more information on the Ultimate Lens Package, contact an Essilor Sales Consultant or click here.
---