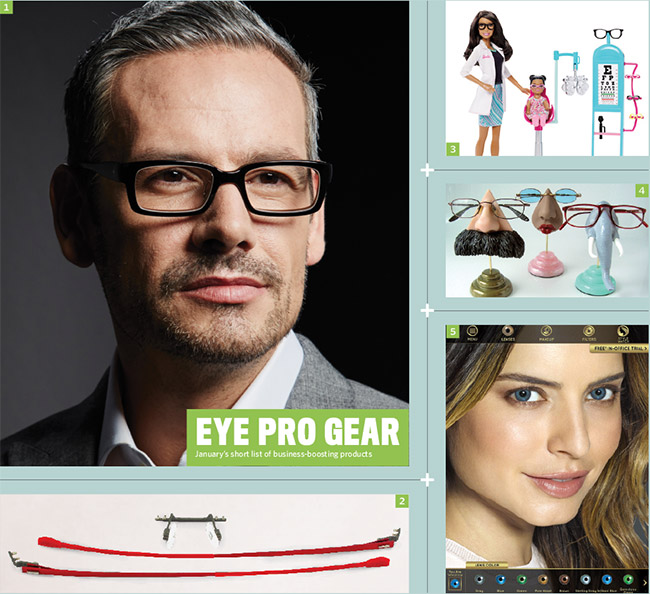 DESIGN STAR
1
Guess who beat Apple, Nest and other design darlings in the consumer category at the 2015 Design Week Awards in Britain? That's right:
ADLENS
with its Focuss model, custom-made progressive eyewear that provides clear vision across the entire lens at the turn of a dial, now available via U.S. eyecare pros.
adlens.com
PRICE: $1,250
---
LIGHTEN UP
2
Morel has released a new turnkey drill mount collection in its
LIGHTEC
line, featuring 12 shapes and 12 temple colors with 144 possible combinations, plus national lab support. In stainless steel, with Lightec's Alpha flex-hinge system.
morel-france.com
PRICE: On request
---
FUTURE DOC
3
Perfect for your play area (or maybe a little one in your life), the eye doctor version of the Barbie Careers line from
MATTEL
includes Dr. Barbie, her wee patient, an exam lane and eyewear choices. Too cute!
invmag.us/barbie
PRICE: $20
---
BY A NOSE
4
"Life is too short for boring decor" is the motto of
ART AKIMBO
, and we agree. These clever displays by artist David Cramer will liven up your shop, spark impulse purchases and make a fun gift for your favorite clients. Wholesale pricing is available.
artakimbo.com
PRICE: From $35
---
MAKEUP SESSION
5
Upload a photo and show customers how they'd look in colored contact lenses with the new Air Optix Color Studio app from
ALCON
. Available for free in the App Store for iOS mobile devices, the app allows users to compare colors, add makeup and more.
invmag.us/alcon
PRICE: Free to ECPs
This article originally appeared in the February 2016 edition of INVISION.
Hear What the Industry Thinks About the Ultimate Lens Package by Essilor
Eye care professionals, patients, and Essilor sales consultants shared their feedback on the Ultimate Lens Package. Watch to see why they believe the innovation behind the lens can make the difference for your practice and for your patients. For more information on the Ultimate Lens Package, contact an Essilor Sales Consultant or click here.
---