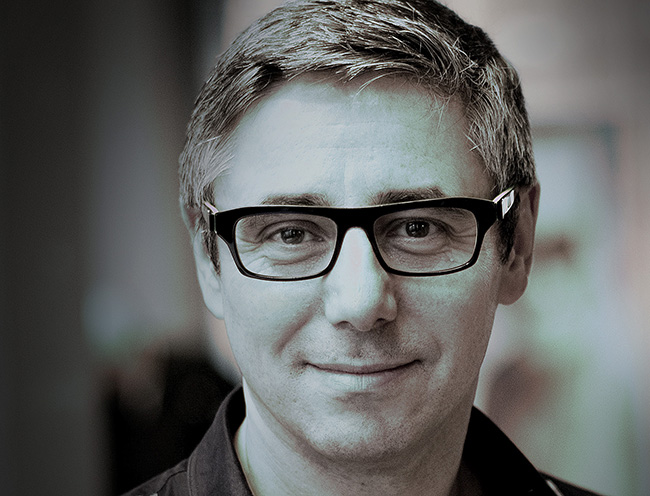 Temples transformed into legs with elegant shoes. (See picture at right.) Hidden messages like "So What" or "Super Chic" tucked behind the ears. These are among the many creative inspirations of Pascal Jaulent, president and art director at Face à Face, the Parisian company behind a world of colorful eyewear. Jaulent launched Face à Face with Nadine Roth in 1995 after he'd worked in big business (Nestlé and Dior) and for Lafont. Two decades later, Face à Face and its sister brand Woow continue to wow the eyewear world with adventurous and chic designs. CLODAGH NORTON
This article originally appeared in the November-December 2015 edition of INVISION.
---
1
When I think of my childhood,
I remember the freedom of walking alone in the countryside, with all senses open to nature, the sky, and a feeling of eternity.
---
2
I am a Leo and I am sure I show some of the typical traits of this sign:
I can be idealistic, charming, powerful, brave, honest, generous and shy at different times.
---
3
I hate dishonesty
and meanness, and I can have problems with criticism.
---
4
Traveling is to me the most inspirational condition for design:
a chance to open your eyes, your ears and your taste buds.
---
5
My favorite destinations depend on my mood and the season.
Brittany, for restoring my health. The Côte d'Azur for the light, the sea and the informal lifestyle.
---
6
My favorite French dish
is the cherry tart I remember from my childhood.
---
7
I love the taste and mastery behind objects:
the combination of expertise and intelligence that any object carries in its smallest details, in many kinds of things — a racing car, a glove, a risotto or a whisky, for example.
---
8
My first morning in New York many years ago,
I was so excited that I almost couldn't sleep. I went out onto the streets at 5:30 to walk and breathe and live it.
---
9
I always have many dreams and ambitions.
I'd like to go to the opera on a regular basis, to master my Italian, exercise three times a week, to visit Jordan and Costa Rica, or go on a family trip to London.
---
10
I love Italy
for the exquisite refinements in so many tiny details, and the United States. It's such a stimulating place.