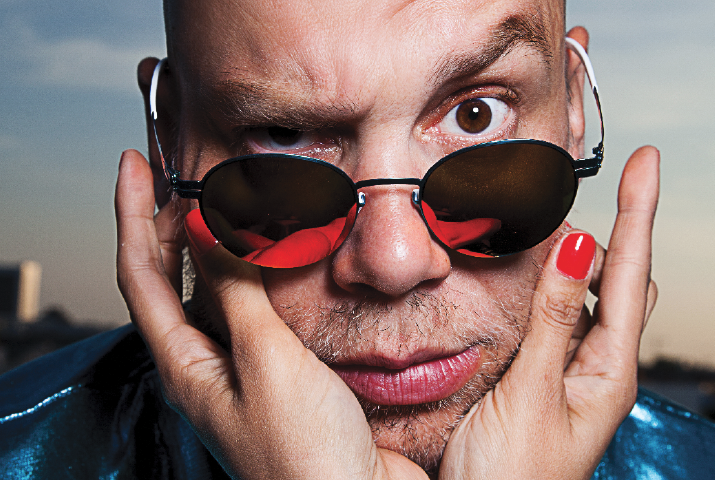 Ralph Anderl is the founder of IC! BERLIN, an independent award-winning eyewear label producing frames exclusively in its own workshops in Berlin where each design is hand-finished, piece by piece. Born in Oldenburg, Germany, Anderl founded his own glasses company in 1999. The designer launched his new Electric collection last September at the Paris eyewear fair, SILMO. The IC! BERLIN collection is available worldwide in leading optical boutiques. www.ic-berlin.de

I wanted to be a conductor when I was little. I loved classical music back then as I do now. I learnt to play the piano."
1
"Singing is my passion. I started singing classical opera when I was 18 years old. I now have a singing lesson every morning. And we have introduced singing into our company as well. We produce a Christmas CD every year featuring me and the company choir."
2
"I love cookery and I like to bake with my kids. I like the feeling of working with them, measuring out the ingredients and deciding what we should put in to what we are making. And I like the results, to see the cakes, to see people eating them, to see their happy faces."
3
"I enjoy cycling — particularly long distances that you would usually do on a train or by car. I once asked my kids where they would like to go on holiday and we ended up deciding on a 300-mile bike trip to visit my parents in their hometown of Oldenburg."
4
"My style icons are Karl Lagerfeld and Tom Ford."
5
"The craziest bike journey I ever did was around 100 miles through the night after a party."
6
"I have a degree in art/literature/psychology/politics. This involved practical work as well as theory. My studies had nothing to do with business and the optical world where I now find myself but it taught me to solve problems and that has helped me at IC! BERLIN."
7
"When I went to Berlin after university, I loved it. I like the way it connects the Eastern and Western cultures. There is a natural tension in the city which still exists. It is a very stylish place but I think less obsessed with consumerism and big brands compared to other cities."
8
"My children come to trade fairs with us, and now they are 10 and 13, they cook for everyone at the exhibition stand. We treat them like grown-ups when we do this. For me, this is like an old model of a family business in a way. It is really the same concept and a part of what we do and an extension of the handcrafting side or the glasses we make. It is a family-run business, involving the whole family."
9
"I was 26 when I started in eyewear. It wasn't planned, it just happened. I had no idea about business at that time or the optical industry, but I could see it was going to happen and that it was going to grow into something."
10
"My best inspirations usually come to me when I am fasting or relaxing in the sauna."
Hear What the Industry Thinks About the Ultimate Lens Package by Essilor
Eye care professionals, patients, and Essilor sales consultants shared their feedback on the Ultimate Lens Package. Watch to see why they believe the innovation behind the lens can make the difference for your practice and for your patients. For more information on the Ultimate Lens Package, contact an Essilor Sales Consultant or click here.
---