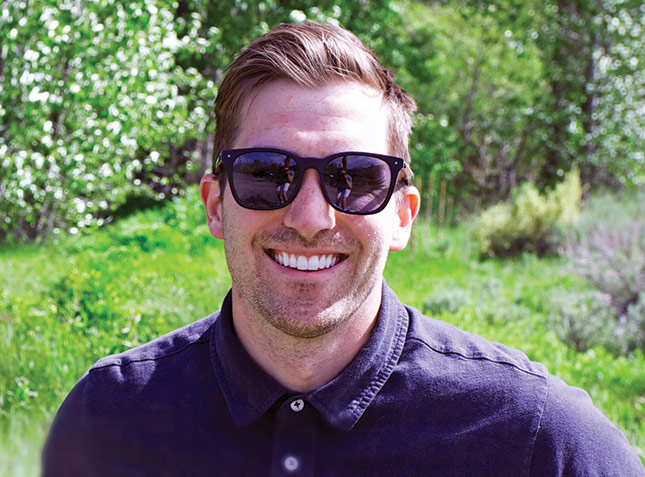 Proof Eyewear grew out of its founding family's background in the forestry industry of Utah and Idaho. As the company website tells the tale, a failed ski pole experiment gave Brooks Dame an idea for eco-conscious eyewear — and four years later, he and his brothers Tanner and Taylor (and a growing staff) are selling eyeglasses made from sustainably forested wood, cottonbased acetate and even skateboard decks in 20 countries from their base in Boise, ID. Together with brand manager Lance Williams, Tanner is the lead designer; he also serves as company chief operating officer and general manager.
1
My brothers and I grew up around the wood industry and that's what our first design was made of. Everything I know about the eyewear business, I've learned in these last three years.
2
When I was a child, I wanted to work in my family's wood manufacturing business. I looked up to my dad and what he was doing, so I thought it would be a good path to follow.
3
Wood has been used on and off for eyewear in the past, but we're one of the first companies to bring it to the general consumer at a reasonable price while maintaining premium quality.
4
We started the weekly Proof Frontier Project at the beginning of the year. Essentially, we partner with like-minded photographers who capture our frames in the style they choose. They keep the product and we showcase their work. (See more at invmag.us/7143).
5
For design inspiration, I pick and pull from everything I see around me, from celebrities to random people on the street. If I see something I like, I try to incorporate it into my style.
6
My best inspirations usually come to me when I'm alone and have time to step back from the daily grind. I get a good outlook on what's going on around me and let my creativity wander.
7
Proof's Do Good Program is something we're very proud of and also one of our biggest accomplishments. We give a portion of profits to humanitarian efforts we believe in. Last year, we donated $25,000 to help build two eye clinics in India where over a quarter of the world's blind population resides.
8
Along with the India project, my greatest achievement is going to a job that I love each day and being able to work with like-minded, creative people.
9
Being in Idaho makes a huge impact on Proof. A lot of our inspiration is drawn from the nature that surrounds us here. Being located in such a calm area keeps us focused on the brand. We also get to see what an average, down-to-earth customer would want to see in the design of a product.
10
If I wasn't designing eyewear, I'd be a vagabond. I love to travel.
Hear What the Industry Thinks About the Ultimate Lens Package by Essilor
Eye care professionals, patients, and Essilor sales consultants shared their feedback on the Ultimate Lens Package. Watch to see why they believe the innovation behind the lens can make the difference for your practice and for your patients. For more information on the Ultimate Lens Package, contact an Essilor Sales Consultant or click here.
---