Along with the cold, Old Man Winter can also bring low-light situations and harsh glare, especially on snow-topped mountains. There is a huge selection of winter goggles available to help improve vision and clarity. Often, they come with proprietary lenses or with Transitions or ZEISS lenses for better contrast. Many companies offer multiple lenses that can be changed manually. Scott Sports sells a slider mechanism goggle which makes it easy to put in lenses wearing gloves. Others, like Zeal, have focused on providing a single lens that changes with conditions.
"The trends we're seeing are frameless, quick-change goggles. Their sleek aesthetic lets the lens become the focal point," says Mike Davis, Zeal's director of brand activation and digital strategy. "New designs allow for more peripheral vision in smaller frames."
What makes new types of goggles so effective is that they allow air to vent and can reduce fogging. Next time your patient is hitting the slopes, have him try on an assortment of goggles to see which sits closest to his face and offers the clearest contrast.
WX Gravity with polarized blue mirror (green) lens and a removable soft foam Facial Cavity Seal from Wiley X
(800) 776-7842 / wileyx.com
I/O goggle with ChromaPop lens from Smith Optics.
(888) 206-2995 / smithoptics.com
Tsar in matte red with Vermillon Gun lens from Bollé .
(800) 423-3537 / bolle.com
LCG Compact goggle with lens change slider and proprietary lens from Scott Sports.
(800) 292-5874 / scott-sports.com
Forecast goggle with AUTOMATIC+ lens from Zeal Optics.
(888) 454-9325 / zealoptics.com
Contact goggle with lens by ZEISS from Giro.
(800) 456-2355 / giro.com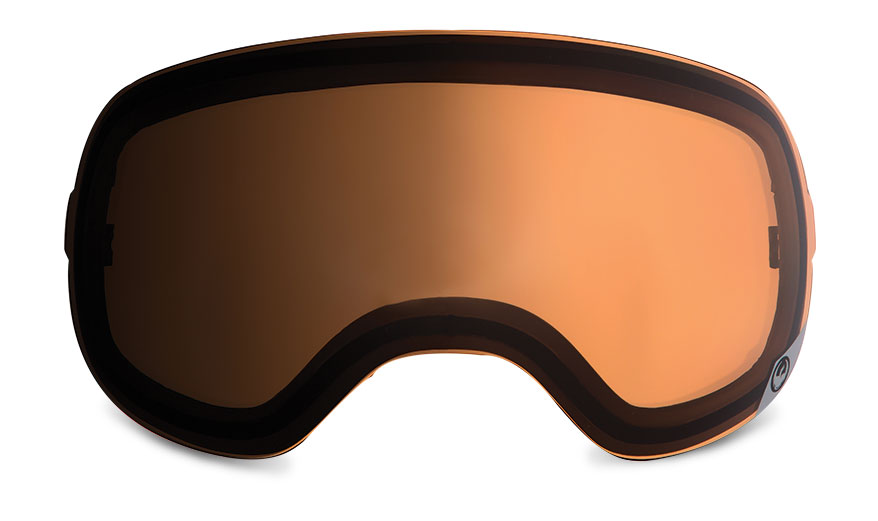 Dragon X1 snow goggle with an amber Transitions adaptive lens from Dragon Alliance.
(800) 630-6680 / dragonalliance.com
Under Armour hockey visor with STORM lens from Eyeking.
(516) 576-9100 / eyeking.com
---
Smart Ways To Sell
Winter Sports Lenses/Goggles
Andrew Krispin

Eye Pieces of Vail, Vail, CO
We have a goggle bar in our store complete with bar stools and an entire wall display of 148 goggles in different colors and options mounted on skis and snowboards. I have customers try on goggles and take a look outside at the mountain. They can see the runs from our storefront. After this test, it's pretty evident which type of goggle they want and which lens tone they prefer. We're in a hot spot for skiing. People come in all the time requesting a goggle for low-light situations. Oakley's Prizm Rose lens does a great job filtering light to give contrast on the mountain and make tracks pop out. Another popular option is Transitions in a Dragon goggle. Its range of change is the most impressive on the market. I ask customers if they'd like multiple lenses or one that does it all. A hot package has been the Dragon NFX2 which offers lenses for different lighting conditions and allows a quick, easy lens change.
Marty Shattuck

All Sports Eyewear, Park City, UT
My patient was not happy. "I hate these goggles. I can't see where I'm going, and they're always fogging," she said. I listened and helped her decide between two popular spherical goggles that came with a "flat light" lens and a second darker lens. They both fit her helmet properly, were made for a smaller face, didn't pinch her nose, had a large field of vision, and matched her ski pants (very important!) We looked outside into the snowy conditions to do a real-life vision test. For her eyes, the Illuminator lens in the Scott LCG Compact goggle really popped the shadows. "Our local shop back home never suggested I actually go outside and look through the lens," she explained. "This is amazing! And I have a second lens for those cold, bright days." Scott's lens change slider system is great. But she preferred the Magna-Tech quick lens change technology in Anon's WM1 women's goggle. The blue lagoon lens is great for flat light and the easy magnetic lens change system sold her.
This article originally appeared in the September 2016 edition of INVISION.
Hear What the Industry Thinks About the Ultimate Lens Package by Essilor
Eye care professionals, patients, and Essilor sales consultants shared their feedback on the Ultimate Lens Package. Watch to see why they believe the innovation behind the lens can make the difference for your practice and for your patients. For more information on the Ultimate Lens Package, contact an Essilor Sales Consultant or click here.
---