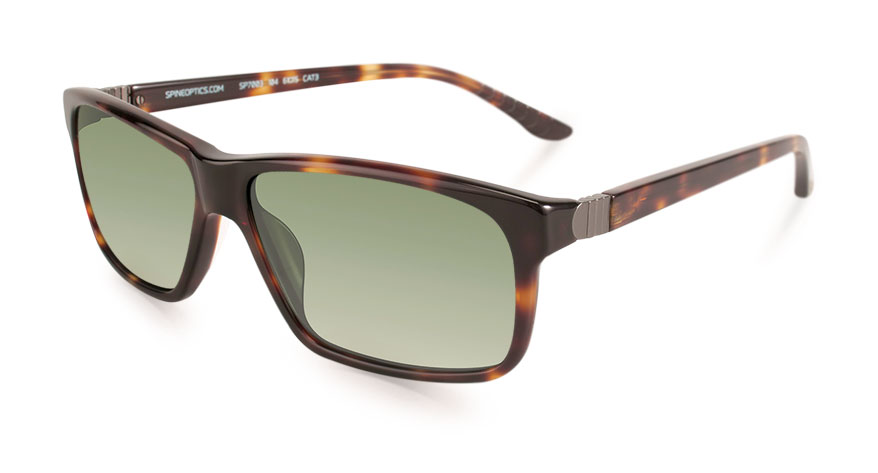 Jimmy Choo is always popular with the ladies. REM's SPINE line is going well with the guys! Deb Wood, Wood Vision Clinic, Iowa Falls, IA
PICTURED ABOVE: Boasting a masculine rectangular silhouette, the SP7003 is crafted from rich acetate and features the signature SPINE hinges. Available in black with gray flash mirror and tortoise. PRICE: $220
---
Hot
Brands
Top-selling vision brands for July*
Eyeglasses
Ray-Ban (15), Oakley (8), Kate Spade (7), Gwen Stefani (5), Coach (4), MODO (3), Tom Ford (3), Carrera (2), Dolce & Gabbana (2), Jimmy Choo (2), Lafont (2), Lilly Pulitzer (2), Nike (2), Ogi (2), Silhouette (2), Tiffany & Co. (2), Vera Bradley (2), Vera Wang (2)
Sunglasses
Ray-Ban (22), Maui Jim (10), Kate Spade (8), Oakley (7), Costa (6), Coach (3), MODO (3), Wiley X (3), Carrera (2), Jimmy Choo (2), Michael Kors (2), Nike (2), Polaroid (2), Tom Ford (2)
* Brands mentioned by multiple Brain Squad members when asked what had sold well in July. Join at invisionmag.com/brainsquad.
FYSH UK, Vogue and Dolce & Gabbana: All have great colors, which I feel sell better in the summer. Brandy Patrick, Depoe Eye Center Macon, Warner Robins, GA
Brooklyn Specs. We added it at Vision Expo and our staff loves it. Bart Parker, Vision Source-Fox Optical, Lake Worth, FL
We sold more i-dealoptics than any other vendor last month. They have really stepped up their game in detail and colors. Frame lines that were once just "budget" are now stylish, colorful and appeal to more patients. This helps our bottom line with the mark-up we can do. Heidi Keeney, Crew & Boss Eye Associates, Big Rapids, MI
Rudy Project. I just put it in my store and the Rx optics are terrific. Cleve Barham, Fine Eyes, Ridgeland, MS
Betsey Johnson suns from ImageWear. They sold well because they're cute! David Weber, The Eye Zone, Dallas, TX
Costa sunglasses. Their limited-edition USA styles have been a hit and they have expanded their collection with more women's styles. Jenna Gilbertson, McCulley Optix Gallery, Fargo, ND
Taylor Madison was the best. The new styles and colors are fun and flattering to all face shapes. Dorothy Reynolds, Optical Alternatives, Milford, CT
The Hemingway 4617 from New York Eye was a workhorse for us. Nikki Griffin, EyeStyles Optical and Boutique, Oakdale, MN
Kate Spade. People are loving the fun designs. Ashlie Dorminey, Optical Associates, Valdosta, GA
Lindberg, Barton Perreira and Entourage of 7. All three are unique lines that patients in our demographic have shown much appreciation for. Rita Ellent, The Gardens Eye Care, Forest Hills, NY
Lilly Pulitzer. It was new to our office and has been very popular due to its pop of color and great price point. Cynthia Sayers, EyeShop Optical Center, Lewis Center, OH
Diane von Furstenberg sunglasses. They have a classic appeal that our patients enjoy. Deborah McDonald, North Oak Family Eyecare & Optical, Valdosta, GA
The Range frame from ZEAL has been a great sporty sunglass! The rubber frame helps it grip easily for less slippage in the summer weather. It's not falling off during water sports or sliding down your nose while cycling. Sherry Berry, OnSite Optical, Dover, OH
The Haggar men's line was hot in July. They have sizes and styles to fit all men. It seemed to be the month for wide-fitted men. Kristy Smith, Eyeglass Wearhouse, Reynoldsburg, OH
This article originally appeared in the September 2016 edition of INVISION.