Mathematician Dr. Samuel Genensky was so severely visually impaired that in 1971 he developed the first video magnifier, a closed-circuit television with a camera, to help him read and assist others to too. It became the prototype for video magnifiers and electronic book readers now sold worldwide. The early products were so large and expensive, manufacturers didn't want to put them in doctors' offices. Now, prices have dropped and smaller devices have been developed so eyecare professionals can sell directly to patients.
In the Western world, about 1.5 percent of the population has low vision and 0.5 percent has blindness. Low vision can impact how patients read, write, watch TV, see distance and enjoy hobbies. Often, medications or surgery cannot restore vision so ophthalmologists will refer these patients to low-vision optometrists to help. There are so many aids to choose from, ECPs can help their patients pick the correct device to allow them to perform routine daily activities.
Dr. Louis-Philippe Massé of Humanware says there is less public funding available than a few years ago for low-vision aids so many patients not covered by insurance are drawn to less expensive aids. Humanware has sold more than 700,000 electronic readers over the past 20 years. Another emerging trend is baby boomers experiencing low vision who want to maintain their active lifestyles and need portable devices.
Due to today's proliferation of smartphones and iPads, Dr. Massé believes the number of people with low-vision impairment will grow and that it will eventually become an issue of public health.
---
Vendors and Products
Ruby 7 HD handheld portable video magnifier from VFO (Optelec and Freedom Scientific).
(800) 444-4443, freedomscientific.com


Task-Vision TV glasses 2x aspheric lens binoculars from TECH-OPTICS INTERNATIONAL.
(800) 678-4277, techopticsinternational.com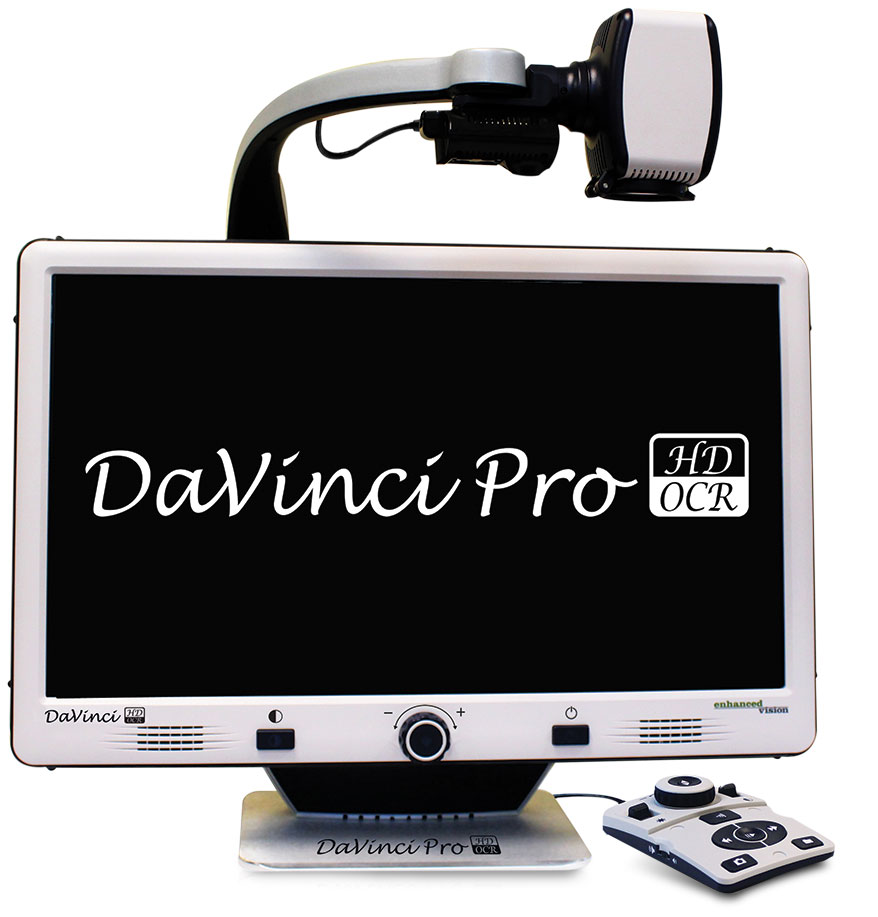 DaVinci Pro HD/OCR desktop video magnifier with 3-in-1 camera and full page text-to-speech from ENHANCED VISION. (888) 811-3161, enhancedvision.com


Classic hand magnifiers and stand display from HILCO.
(800) 955-6544, hilco.com


GoVision video magnifier from HIMS.
(888) 520-4467, hims-inc.com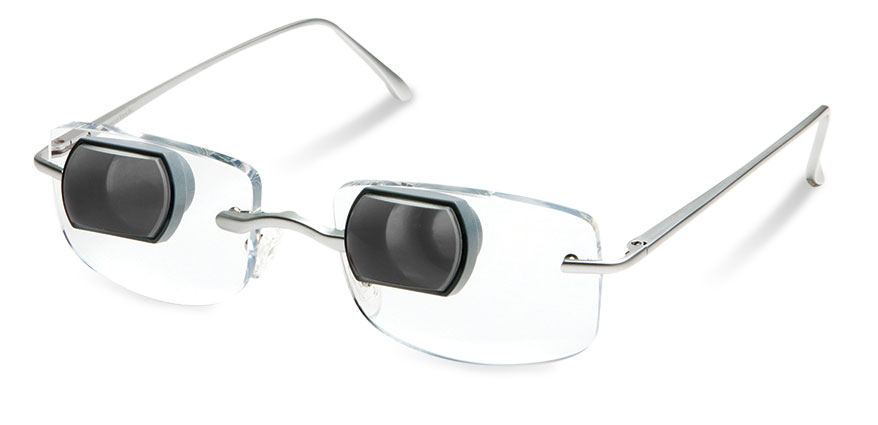 2.2x Bioptic Telescope in a rimless frame from DESIGNS FOR VISION.
(800) 345-4009, designsforvision.com


Prodigi Connect 12 electronic magnifier with distance viewing from HUMANWARE.
(800) 722-3393, humanware.com


SmartLux digital portable video magnifier from ESCHENBACH.
(800) 487-5389, eschenbach.com


---
Smart Ways To Sell
Low Vision Aids

Dr. Bill Takeshita
Braille Institute of America, Los Angeles, CA
I practiced as a low-vision OD until I retired at 43 when I developed a retinal disorder. Six years later I was blind. So, I am grateful to be able to tell low-vision patients they can still do things they love with certain aids. About 95 percent of referrals to low-vision ODs come from ophthalmologists, so ODs should meet some in their area and put low-vision samples in their offices. Some low-vision ODs even put together videos to illustrate the aids they stock, like electronic video magnifiers, which can magnify up to 95 times. Often people with low vision, especially diabetics, lose their color vision. Video magnifiers can change colors or reduce glare for those with AMD or cataracts. ODs should encourage patients to tell them what they like to do, then show them products that work for those activities. Let patients compare glasses and video magnifiers to see which they prefer. The state department of rehabilitation should pay for the exam and device of working patients.
---
Dr. Anthony Huynh
Invision Eye Care, Orlando, FL
We provide comprehensive eyecare, but one of our specialties is low vision. With the low-vision exam, we start with a detailed case history and ask the patient what they like to do. Most discuss difficulties reading a book, newspaper or menu, as well as distance difficulties like seeing faces and signs. When we know their difficulties, we show them different low-vision aids for specific tasks, like a handheld magnifier (good for labels and menus) and a dome magnifier for reading a book. We also look at CCTVs. Electronic magnifiers, such as Eschenbach's MagniLink Zip and SmartLux, are popular since they adjust contrast and magnification, which are good for patients who require a lot of magnification (4x and up) and for those who have progressive vision loss. Due to the rehabilitation nature of low vision, a couple of visits over a few months are usually needed. Medical insurance should help pay for these follow-up visits.
This article originally appeared in the October 2016 edition of INVISION.
Hear What the Industry Thinks About the Ultimate Lens Package by Essilor
Eye care professionals, patients, and Essilor sales consultants shared their feedback on the Ultimate Lens Package. Watch to see why they believe the innovation behind the lens can make the difference for your practice and for your patients. For more information on the Ultimate Lens Package, contact an Essilor Sales Consultant or click here.
---