This year, I learned that there is a frame out there for everyone. That was not the case in the '80s, when I was a third-grader picking out my first pair of Barb-in-Stranger-Things glasses. In 2016 the options are endless — we can choose any shape, style, color or material we want. And soon we will have even more choices as technology — 3-D printing! — continues to develop. Here are a few of the many frames that made us look twice this year.
Spectacle Eyeworks
Striking stainless steel model OFRA is named after popular Israeli singer Ofra Haza, a rare crossover star who released 16 gold and platinum albums and found fans among Israeli and world audiences alike. These shapely stunners sing.
(888) 722-3322 | spec-eyeworks.com
$369
---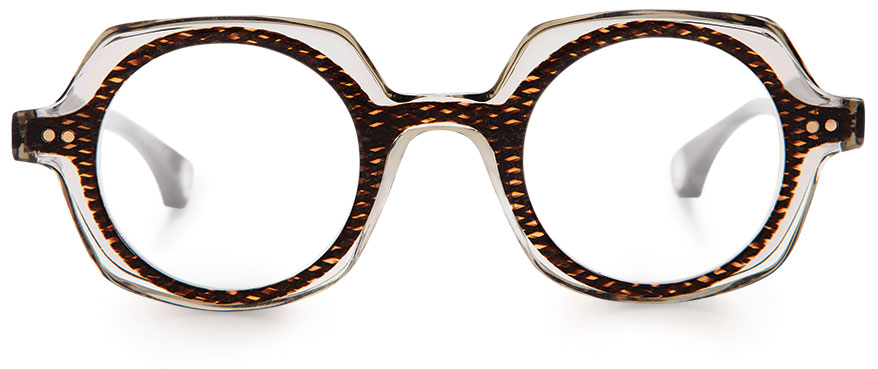 Blake Kuwahara
Recently awarded the coveted SILMO d'Or award, model kahn seamlessly incorporates an inner acetate frame in a round silhouette with an outer frame with an angular profile. It's a proprietary process that takes more than two months to complete, but it is obviously worth the wait.
(949) 637-3087 | blakekuwahara.com
$599
---
Grace
Go for the gold in elegant model g7094. With a soft cat-eye shape that is flattering to any face, this style is Princess Grace luxe, without the Monaco price tag.
(888) 399-7742 | alternativeeyes.com
$170
---
Coco Song
Do you in model you soon, which leads the charge for color (with a capital C) and eyewear as jewelry. Fabulous contrasting colors enhanced by a floral motif, an enamelled cross hinge and silk inserted between the layers of acetate, make these a conversation piece.
+ 39 0432 646411 | cocosong.it
$420
---
Kirk & Kirk
Handmade in France, model Huxley from the Vivarium line features a pin decoration handcast in England. The sterling silver dog (who definitely looks like a huxley) is shown here, but other animals — fly, horse, lion, ram — are also available.
(267) 773-7371 | kirkandkirk.com
$640
---
Aspire
Isn't it (model) romantic? This feminine frame with a delicate profile provides colorful, captivating style with a "barely there" feel; it's made of a proprietary material that is lightweight and durable. Hopefully your relationship is, too.
(800) 645-3733 | cvoptical.com
$239.95
---
Nomad
From a new brand that aims to capture the wanderlust of world travelers, model oxford, inspired by the Evnglish university, is a trendy acetate with a metal Oxford shield insert. An easy-to-wear frame for watching the football down the pub.
(800) 526-8838 | morel-france.com
$175
---
This article originally appeared in the November 2016 edition of INVISION.
Hear What the Industry Thinks About the Ultimate Lens Package by Essilor
Eye care professionals, patients, and Essilor sales consultants shared their feedback on the Ultimate Lens Package. Watch to see why they believe the innovation behind the lens can make the difference for your practice and for your patients. For more information on the Ultimate Lens Package, contact an Essilor Sales Consultant or click here.
---