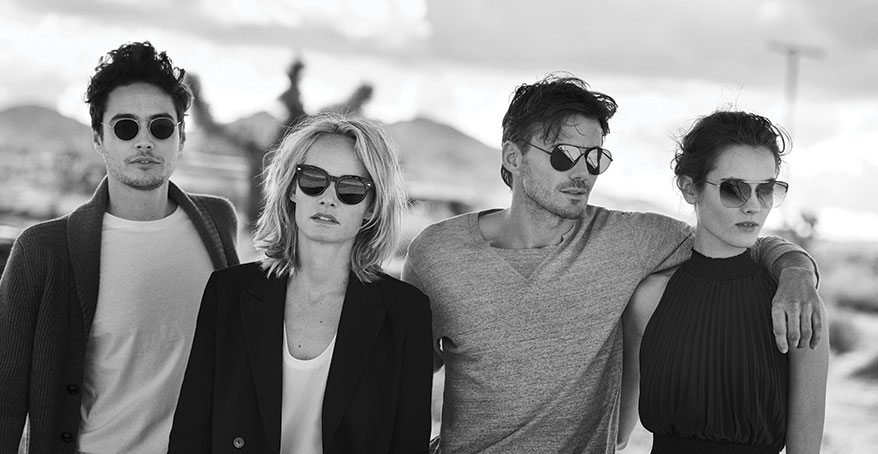 Model Amber Valetta leads an all-star cast in Oliver Peoples' new ad campaign.
Oliver Peoples Unveils 30th Anniversary Campaign
To celebrate the brand's 30th anniversary, oliver peoples partnered with photographer Peter Lindbergh for its latest campaign, "Desert Stories." The campaign's narrative follows four friends as they discover an abandoned diner on the back roads of the Mojave Desert. Model Amber Valetta leads an all-star cast of models including Alex Lundqvist, Jac, and newcomer Levi Dylan, grandson of Bob Dylan. oliverpeoples.com
Optometry Cares Offers New Grants
Optometry Cares has announced that under a new program, Healthy Eyes Healthy Children (HEHC), it will award grants of up to $5,000 each to doctors across the country for projects that spread awareness and increase vision services to address uncorrected refractive error in children. The program is funded by Essilor Vision Foundation, which is also supporting the program in kind with lenses and laboratory services. Doctors may apply online by July 15. Grantees will be notified by Aug. 14. aoafoundation.org
Swing Fore Sight Turns 10 at VEW
The 10th Annual Prevent Blindness Swing Fore Sight Golf Tournament, held in conjunction with Vision Expo West, will take place on Sept. 13 at the Spanish Trail Country Club, Las Vegas. All proceeds will go to support the sight-saving programs and services of Prevent Blindness. Foursomes are available for $2,750 and individual slots are $700 for the four-person scramble. preventblindness.org/swingforesight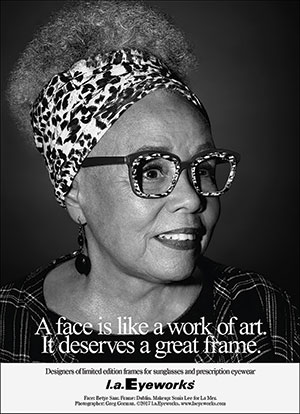 90-year-old Betye Saar is the star of l.a. Eyeworks' new campaign.
L.A. Eyeworks Adds New Face to Iconic Campaign
5 l.a. Eyeworks has announced that 90-year-old Los Angeles-based visual artist Betye Saar (below) is the newest face to join its portrait campaign, photographed by Greg Gorman. Wearing the Dublin frame from the brand's most recent collection of limited-edition designs and bearing l.a.Eyeworks' tagline "A face is like a work of art. It deserves a great frame," the portrait will appear on all marketing platforms of the independent L.A.-based eyewear design brand. laeyeworks.com
Vision Council Educates Consumers, Industry on UV
The Vision Council has released its newest UV protection report, 'UV' Gotta Have Shades, to educate consumers on the eye health risks from exposure to the sun's ultraviolet (UV) rays. The report highlights key findings from the Council's most recent VisionWatch survey on the UV eye-protection habits of Americans. It also unveils the dangers of UV eye exposure; offers answers to commonly asked UV-related questions; and provides information on how to properly protect the eyes from the sun's UV rays year-round. The report will serve as a key media pitching tool throughout the remainder of the year to encourage consumer media coverage of the Vision Council's general UV awareness and National Sunglasses Day campaign. thevisioncouncil.org/uv
---
This article originally appeared in the June 2017 edition of INVISION.
Hear What the Industry Thinks About the Ultimate Lens Package by Essilor
Eye care professionals, patients, and Essilor sales consultants shared their feedback on the Ultimate Lens Package. Watch to see why they believe the innovation behind the lens can make the difference for your practice and for your patients. For more information on the Ultimate Lens Package, contact an Essilor Sales Consultant or click here.
---