"Wait! Let me take a selfie in this exam chair!" Can you imagine a patient uttering these words? Whether you're opening a new office or giving your current space a makeover, your exam chair choice could help define your practice for years to come. Here are a few tips — and chairs — that will make your office totally share-worthy.
---
RELIANCE'S XOMA SYSTEM stands out for its functionality and style. Kyna Veatch of Veatch Ophthalmic Instruments says the system combines convenient positioning, simplified instrument delivery, and "vivid" education systems in one unit.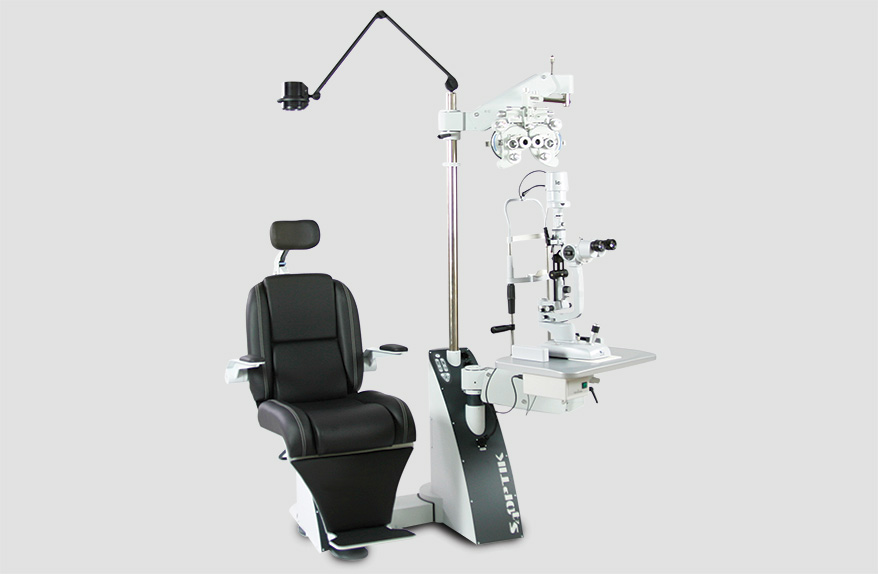 The S4OPTIK 2000CH features a precision-engineered cradle track system, and provides virtually silent lifting with a 500-pound capacity and a nearly 14-inch range in a small footprint. It can be integrated with the company's combo unit, as shown here.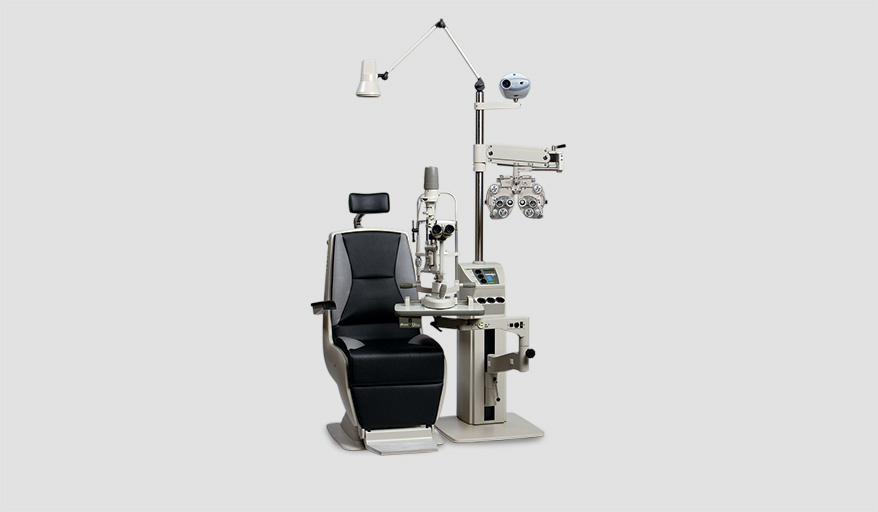 A two-toned cushion, like this one on a MARCO E-Z TILT chair, can add a touch of character to an otherwise typical look.
Custom designs and logos can bring a unique touch to any exam room. The 520, from Reliance, is shown here with a can't-miss embroidered eyeglass design.
---
Points to Consider
Ask the right questions. Veatch urges ECPs to consider the following: Do I need a recline feature? If so, what type? Will I need a pivoting headrest or a stationary option for stability? Do I have space constraints? Will I need wheelchair accessibility?
Be consistent. Keep your practice's identity in mind. "When it comes to décor, style and color, today's ECP has more choices than ever," says Chris Blizzard, director, sales and product marketing, Reliance. If you prefer something conservative, it is possible to find memorable color combinations in your comfort zone.
Prioritize comfort. "Putting your patients in positions of maximum compliance simplifies your movements and can speed patient flow," states Blizzard. Depending on a patient's needs, says Ricardo Almiron, product manager, TopCon, this can be accomplished with a chair that reclines to a flat position, a cradle tilt, or, for pediatric patients, a chair with a high stroke.
Choose a smooth operator. A quiet chair is a happy chair, and the ability of your chair to keep the noise down is often a matter of hydraulics. "Sealed, quiet, and reliable hydraulics are important for long-term reliability," says Brad Santora, director of sales, classic products, Marco.
Avoid the "herky jerky." Selina McGee, OD, Precision Vision of Edmond, says, "Make sure you can adjust the headrest and lean the chair back with one hand." Watch out for "herky jerky" chairs. And use an actual person for testing!
---
What Eyecare Pros Say About Buying Exam Chairs
Dr. Selina McGee

Precision Vision of Edmond, Edmond, OK
The chair I had before was a pump-style foot pedal and it only worked half the time. It was at least 40 years old and was a lovely coral-Pepto Bismol pink. Honestly, anything would have been an improvement. I needed a whole lane upgrade, so I worked with my Marco representative to decide what was the best fit for me. We decided on a Marco 1280 MG-Black Encore Manual Chair, which I've had for a year."
---
This article originally appeared in the July-August 2017 edition of INVISION.