Whether you're in the market for a big-ticket piece of equipment, looking to renovate, or opening your doors for the first time, researching financing options can be at once enlightening and exhausting. These suggestions come from ECPs whose lenders have ranged from national outlets to community banks.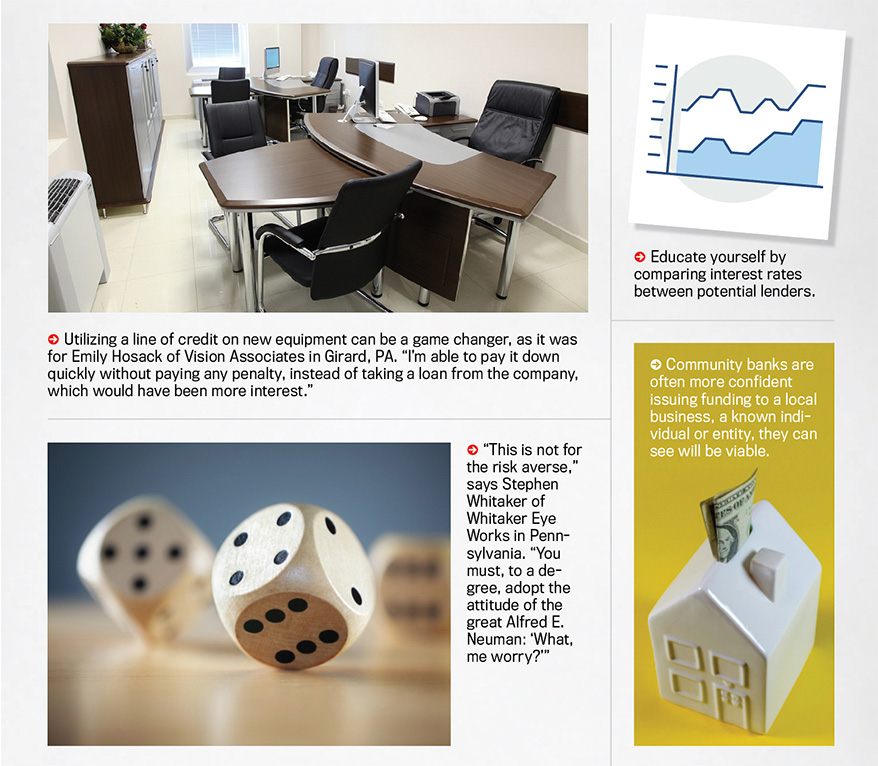 VENDORS
Direct Capital
directcapital.com

Fundera
fundera.com

PNC Bank
pnc.com

Stearns Bank
stearnsbank.com

U.S. Small Business Administration
sba.gov
Points to Consider When
Trying to Get Financing
Look local. As a community business, it may benefit you to work with a local bank. One Minnesota ECP says local banks don't get as many larger, out-of-town business loans and may be aggressive with terms on your behalf to secure one. He says, "They know what you bring to the community and are witnesses to the sustainability of the office."
Expect the unexpected. "My accountant set me up with a line of credit," says Hosack. "I was paying a fee for it for a couple of years, and thought, 'I don't need this.'" Sure enough, her edger broke before the holidays last year and Hosack covered the bulk of a replacement with the credit, changing her perspective. "For anyone buying a business, you really do need that line of credit," she says. "It saved me."
Be conservative. Whitaker suggests a conservative approach. "Plan a monthly goal [for paying it off]," he says. "If you are starting cold and haven't repaid larger loans before, expect these to be personal loans as well: you will 'put up' your home, car — all you have — as collateral."
Leverage relationships. Wendy Salle bought an edger with financing from Stearns, but it wasn't her first time working with the lender. With an existing relationship, you can get preapproved for future purchases. "You go to [a] show, negotiate your deal and just send in your paperwork," she says.
Educate yourself. Once you start reaping the benefits of your enhanced (or new!) practice, you may find you can pay off your loan quicker than expected, so be sure there's no prepayment penalty. If you have extra cash on hand you should be able to pay down your loan.
---
WHAT ECPs SAY
Rather than having to do paperwork for different finance companies, now I just call my representative at Stearns and she takes care of everything. Once the vendor receives the funds from Stearns, they ship your equipment. By financing expensive equipment, you get to take the full tax deduction that year, even though you are paying it off over time. Usually you can finance anywhere from 36 to 60 months, and if you can pay a large deposit you save on interest. You can often even choose your monthly due date. — Wendy Salle, Salle Opticians, Atlanta, GA
---
This article originally appeared in the November-December 2017 edition of INVISION.
Hear What the Industry Thinks About the Ultimate Lens Package by Essilor
Eye care professionals, patients, and Essilor sales consultants shared their feedback on the Ultimate Lens Package. Watch to see why they believe the innovation behind the lens can make the difference for your practice and for your patients. For more information on the Ultimate Lens Package, contact an Essilor Sales Consultant or click here.
---