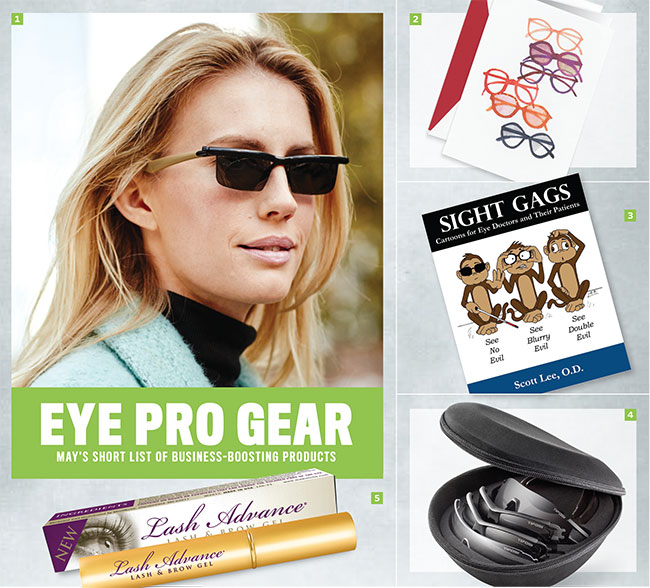 SUN DIAL KING
1
The Instant Eyewear line from
ADLENS
gets a rectangular sunglasses model, which the designers say was inspired by John Lennon's spectacles in a 1966 video. Users adjust power levels via Adlens' Alvarez technology. Angular temples feature Lennon's signature, and packaging includes a custom guitar pick.
adlens.com
P R I C E : $70
---
NOTE WORTHY
2
Master the art of professional note writing made personal with eyewear-themed cards. These folding notecards from
CRANE & CO.
subtly encourage a colorful eyewear wardrobe. Crane also has an engraved correspondence card featuring an aviator frame paired with cabana stripe envelopes for a classy seasonal look.
crane.com
P R I C E : $16
---
LIGHTEN UP
3
Maybe you've seen his optometric humor online, or in other magazines. Why not add a collection of Dr. Scott Lee's
SIGHT GAGS
to your reception room, restroom — or both — with this book of 92 cartoons? Lee practices at Atlantis Eyecare in Southern California, and he worked as an illustrator before going to optometry school at UC Berkeley.
invmag.us/5158
P R I C E : $13.95
---
ZIP TRIP
4
With a cool zippered case to keep its options together, the interchangeable component system from
TIFOSI
means fast switches between full frame, half frame and/or shield active eyewear. A notch system on each frame type clicks into a set of universal arms, and the user adds the appropriate lens.
tifosioptics.com
P R I C E : From $100
---
HEALTHY LASHES
5
The makers of Lash Advance,
MEDINICHE
, want ECPs to try (and maybe sell) their drug-free, non-Rx lash and brow gel, so they're offering a deep professional discount. Made with natural ingredients that help stimulate lash and brow health, it's billed as a less-expensive alternative to prescription medications.
invmag.us/5159
P R I C E : $10
This article originally appeared in the May 2015 edition of INVISION.
Hear What the Industry Thinks About the Ultimate Lens Package by Essilor
Eye care professionals, patients, and Essilor sales consultants shared their feedback on the Ultimate Lens Package. Watch to see why they believe the innovation behind the lens can make the difference for your practice and for your patients. For more information on the Ultimate Lens Package, contact an Essilor Sales Consultant or click here.
---