A customer is swept away by a persuasive salesperson, then returns
to cancel the order. How can the boutique retain the sale?
This article originally appeared in the July-August 2015 edition of INVISION.
---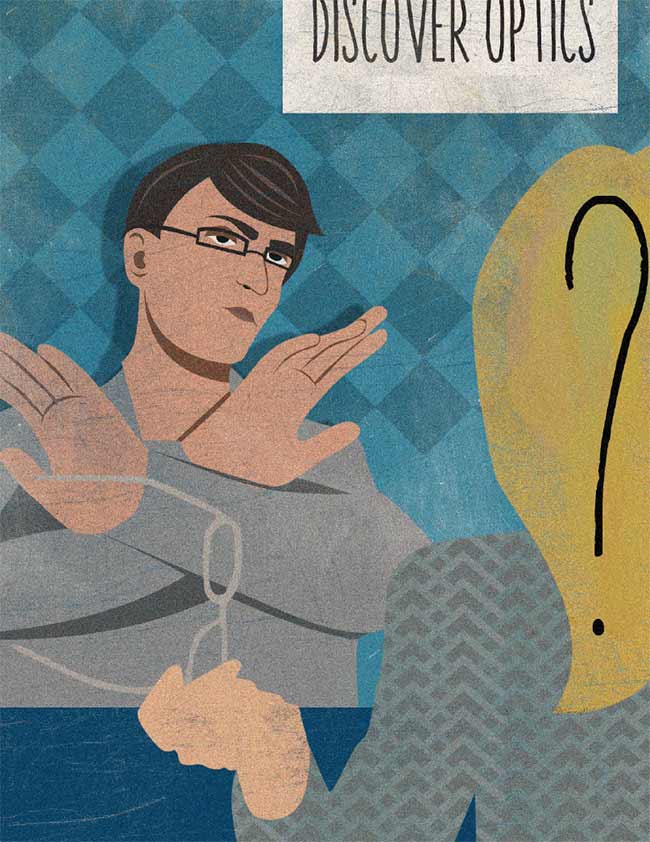 Clark Keating, a graduate teaching assistant
in Madison, WI, arrived home after visiting the well-regarded optical boutique Discover Optics. His girlfriend Emily was on the couch reading, and looked up to ask him if he got his old glasses repaired.
"No, they told me they were too old and broken," Clark replied.
"What are you going to do? You need them at night when you take your contacts out," Emily said.
"Oh, I bought a new pair. They called my doctor in Milwaukee and had my prescription faxed," Clark said. "They're really good, they're made out of titanium so they'll last longer than the old plastic ones."
"Isn't that place expensive? How much were they?"
"Umm, a lot," Clark confessed, fishing around in his coat pocket for the receipt. "$830."
"No, no, no." Emily left the couch and reached for the receipt. "You have to return them. $830? That's basically rent, Clark! You only wear them at night. Why are they so much?" Emily was panicking as she saw on the receipt that Clark had paid in full with a credit card.
ABOUT REAL DEAL
Real Deal is a fictional scenario designed to read like real-life business events. The businesses and people mentioned in this story should not be confused with actual eyecare businesses and people.
ABOUT THE AUTHOR
Natalie Taylor is an experienced optometry practice manager for Advanced Care Vision Network and a consultant with Taylor Vision. Learn more at tayloreye.com.
"The lady explained how these are going to be like digital high-def TV, and I paid extra so they'll be thinner," Clark said.
"We can return them and spend that money on an actual high-def TV," Emily said. "They must be amazing for that much money."
"They look great. And the lenses are anti-glare and anti-scratch, and the lady said I should wear glasses more because it's not healthy to wear contacts all the time," Clark said.
"I'm pretty sure you can get that anti-glare stuff even if you buy glasses on the Internet, Clark," said Emily. She opened her laptop and started searching.
Emily's questions were beginning to make Clark feel as though he had been swindled.
The next morning Meredith, lead optician at Discover Optics, was there when Clark walked in.
"Welcome to Discover Optics, my name is Meredith," and she smiled warmly. "How can I help you?"
All the frustration and confusion Clark had felt last night during his girlfriend's interrogation welled up inside him. "I need to cancel the glasses I bought yesterday," he said.
Meredith could see Clark was dead set in his mission, but she knew from experience that when a customer wanted to cancel an order, she could often save the sale by solving the root of the problem. She got his name and pulled the tray, and saw that the job had yet to make it to the lab. Meredith also noted that the optician who made the sale wouldn't be arriving to work for another hour.
"These are beautiful frames, Mr. Keating," gushed Meredith. "May I ask why you're cancelling?"
"I just don't want them anymore," said Clark, hiding his embarrassment well. "After I left here, I went home and found a similar pair online for less than $100, so it doesn't make sense to buy these."
Meredith was tired of losing sales to online retailers. A few weeks ago, she had ordered a pair of single vision glasses for $40 to use as a tangible comparison of quality to customers. She pulled them out now and began explaining the difference in quality of the hinges, then the benefits of high index lenses for a prescription as myopic as Clark's.
Clark glazed over, rudderless in a sea of data. As Meredith was getting into the importance of precise pupillary measurements, he interrupted her. "I have somewhere I need to be. Please cancel my order. This is too complicated — they're just glasses. I only wear them a few hours a week."
Both Meredith and Clark felt frustrated and defeated, and both asked themselves, "What do I do now?"
---
THE BIG QUESTIONS
1. What can the selling optician do differently in the future to mitigate buyer's remorse?
2. Is there anything the boutique can do to reassure the customer between the sale and the dispense?
3. What are some tools the dispensing optician can use to turn the situation around and make the customer a star referral source?
---
REAL DEAL RESPONSES
PAULA H.
DELAFIELD, WI
In my shop, the bottom of the credit card slip is imprinted "No Returns — Exchanges Only." Clark was happy with his purchase, felt it was needed and liked the quality that he was getting. His problem is not with the optician; it's with his girlfriend. If she has now convinced him that his visual needs are only worth less than $100 online, he will never be Discover Optical's customer. No matter what anyone at Discover Optical says to him, they will not be able to override her. So if they refund him, he is lost as a customer. And if they refuse to refund him, he may decide after getting these fab new glasses that the optician and not his girlfriend was right. At least in that case, they have the one-time $830.
DR. G.R. M.
LAKE CHARLES, LA
The optician oversold him. In this situation you need to make it abundantly clear what he is buying and the real-world alternatives. There is always a good, better, best scenario. I always ask myself: How would I want to be treated before, during and after the sale? To save the customer for another day, kill the sale and give him a full refund. Hopefully the optical has a selection of value/package glasses the customer could pick from next time.
DR. KENNETH S.
FORT MITCHELL, KY
This is just the beauty of commoditization. Internet and mass retailers have devalued eyeglasses and any shred of what it takes to have a private business with professionals. I think this optician did the best she could with a demo of Internet specs versus the ones they sell. All you can do is take the high road and educate without being too pushy. Consumers are gonna have buyer's remorse, and when Clark's Internet specs fall apart, hopefully this optical will still be in business when he comes to his senses and realizes what true quality and value are worth.
KATHY M.
WESTERN SPRINGS, IL
We use these cases in our staff meetings so we have group responses to these. The overall opinion of our whole staff was that the optician probably did everything right. The guy needs to grow a pair and tell his girlfriend to mind her own business and not tell him how to spend his money. Hopefully he won't marry the chick!
DR. JAMES J.
ARVADA, CO
She could offer a significantly better deal and be as happy to do it as she was to take the money. My opinion is no one should be buying $800 glasses unless they have oodles of money.
SPONSORED VIDEO: VISION SOURCE
Optometric Practice in a Small Town
Practicing in a small town gives you the diversity and opportunities to practice full-scope optometry. See how one OD found professional and personal fulfillment in a small town.