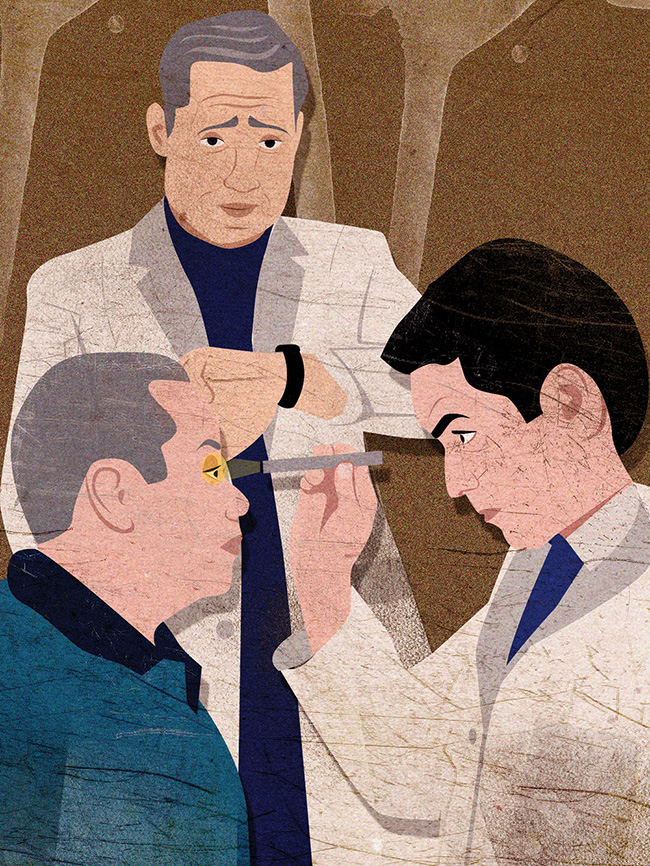 A new optometrist can't seem to pick up the pace. How can the owner find a balance?
This article originally appeared in the April 2016 edition of INVISION.
---
Broadway Optometry, a small and efficient practice outside Albuquerque, NM, was growing to the point where Dr. Irwin Lynn set out to hire a new optometrist.
After only a few weeks of interviews, he made an offer to a new graduate, Dr. Larry White.
In filling Dr. White's schedule, the staff was careful to allow more time per patient and not to overbook.
During the first week, Dr. Lynn sat with Dr. White each evening to review his charts, answer questions and discuss treatment plans. Dr. Lynn was impressed by Dr. White's thoroughness and felt confident his efficiency and speed would improve.
However, as the weeks went by, little seemed to change. When staff would try to squeeze a walk-in or emergency patient into Dr. White's schedule, it sent him into a frustrated panic. New patients were spending over an hour with Dr. White, even with a pre-test technician completing many tasks. This left patients too exhausted or time-pressed after the exam to meet with an optician. The reception area became tense during Dr. White's shifts, with daily walk-outs and heated words thrown at the staff.
Dr. Lynn met with Dr. White at the end of his first month.
"So, how do you feel things are going so far?" Dr. Lynn asked.
ABOUT
REAL DEAL
Real Deal is a fictional scenario designed to read like real-life business events. The businesses and people mentioned in this story should not be confused with actual eyecare businesses and people.
ABOUT
THE AUTHOR
Natalie Taylor is an experienced optometry practice manager for Advanced Care Vision Network and a consultant with Taylor Vision. Learn more at tayloreye.com.
"Well, the patients are really great, and I've gotten to see a lot of disease," Dr. White said. "I've looked forward to this all through my externships!"
"That's great! I'm glad you're having fun. Are you noticing you can move a little quicker, now that you know our systems?"
"Somewhat, but there is so much I need to do for each patient to meet all insurance requirements for a complete exam, and to support each code, and analyze their testing, and develop a treatment plan, and educate ... I'm not really sure how much faster I can go," he said honestly.
"Well, I'm sure you'll get there," Dr. Lynn said. But that was the extent of the meeting, and the senior doctor failed to provide Dr. White with any real feedback or direction. The front desk staff of Broadway Optometry became so stressed by the frustrated patients and poor online reviews that they continued booking Dr. White with just one exam per hour, instead of Dr. Lynn's normal three. The additional exam rooms were not being utilized, and patient demand was still not fully met.
Finally, Dr. Lynn sat down and reviewed his practice's financial reports. Not surprisingly, he found that since Dr. White was seeing so few patients, he arguably wasn't earning his salary. The doctors' second meeting, three weeks after the first, was more serious.
"Dr. White, I'm concerned that if you aren't able to see more patients, we will need to revisit your salary," Dr. Lynn said. "I really need you seeing two to three patients per hour." Dr. White was flabbergasted. "My contract says nothing about a minimum number of patients. I don't think you can change my pay like this!" said Dr. White, who was visibly panicking. "I have student loans to pay — I'm not going to compromise my level of care ..." He started stammering and stood up.
"Where are you going?" Dr. Lynn asked.
Dr. Lynn's stomach turned. While he was glad to have his new hire finally appreciate the seriousness of the situation, he hadn't meant to send Dr. White off in a panic.
---
THE BIG QUESTIONS
1. How could Dr. Lynn have better communicated his concerns to Dr. White during their meetings?
2. What can Dr. Lynn do between now and the end of Dr. White's one-year contract to improve the situation?
3. Should physician contracts specify output, or is it best to set a low base pay and rely on metric-based goals to inspire work ethic?
---
REAL DEAL RESPONSES
JEFF G.
SPRING VALLEY, CA
When we had a new hire last year, Dr. Fleming had him sit in on some exams and even had the new doc do an exam on Dr. Fleming. It gives the new hire a good idea of what we do in the practice and at what pace we move. Dr. Lynn did sit Dr. White down and tell him his concerns, which was good, but he should have shown Dr. White how you can give a comprehensive exam at insurance standards in a half-hour time.
---
ROBERT M.
EDINA, MN
A plan should have been in place to help Dr. White learn to succeed. I don't think specifying output should be in a contract. I think a reasonable salary with a production bonus after the salary is met makes a nice incentive. Dr. Lynn should start over with Dr. White. Have him shadow Dr. Lynn a morning a week to learn how a more experienced doctor runs a schedule.
---
DENNIS M.
CEDAR PARK, TX
The number of exams per hour should have been in the original contract. This way the new hire would know that if they cannot get to this pace, they can be let go or their salary changed.
---
Daniel A.
Port St. Lucie, FL
It is so imperative that every aspect possible is discussed prior to hiring. Of course, we cannot think of every contingency, but over time you should have a list of points of discussion based on your experience in hiring. If not, you should seek the advice of others who have done this. Dr. Lynn needs to figure out time-saving methods and instruct the new-hire how to use them to everyone's advantage. This needs to presented in a win-win manner in order to get the buy-in he needs from the "momma's boy" OD.
---
DR. KENNETH S.
FORT MITCHELL, KY
One month is very early to have any kind of true perspective on what this new doctor can bring to the business. They should sit down and discuss a plan on how to move forward with increasing volume of patients seen. That is the nature of healthcare and not Dr. Lynn's will. Otherwise, termination will be the only answer.
---