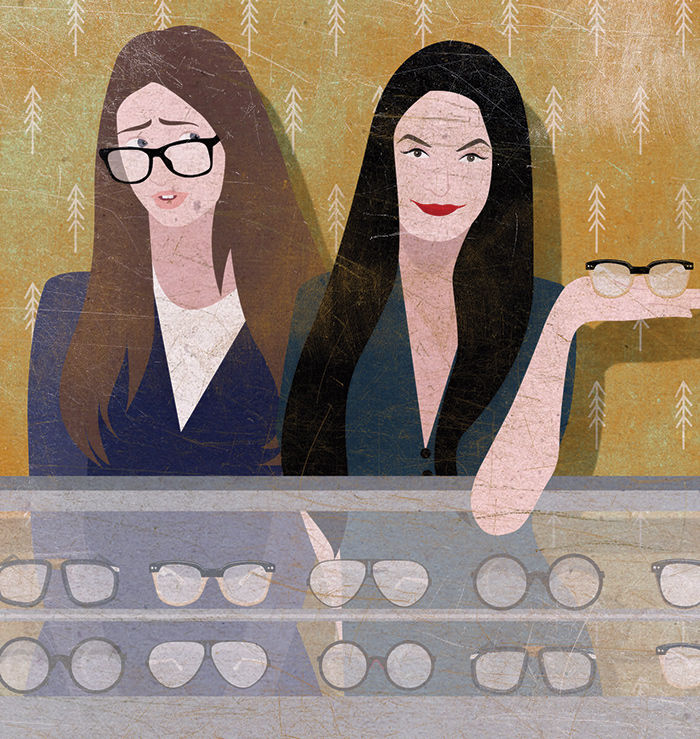 A newly hired optical apprentice feels a growing discomfort at the way she is supposed to present herself around leering male customers.
This article originally appeared in the June 2016 edition of INVISION.
---
Nicole, a talented young optical apprentice from a small town in Texas, had recently relocated to San Antonio and after weeks of applications finally secured a part-time job in a corporate optometry practice, located inside a busy mall. Her goal was to become a full-time employee.
In her first weeks, however, Nicole struggled to adapt the mall clientele. In her hometown, where she knew many of the patients, people were polite and respectful. While many of the walk-ins at the mall were nice, there were several men who behaved inappropriately toward not only her but also her co-worker, Faith. She would notice men sitting on benches outside the mall staring through the windows at her in a way that made her uncomfortable. A few men made comments about her cleavage when she would lean over the dispensing table to check frame fit. Two even asked for her phone number.
Nicole initially looked to Faith, who was in her late 20s and vivacious, for leadership. However, the personalities of Faith and Nicole were quite different. While the new hire was conservative and no-nonsense, Faith took these issues in stride, seemingly accustomed to this environment. Her smile and charm helped her make sales, which meant she was valued at the company.
Nicole began feeling sick before a shift, nervous at what the day would bring, thinking about certain men and hoping they wouldn't visit the shop. She felt conflicted about sharing her feeling with manager, Pam. Nicole really needed a fulltime job, and she didn't want to be perceived as a country bumpkin. Besides, she debated with herself, what could Pam possibly do about the situation? Nicole felt she had the power to affect some change, so she stopped wearing makeup and dressed more plainly.
A month after her hire date Pam scheduled a meeting to provide Nicole with feedback and direction.
"Nicole, I want to say first how impressed I am with your skill set," Pam said. "I can tell you really enjoy frame selection and patient education, which is so important in this field. Great job!"
ABOUT
REAL DEAL
Real Deal is a fictional scenario designed to read like real-life business events. The businesses and people mentioned in this story should not be confused with actual eyecare businesses and people.
ABOUT
THE AUTHOR
Natalie Taylor is an experienced optometry practice manager for Advanced Care Vision Network and a consultant with Taylor Vision. Learn more at tayloreye.com.
"Thank you," Nicole said weakly.
"Now, I know you want to get to full-time here. My suggestion is to take some cues from Faith. Her sales are impressive, and she really puts her personality out there for people. I've been scheduling you with her so you can learn," Pam said. "But the dynamic you have with her is weak. Can you help me understand what's happening?"
For a minute Nicole's chin had twitched, and now big tears were rolling down her cheeks.
"Sorry," she said, "sorry, sorry ..." Pam found her a box of tissues and waited patiently. Nicole pulled herself together and started over.
"I don't really like some of the things the male customers say to me," she confessed. "I just want to do my job." She went on to describe some of her encounters to Pam, who listened sympathetically.
"I imagine this feeds in to the next topic I wanted to discuss with you, which is about presentation," Pam said. "Wearing business-casual attire, looking professional ..."
"I just don't want to seem like ..." Nicole trailed off and looked around the room, "... Faith."
Pam's eyebrow arched. "What does that mean?"
"Faith just seems so flirty to me, and I feel like when I work alongside her it gives customers the impression that I must be like that too," Nicole said.
Pam bit her lip. Faith was Pam's dear friend, and she firmly disagreed with Nicole's assessment.
"OK, Nicole, I'd like to discuss your concerns with my supervisor. Is that OK? I think we should meet again soon to find a resolution," Pam said.
---
THE BIG QUESTIONS
1. How would you resolve Pam's dilemma?
2. Is it appropriate for Pam to hire for personalities that she believes can handle this work atmosphere?
3. Is there a policy or practice the office can implement to protect staff from harrassment? How should it be best presented to the public?
---
REAL DEAL RESPONSES
TANYA R.
DAHLONEGA, GA
Pam needs to take Nicole's feelings into consideration. Flirting to get sales may work for one, but obviously in this case not for the other. Maybe arrange for them to work opposite shifts. Nicole is going to have to put herself out there and learn how to handle herself in stressful situations. Being a young female, this will include being hit on by male customers. She will have to learn techniques to change the subject or sway the conversation into a different direction.
---
DONNA F.
BATON ROUGE, LA
Nicole should feel comfortable and safe where she works. Customers should not feel free to harass employees. Nicole needs to come up with a technique that will subtly let the customer know she's not interested. Management needs to back her up! If you tolerate harassment of an employee, then what else will you tolerate? People should not feel afraid to go to work.
---
ROBERT M.
EDINA, MN
I would observe Nicole and Faith to see what was really happening. I would have asked Faith before scheduling her to work with Nicole if she was comfortable mentoring her on her approach to customer service. I would have then told Nicole what to expect, and I would have checked in with both of them after the first after the first week. As far as the inappropriate behavior on the part of the client, Nicole should have brought that to Pam as it was happening. A business dress code would address some of this.
---
REXANNE C.
AUSTIN, TX
This may not be the office for Nicole. Not every office and employee are going to be a fit. The optical sales should not suffer from Nicole's insecurities, and Nicole should not compromise her values.
---
GR M.
LAKE CHARLES, LA
It seems a camisole and a top button on a blouse would solve a lot of problems here. Yes, you hire for personality and work ethic. These are always the hard qualities to find. It is harder for a male supervisor to correct a female employee wearing too little rather then too much. A male supervisor can't be right in either situation. If a female employee is occasionally uncomfortable with a customer, swapping her for a male employee is an easy fix. If a customer is being a leering jerk, ask him to leave. Men outside the store on a bench, you can't do much about. Move the bench, I guess. Everyone eventually has to learn a way to deal with the weird world out there.
---
JUDY C.
VIRGINIA BEACH, VA
Pam needs to be a manager first — friendly but not close friends with her staff. Pam has placed a halo on Faith's head, and it's interfering with her ability to effectively manage her entire staff. Unwanted and inappropriate attention from customers should never be tolerated, and neither should flirting to make a sale be condoned. Pam needs to develop an office policy covering both appearance and behavior that allows every staff member to be comfortable and productive.
---
Hear What the Industry Thinks About the Ultimate Lens Package by Essilor
Eye care professionals, patients, and Essilor sales consultants shared their feedback on the Ultimate Lens Package. Watch to see why they believe the innovation behind the lens can make the difference for your practice and for your patients. For more information on the Ultimate Lens Package, contact an Essilor Sales Consultant or click here.
---