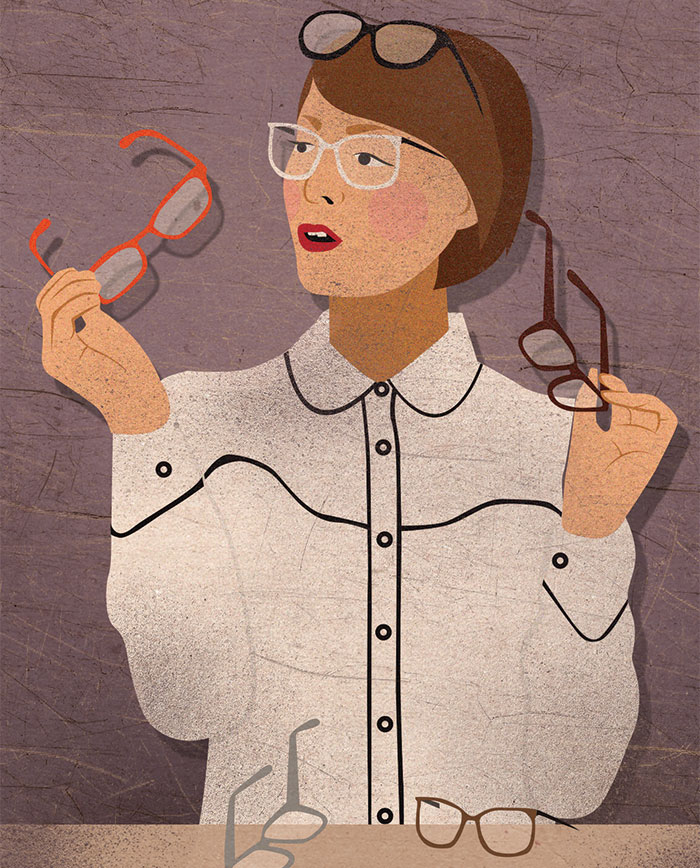 An indecisive browser is disrupting a small boutique. How can the staff set her straight?
This article originally appeared in the July 2016 edition of INVISION.
---
Patty and Greg, opticians at For Eyes Optical in Knoxville, TN, were both busy straightening up the showroom following a stressful two-hour rush. The shop was open only one Saturday a month, and they were used to being inundated.
The bell at the front door tilted and Greg turned without thinking to flash a smile — and his stomach dropped.
"It's me! I'm back again," the woman crowed. "Do you need to get my tray?"
Greg nodded. "I'll just be a minute, Monica," he said.
"Oh, you know my name! That can't be good," she said playfully. Greg offered a weak smile and walked to the lab.
Greg found Monica's tray. In it was a laundry list of the frames she had tried on during five visits in the last three weeks. The bell rang again: more customers.
ABOUT
REAL DEAL
Real Deal is a fictional scenario designed to read like real-life business events. The businesses and people mentioned in this story should not be confused with actual eyecare businesses and people.
ABOUT
THE AUTHOR
Natalie Taylor is an experienced optometry practice manager for Advanced Care Vision Network and a consultant with Taylor Vision. Learn more at tayloreye.com.
"Thank you," Nicole said weakly.
Monica had already made one complete pass through the boards, and a pile of 10 frames were stacked haphazardly on one of the three dispensing tables.
"You have so many frames, I should be able to find something," Monica said. "I'm going to FaceTime with my sister. She can help me decide."
"That's fine, we want you to be happy," he said, and took off like a rocket to greet a family of five who had just walked in, each wearing spectacles. He could hear Monica talking loudly, laughing, arguing and carrying on, and after a few minutes Patty was in Greg's ear.
"Greg! Say something, she's irritating my customer," Patty hissed. He turned and caught a bit of conversation between Monica and Patty's customer, a serious looking businessman wearing a suit on a Saturday afternoon.
"Don't get those, they make your nose look big," she was saying, holding her phone up to show her sister and laughing hysterically. The man was trying to be a good sport, but his body was turned toward the door.
"Monica!" Greg called. "Have you made a decision?"
She quickly disconnected the call and joined Greg at the table. "OK, I really like these four, but I was at Main Street Optical a few hours ago and have a few frames there I like too. Gosh, this is so hard!" she said.
"I need to work with this group," Greg said. "Keep looking, and I'll be back to check on you, OK?" She nodded and waved him off. As Greg turned to resume working with the family, he saw Patty's businessman exiting; clearly no sale was made.
After a few moments, heads turned as Monica yelled at Patty.
"What kind of place is this? Is my money not good here? You won't be successful if you don't know how to provide customer service, girl!" Monica raged.
"You're right, I'm sorry. What can I do to make things right?" said Patty, close to tears.
"I think you should give me a discount on some glasses," she began, "and I want to report you to a manager!" Monica's face was red.
"I'll ask a manager to call you Monday, and she can address all those concerns ...." Patty was stammering as Monica inched closer.
"Fine," she snapped, and she stormed out, but not before walking by the family of five and exclaiming, "You'd be better off at Main Street Optical!"
After the shop closed, Greg and Patty discussed Monica. "I was so upset that she cost me a sale with the businessman that I told her. I said she had taken up a lot of our time and now was affecting our business, and needed to make a decision and leave," Patty said.
Greg rubbed his beard, shrugged his shoulders and was grateful they had a manager who could resolve this mess!
---
THE BIG QUESTIONS
1. What can an optician do to avoid chronic browsers and time-wasters?
2. Is it fair to refuse service, and how do you know you've reached that point? hire for personalities that she believes can handle this work atmosphere?
3. Are Monica's behaviors bad enough to warrant dismissal from the practice?
---
EXPANDED REAL DEAL RESPONSES
Paul L.
Greensboro, NC
What these so-called "time wasters" are looking for is a personal connection, something they need in order to feel satisfied that they are being seen as an individual and not just another customer. In my experience this situation is an excellent opportunity for practice building, for strengthening your service skills and for helping serve a person that others have given up on.
---
Rick R.
Girard, PA
If that type of customer is demanding time with a staff member and then using the "Is this how you treat your customers?" guilt trip, it is time to weigh the positives and negatives. In this case, the negatives far outweigh the positives. In fact, I can't think of one positive if Monica did finally decide to buy. Let's face it, she'd be back for a remake. I don't know if Monica's behavior was enough to warrant dismissal, but she was close. Customers have responsibilities too.
---
Steve W.
Reno, NV
The opticians in this scenario don't seem to be offering the customer any guidance. In my dispensary, we help our customers through the frame selection process with a focus on proper fit, color and shape. We make suggestions and offer opinions on each piece the customer tries. Leaving a customer to figure it out on her own will not make the process go faster.
---
Kristy S.
Reynoldsburg, OH
Refusing service comes only when a patient is taking advantage of the business or is insulting your staff. There are patients out there who cannot be made happy.
---
Stewart G.
San Francisco, CA
You should never let people browse. The sign of a professional is to look at the prescription, look at the need, look at the face and then determine what frame stock is appropriate to satisfy all three. As a professional, you know what's best, and you know your stock. If you know it won't work but the patient wants it, refuse the sale. You'll have post-sale grief if you don't.
---
Monica T.
Charlottesville, VA
If we are having a busy day, I will let the chronic looker know we will be glad to help her but will need to help others too. Then whoever is working just keeps checking in every 10 minutes or so.
---
Jenna G.
Fargo, ND
Kill her with kindness: "Monica, I know you are still trying so hard to decide, I have a couple of other patients here that I need to help first. You work on narrowing it down, and I will check back with you. Please get your sister's opinion; I'd love to know what she thinks too! If you would like, you could check out two of the frames for 48 hours — as long as we have a credit card on file — to get some other opinions." That trick normally gets them out of the store, and they feel like you are offering excellent service!
---
Heather K.
Hilo, HI
I understand Patty was upset about losing a sale but she shouldn't have said that to Monica because now she lost two sales instead of just the one. I know its irritating when you get a patient like Monica but you just have to be patient and let her try on frames while you assist other patients. Be polite and excuse yourself but check on her every maybe few 5 min or so.
---
Mary N.
Toledo, OH
When she walked in the immediate response should have been, "Hello Monica! Feel free to browse but I would definitely love to schedule a half hour appointment with you so that way I can give you my undivided attention to make your final decision." That way you get her on your time, when you are fresh and ready to work with her. You've limited the appointment to a half hour so that way she understands she only gets that time. At the same time you've made her feel special by getting her own appointment. She obviously has no loyalty to the company and has sensed that other employees don't want to work with her so she lashes out to hurt the business by sending people to other places. Making the appointment may make her feel like her business is worth it but as a bonus you keep her away from other customers and prevent her from being negative to your possible new business.
---
Kenneth S.
Ft. Mitchell, KY
They say "kill them with kindness". And even Monica has a right to that to some degree. I believe when she made the statement abt the other optical shop then her time limit of being helped expired. The optician should have started to help the businessman immediately and then passively ignored Monica until either 1. She made her choice (which was almost never likely) or 2. Waited for her to leave. Monica obviously was in a browsing mood and was not close to making any kind of purchasing decision that day. I would say enough effort was expended on her.
---
Viki C.
Pittsburgh, PA
Seasoned opticians can spot chronic browsers like Monica early on but are trained to hold their tongue, be patient, and limit frame choices whenever possible. Even patience has a limit, however. When an optician gets to an ultimate point of exasperation, it's time to state the facts to the customer. Be firm, direct, and honest and hope she will walk out never to return. Managers and owners should always support their opticians in such scenarios.
---
Valerie Y.
Anchorage, AK
Chronic browsers and time wasters have a limited amount of time in my shop. I never hold inventory back without a deposit so that keeps all salable inventory on the floor and sends a message to the customer that this is not playtime.
If the chronic browser becomes upset that they are not getting enough attention I always suggest making an appointment before I open the store. This has worked tremendously to get them up and out.
I also always ask the browsers when they are indecisive just exactly what is it that keeps them from making the purchase. If the response I receive is "I'm not in love with them" I refer them out.
---
Cara C.
Marshfield, MO
I think this issue could have been resolved with the optician narrowing down her choices based on her face shape and Rx. Too many choices are frustrating and intimidating to most patients. We are here to assist patients in their selection because we are the experts. Our personal opinions and feelings about the patient are not relevant. Their eye care health and needs are our upmost priority.
---
Tracy G.
Hatboro, PA
It is in human nature to be indecisive. Most of the time when we are buying high profile items, like eyeglasses, we want to take our time and make the 'right' decision. As opticians, it falls to us to guide the consumer into a frame that will not only look good, but also work with a patient's R x... and get their friends into such a tizzy about how sharp their new specs are that they come running in for you to fit them as well. Some people will flop between, "I can't find anything" or "I just can't decide". It's frustrating for us and them. I usurp this a few ways: First; don't let them look alone — guide their choice subtly, second; try to read the person a bit and give them honest advice in plain words (people always appreciate that if done right), and third; let them know that the quicker they make a decision, the quicker they get their new glasses, and therefore, better vision!
---
Judy C.
Virginia Beach, VA
Establish an office policy on holding frames. The reality is that frames in a tray are frames other customers can't see or buy. Having a set policy of 1-3 days should compel the "wishy-washys" to act in a timely manner. Monica is probably going to be a problem to whoever she purchases from. I'd let her go.
---
Craig E.
Englewood, FL
An optician or any sales person must try to always maintain control of the sale and situation. Greg should of kept himself with his customer the entire time she was browsing no matter how bad it hurt. At this point a private conversation from the manager of the store stating that unfortunately the location does not have the frames to meet her needs right now and wish her well. She has already cost one possible big ticket sale, no need to risk more.
---
Gary S.
Muskegon, MI
One either needs to politely ask Monica to return on a more convenient (for the office) day when she can receive more personalized attention or retake control of this out-of-control potential patient by requesting her to sit while you select the most appropriate frame styles for her face and lifestyle. If she refuses, either offer to schedule a more convenient time for you to attempt to serve (humor) her or suggest that maybe what Main Street Optical has to offer is more what she needs than you can offer. It sounds like she has never spent money with you and her loose cannon comments to other customers is not worth allowing her in your shop again. I would probably call her out for making those insulting comments to your other patients. That would either humble her or encourage her to leave. No sale is worth that amount of grief. Take it from my 35 years of experience.