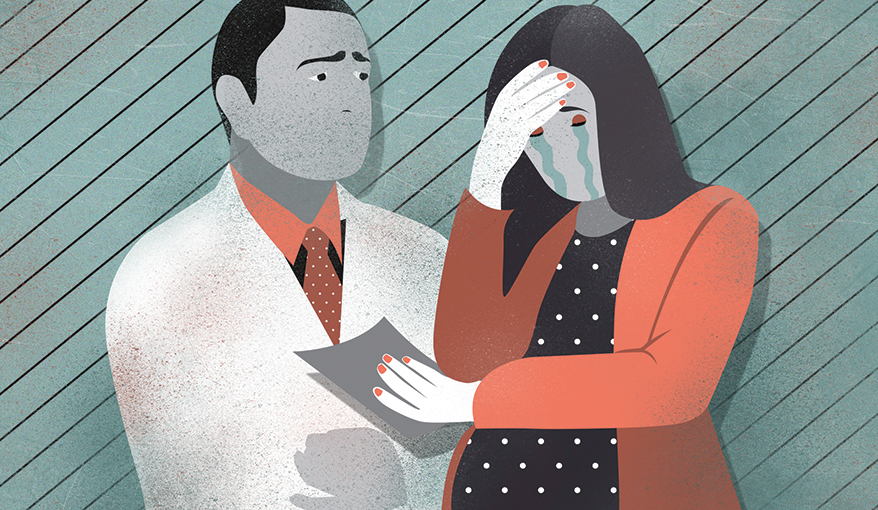 A small office must contend with an extended leave of absence. How can the business be fair?How
Ingraham Eyecare was a peaceful, slow-paced office. Dr. Louis Ingraham employed three full-time staff: an optician, a receptionist and a technician-biller. He had inherited the office — and the staff — two years ago when his father retired.
A few months ago, optician Ellie happily announced she was pregnant with her first child. She was a competent optician who had been hired and trained by the senior Ingraham five years ago. Ellie and her husband reviewed their financial needs and found she could only take four weeks off from work to have the baby. This was Dr. Ingraham's first disruption in staffing since assuming ownership of the practice, and he texted a few optometry school friends for advice.
ABOUT REAL DEAL
Real Deal scenarios are inspired by true stories, but are changed to sharpen the dilemmas involved. The names of the characters and stores have been changed and should not be confused with real people or places.
ABOUT THE AUTHOR
NATALIE TAYLOR is an experienced optometry practice manager for Advanced Care Vision Network and a consultant with Taylor Vision. Learn more at tayloreye.com.
"Put up an ad on Craigslist looking for experienced, temporary help," suggested a doctor in Dallas.
"Find a travelling optician and give them a short-term contract," said another in Chicago.
"Hire someone from the makeup counter at Macy's to do frame styling, you can just do the measurements and check over her work," advised a third in Oregon.
Dr. Ingraham was too busy to perform optical duties himself and didn't see either of his existing staff doing additional cross-training. He advertised on several industry websites and after six weeks found a highly skilled optician willing to move to the area to work as an independent contractor. The fee was high, to offset travel expenses, but it was just a month. Weeks passed. On a Friday afternoon, Ellie joined Dr. Ingraham in his office for a meeting.
"My doctor diagnosed me with preeclampsia," she said, tearing up. "He wrote me this note. I likely won't be able to come back to work for at least six to eight weeks."
Dr. Ingraham's heart dropped. "I don't think I can afford to have your temporary replacement stay any longer than a month, Ellie," he said. "You don't know when you'd be back?"
"No," she said, tears spilling, "it's just a wait-and-see. But as soon as I am cleared by my doctor, I need to work."
"I'll need to figure this out, since the practice can't be without an optician," said Dr. Ingraham vaguely.
"Well — am I going to have a job to come back to?"
Dr. Ingraham froze. Ellie panicked. "I have rights — you can't fire me because I'm pregnant!" she cried.
"Technically, those rules are for companies bigger than ours," said Dr. Ingraham gently, then bit his tongue. "Listen, I need to do what's good for the practice. I want you to come back as soon as you can, but in the meantime we can't function without an optician."
"So you're going to replace me?" she exclaimed. "I can't deal with this, my blood pressure is already out of control. I need to go home," she said as she walked out of Dr. Ingraham's office.
He followed her out, and could see a patient waiting in the dispensary at the other end of the hallway. Dr. Ingraham went to help him, not sure what the future held for his company.
The
Big
Questions
In such a small office, what is the best course of action to accommodate maternity leave?
What could Dr. Ingraham have done differently in his meeting with Ellie?
What would you have done as Ellie to take ownership of the staffing situation?
Expanded

Reader Responses
Rick R.

gerard, pa
Our office is the same set up, except I'm the optician and can't get pregnant. But we have had two receptionists and our doctor get pregnant. The receptionist is a good candidate to cross train. Trying to find a traveling optician, I'd think, would be nearly impossible. Especially for that long a time. Local opticians, maybe a variety of them, might be willing to fill in for the extra income. As for Dr. Ingram's handling of Ellie, I thought it was cold and inconsiderate. Besides opening up a slew of libel issues, he didn't seem concerned with the well-being of his staff.
John W.

Ann Arbor, MI
He should bite the bullet and keep the temporary optician until she comes back. He also needs to apologize to her for giving her even an inkling that her job wouldn't be waiting for her. Families having babies is a fact of life, so this should not have come as a surprise. Creating an employee handbook should be next, so that situations such as this can be addressed.
Michael D.

Eldersburg, md
I reduced the amount of patients I saw per day in an almost similar situation so the rest of the staff and I could cover for this valued employee. The practice's bottom line took a bit of a hit for a month or two, but it was worth it in the long run.
Tex S.

Citrus heights, CA
If Ellie's condition becomes ADA her attorney will make the doctor wish he was in another business. Once Ellie knew she was pregnant, she and the doctor should have had a plan to train an interim employee when she left on maternity leave. The doctor should have read HR Legal Best Practices updates on
Pregnant Employees. There is always the possibility that Ellie may not return. The interim employee could then become full time. What we don't want is for Ellie's attorney to explain anything to the doctor, because it will be a very expensive lesson.
Stewart G.

san francisco, ca
Perhaps taking out a short term business loan to pay for the second optician until your primary optician is back on her feet? And once back, perhaps training other staff to do some of the work the optician does when fill in is necessary. I mean, what happens when she goes on vacation?
Gayla M.

North Bend, Or
As a small office we've run across this very situation. By having three employees dedicated to their own jobs he left himself wide open for problems. Cross training with such a small staff is an absolute must. Between vacations, sick time, and Family Leave there is always going to be someone off. Start, right away, cross training each employee to be able to cover the other's job for a least a short period of time. Obviously something isn't going to get done, but you then decide what can be done later, or after hours. The most important thing is waiting on your patients as they come in. Paper work, other than initial work ups can be done later. After the fact his only recourse is to hire a temp or do it himself. If your filling the optician's job it's going to be costly. Eli does have FMLA and state rights so it's best to wish her well and hope to see her soon. Don't alienate a good employee. Again, cross train before this happens.
Jocelyn

Lancaster, MA
We have enough staff to cover an absence fortunately. He was given a few good suggestions to have a temp optician or to have an optical frame stylist who he then supports as needed. Pregnancy is part of life and although difficult he should cover her absence and allow her to take the time needed to be with her family. That is the right thing to do. At this point she may return but she may look for another job since she was trying her best to come back as soon as possible which means she is dedicated but not allowing her to know she had a job may have been taken that he is not as dedicated to her. She will hold on to that is my guess.
---
This article originally appeared in the March 2017 edition of INVISION.
What's the Brain Squad?
If you're the owner or top manager of a U.S. eyecare business serving the public, you're invited to join the INVISION Brain Squad. By taking one five-minute quiz a month, you can get a free t-shirt, be featured prominently in this magazine, and make your voice heard on key issues affecting eyecare professionals. Good deal, right? Sign up here.
​
Hear What the Industry Thinks About the Ultimate Lens Package by Essilor
Eye care professionals, patients, and Essilor sales consultants shared their feedback on the Ultimate Lens Package. Watch to see why they believe the innovation behind the lens can make the difference for your practice and for your patients. For more information on the Ultimate Lens Package, contact an Essilor Sales Consultant or click here.
---