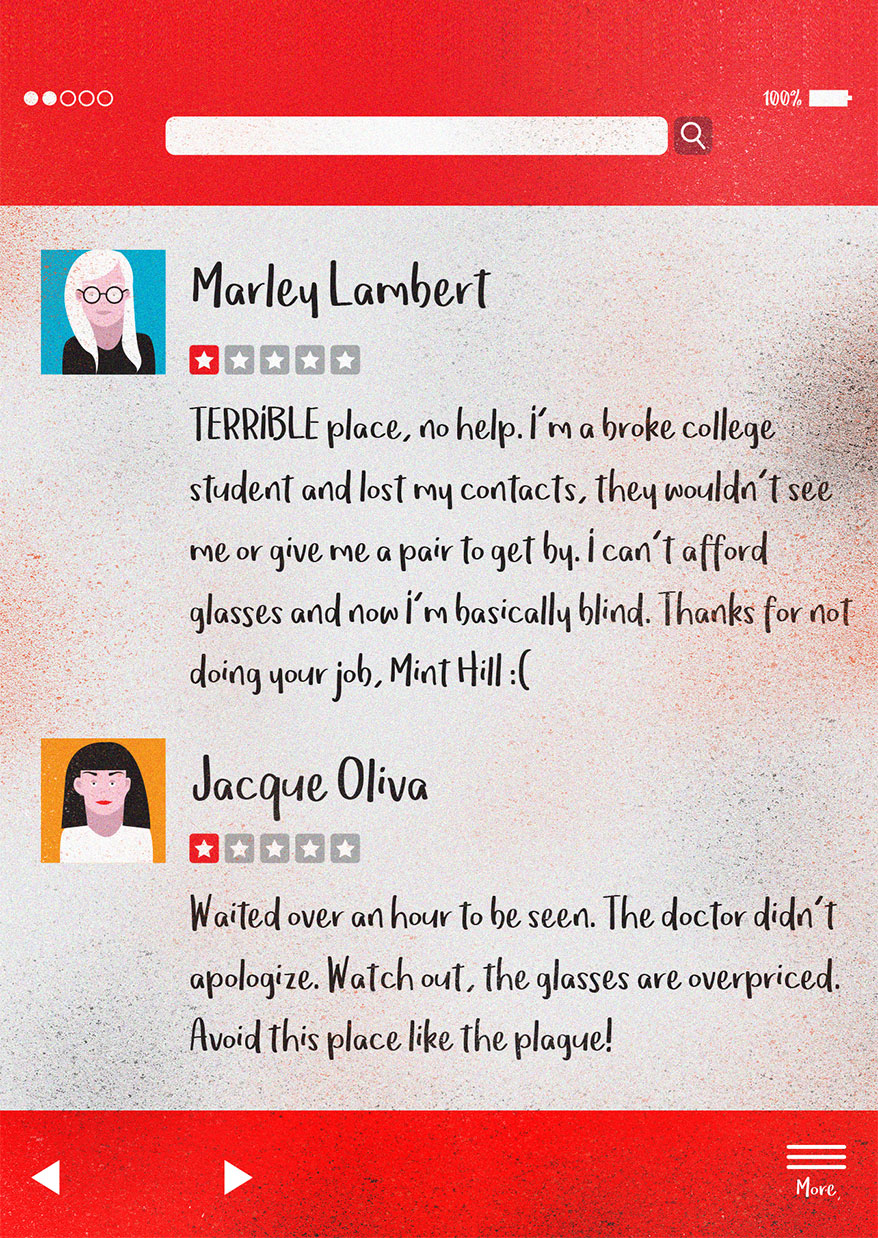 A series of bad online reviews is crushing a budding doctor's reputation. How can he fight back?
Dr. DePalma, a recent grad, opened his practice cold six months ago. Shiny and new, Mint Hill Optometry was situated just outside Charlotte, NC.
He'd recently hired Paul, a seasoned practice manager with a great work ethic. It was Paul who first brought a negative review on a popular website to his attention.
ABOUT REAL DEAL
Real Deal scenarios are inspired by true stories, but are changed to sharpen the dilemmas involved. The names of the characters and stores have been changed and should not be confused with real people or places.
ABOUT THE AUTHOR
NATALIE TAYLOR is an experienced optometry practice manager for Advanced Care Vision Network and a consultant with Taylor Vision. Learn more at tayloreye.com.
"It's the only online review we have, and it's one-star," said Paul. Dr. DePalma was flabbergasted. He couldn't recall any of his patient encounters being particularly negative.
"What does it say?" he asked.
"TERRIBLE place, no help. I'm a broke college student and lost my contacts, they wouldn't see me or give me a pair to get by. I can't afford glasses and now I'm basically blind. Thanks for not doing your job, Mint Hill :( "
Dr. DePalma rolled his eyes. "This girl came in at the end of the day and wanted to be seen without an appointment. We offered to add her to the schedule ... she didn't like the available times and then demanded hold-overs," he said. "She's a new patient. I'm not handing out contact lenses when I've never even done an exam!"
Paul nodded in agreement, but said, "I need to write a reply, so potential patients can see that we are responsive."
"Why don't we just ask her to delete it? Or tell the website to?" said Dr. DePalma.
"This website won't take it down, and I imagine the student will ignore us," said Paul. "Why don't I draft a reply and we can start there?"
Paul wrote a long explanation of why contact lens exams are essential, but Dr. DePalma insisted they reply with a description of how unreasonable the students' requests were. After much debate, no reply was ever posted.
A few weeks later, Paul found a second negative review, this one two-stars.
"Waited over an hour to be seen. The doctor didn't apologize. Watch out, the glasses are overpriced. Avoid this place like the plague!"
"I searched our records, I don't think this is a patient," said Paul.
"You mean this is fake?" asked Dr. DePalma.
Paul nodded. "You can click on the website to see each persons' other reviews. All her reviews are for places in California. Why is she reviewing an optometrist in North Carolina?" he said. "I submitted a petition to the website to remove the review, but I'm not sure they'll listen."
"Why would a website allow this?" said Dr. DePalma.
"Honestly? I think they want us to pay to advertise. I've heard that if a business buys a contract, they allow more good reviews to be seen. It's like being held for ransom," said Paul.
"Should we pay?" the doctor asked.
"On principle, I'd say no; it's offensive. But this is your practice," said Paul. "I'm not sure how many people even look at this website to pick an optometrist. The fee is significant, and your marketing budget is stretched pretty thin as it is."
The
Big
Questions
Should the practice pay the advertising fee and join the site?
What should the office write as a response to the first negative review? What about the second?
How can new offices manage their online reputations without breaking the bank?
Expanded

Reader Responses
Ben R.

Rockford, MI
1. I don't think the office should pay to join the site. There are plenty of other free review sites and options.
2. First response should be apologetic but clear on the situation and stress the importance of a doctor's care in regards to contact lenses. It should also involve private communication with the patient. The second response should be simple. "We have no record of you as a patient in our office. Is it possible that you mixed us up with another office located closer to your home?"
3. It's going take time. Either the doctor or office manager needs to be on all the social media sites every day and maybe have some family members or colleagues write reviews.
Rexanne C.

Austin, tx
1. Dr. DePalma should not pay the advertising fee and join the site. I have no doubt consumers do their research on review websites, that's why it is crucial for the practice to write a response. This would be visual evidence that could be used by all parties to solve this dilemma.
2. It is essential to be positive and communicative, not defensive in the response. Unfortunately, it seems this individual may have received poor service elsewhere.
3. Ask patients to post for free to social media!
Vicki K.

waco, tX
1. I thought that blackmail was illegal. Paying the fee and joining the site to get better reviews is somewhat unethical.
2. The doctor and office manager should have sent a response. In the response only add the actual events and the situation from a professional point of view. Don't point fingers at the patient.
3. Just do a good job. Be professional and friendly to your patients and it will work out. Unfortunately, you can't make everyone happy all of the time no matter how hard you try.
Howard C.

Ferndale, mi
1. He should not pay the advertising fee. His money should be used to hire a reputation-building company, which will help him get five-star reviews.
2. He should respond to the first review. He should say how important proper eyecare is to him and that it's his job to provide this to his patients and because contact lenses are a medical device that requires a prescription, he would be negligent in just handing out a pair of contacts. For the second review, he should call them out that this is a phony review. All reviews should be responded to. Readers can be swayed in your favor depending on how you respond.
3. Shop around for a reputation company and get references.
Susan H.

Oyster Bay, NY
No to the fee. We have one on Yelp and outside vendors always call to "remove it". It's very old and it's not who we are. Our regular patients know us and how we accommodate as reasonably as possible. If a new patient picks or doesn't from one or two "bad" reviews then they can go somewhere else. Usually this type of patient isn't in it for the long haul with us anyway. I manage the online once a month or if something special is going on. I give it 20 minutes and we're good.
Steve W.

Philadelphia, PA
Write a brief response to the review. Get friends to write at least 5 more and forget about it.
Robert M.

Edina, MN
The practice should not pay the fee to join the site. They should call the site and tell them they are interested in joining and ask for a contract and ask for some references of other businesses that are members and call them to see what their experience is. To answer the first post, they should lay out office protocol for contact lens fits and holdover lenses. They must be careful not to blame the 'victim'. They should state that it would be professionaly and ethically irresponsible to give lenses to someone that had not been examined and fit in your office. For the second post, state the facts that this appears to be a mistake as no record can be found for this situation and ask them to delete the post. Tell them if they were indeed in to call you and you will work hard to resolve their concern. Set your own online rep by establishing a credible online presence.
Joselle S.

Spokane, WA
Always respond to any review. Good or bad. If bad, just an "I am sorry we couldn't help you that day, we would love to give it another shot if you would like to come back in." If you do not think the review is real the a response addressing that "you could not find the reviewer in your records, could they give you a specific date or location and that you would love to try to resolve any issues." A response shows that you care and are willing to try to resolve problems. As for paying to advertise, no way! It's a silly idea, good reviews are the best advertisement!
---
This article originally appeared in the April 2017 edition of INVISION.
What's the Brain Squad?
If you're the owner or top manager of a U.S. eyecare business serving the public, you're invited to join the INVISION Brain Squad. By taking one five-minute quiz a month, you can get a free t-shirt, be featured prominently in this magazine, and make your voice heard on key issues affecting eyecare professionals. Good deal, right? Sign up here.
Hear What the Industry Thinks About the Ultimate Lens Package by Essilor
Eye care professionals, patients, and Essilor sales consultants shared their feedback on the Ultimate Lens Package. Watch to see why they believe the innovation behind the lens can make the difference for your practice and for your patients. For more information on the Ultimate Lens Package, contact an Essilor Sales Consultant or click here.
---