A new OD is ruffling some feathers. How can the manager maintain peace?
This article originally appeared in the May 2015 edition of INVISION.
---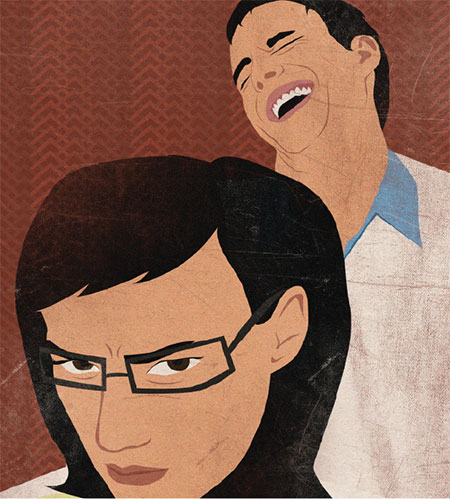 Dr. Ken Piccolo,
the owner of southern Florida's Costa Del Sol Eye Care, had been in business for 20 years. His large office was well known regionally for outstanding medical care. Ken and the four other optometrists in his practice were booked weeks in advance, so Ken hired a fifth doctor: Sam Peters.
Sam had recently graduated from optometry school, and this was his first job. Grace, the practice's manager, had been impressed with Sam's serious, career-oriented attitude during the interview process.
But after only two weeks, some of Sam's actions began causing friction. He had started pressuring the receptionists to build his schedule lighter than was office policy, without consulting Ken or Grace. Sam was also aggressively pointing out errors made by the technicians, much to the displeasure of the tech department's supervisor.
One evening, two hours after the office had closed, Grace returned to the office to run a software update. She was surprised to hear Sam in an exam room with his parents and grandmother, performing their eye exams. She didn't interrupt them, and the next day she noticed with some relief that Sam had properly documented his family's insurance information and paid each co-pay.
ABOUT REAL DEAL
Real Deal is a fictional scenario designed to read like real-life business events. The businesses and people mentioned in this story should not be confused with actual eyecare businesses and people.
ABOUT THE AUTHOR
Natalie Taylor is an experienced optometry practice manager for Advanced Care Vision Network and a consultant with Taylor Vision. Learn more at tayloreye.com.
Grace met with Sam privately the next morning, to share her concerns. "As the practice's manager, part of my role is to guide each doctor in the non-clinical aspects of employment at Costa Del Sol," she said. "I want to be a resource for you — consider me your policy manual. I'm happy to answer any questions. For example, no one is allowed to be in the building after hours unless Dr. Piccolo or I are also here."
Sam looked offended and embarrassed, but accepted Grace's message and left to see his first patient.
Around lunchtime, Ken called Grace in for a meeting. "Sam spent some time in my office this morning, upset about your chat."
Grace was amazed. "I was polite and professional ..."
"He felt insulted that you were managing him, and not me. It seems he was expecting the doctors to be held above the level of a staff person," Ken said. "I explained to him this is how the practice is structured, and that I don't have the time to effectively manage the doctors."
"Should I talk to him again?" Grace said.
"No. I echoed your message on the after-hours exams. Sam might need some space, but he'll come around."
A few days later, Sam had a light schedule and lots of downtime. Grace was walking through the office when she noticed a few patients in optical who were not being helped. When she stuck her head into the lab to find help, she saw Sam quietly telling a story, three opticians huddled around him and smiling. She stepped near the circle and said to the opticians, "We have two patients in the showroom waiting for help, can we head out there?"
The group moved to break up and she left the lab, but as she walked away she could hear Sam say something that made the group laugh loudly. Grace couldn't help but wonder if Sam had made a comment at her expense.
Grace mentioned the incident to Ken. "You and the other doctors are all at least 10 years older than Sam, so I understand why he gravitates to the staff," she said.
"We haven't had rules about doctors fraternizing with staff," Ken replied. "We haven't needed them."
"I like the separation. It makes it easier for staff to respect the doctors," Grace said. "But I have to be honest, if he continues to treat me like his enemy, we're going to have ongoing management problems."
---
T H E B I G Q U E S T I O N S
1. Is it unreasonable for a doctor to want to be managed by the owner-optometrist, and not the practice manager? Why or why not?
2. What advice would you give to Sam, if you were one of the other doctors at this practice?
3. How can Grace more effectively navigate her role when a new doctor changes the company culture?
---
R E A L D E A L R E S P O N S E S
DR. ALEXANDRA K.
BOCA RATON, FL
I don't think it's unreasonable for the doctor to wish to be managed by the owner/optometrist. However, the office manager is a much better person to regulate and manage the doctors and staff. The owner should be used as a teaching guide or resource, not as a direct manager. That manager has made it to that position for a reason. A practice open for 20-plus years is obviously doing something right, and just for loyalty's sake, the doctor will continually back up and support the manager.
DR. SARAH J.
MINNEAPOLIS, MN
The new doctor should respect the existing practice hierarchy. The practice manager's role includes ensuring that policies and procedures are followed by all staff. She might find it helpful at first to approach the new doctor with the owning doctor present, so the message is clear that direction from the manager is the same as direction from the owning doctor(s). The owning doctor needs to support the manager, and should be clear from the beginning that the new doctor can expect constructive feedback from the manager.
DR. DANIEL G.
JOHNS CREEK, GA
The office manager is key to the success of the practice. The practice is growing with her team. I would tell him only once: We are a team here and any behavior not in line with policies and mission is cause for dismissal. Fire this associate during the probationary period. Don't change a company culture working well.
DR. SUSAN Q.
ATHENS, OH
1. It is fair to have Dr. Sam answer to the office manager, as long as this is consistent with the other doctors in the practice. This should be made clear to the newly employed OD at the beginning of employment. Everyone should be held to the same standards of accountability.
2. As a colleague in the practice, I would say that Grace has the best interest of the practice in mind and is simply enforcing policies of the practice. Dr. Sam can learn a lot from this practice about how larger private practices work productively together.
3. The senior doctor needs to back Grace absolutely and entirely. If there are aspects of the employee manual which are hard to comply with or seem outdated or unreasonable, the leadership of the practice should review it and make sure there is agreement on all aspects of the policy manual and confirm that the entire staff understands the manual. If Dr. Sam continues to undermine Grace's authority, Dr. Sam should go.
DR. G.R. M.
LAKE CHARLES, LA
Sam needs to be contributing where he knows he can (examinations), and eagerly learning what he does not know. He needs the practice; the practice doesn't need him if he is causing any friction.
Hear What the Industry Thinks About the Ultimate Lens Package by Essilor
Eye care professionals, patients, and Essilor sales consultants shared their feedback on the Ultimate Lens Package. Watch to see why they believe the innovation behind the lens can make the difference for your practice and for your patients. For more information on the Ultimate Lens Package, contact an Essilor Sales Consultant or click here.
---