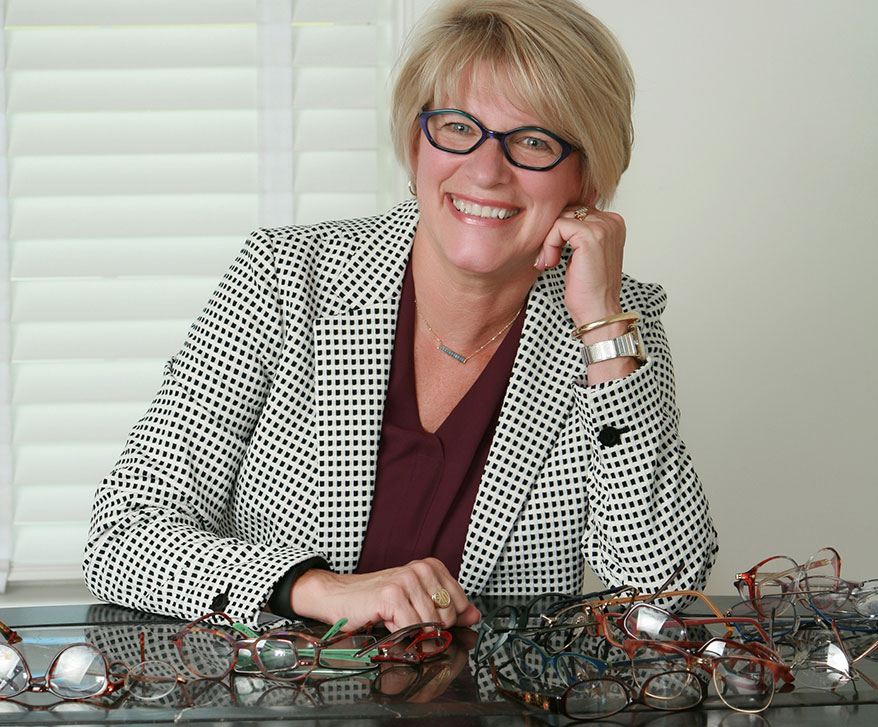 "I began my optical career by accident," says Tami Hagemeyer, lead optician at Premier Vision Group in Bowling Green, OH.
Hagemeyer's original plan was to attend college for fashion design but she noticed some blurry vision and called an optometrist's office where a friend worked first. "She seemed relieved to hear from me and asked if I could to help her," she says. "She was a single mother and needed a babysitter for the next day. She asked if I would watch her son or come and work for her at the office. I never imagined that when I decided to cover for her it would change my life."
The OD hired Hagemeyer that day and she began training the next. Thirty-eight years later and she never made it to fashion design school.
My first pair of glasses were popular and very cool, you know the ones, the silver metal aviator frames every teenager wore in the late '70s and early '80s ... But my first pair of glasses after I started in eyewear were a beautiful gold drill-mount frame with faceted lenses in a triple gradient tint. They were a true piece of "eye jewelry" and made me feel super cool, mature and chic.
I begin my day by imagining the way I want the day to go in my mind before I even get out of bed. It helps me mentally manage my hectic day.
---
Two books that have had a huge effect on my sales focus on positivity and self-reflection. I read The Secret by Rhonda Byrne and have it on CD; I listen to it when traveling. The second is Simon Sinek's Start with Why. My team and I read this together; it is a great inspiration for identity and purpose.
---
My homework is poring through fashion magazines. I love to see what stars and regular people are wearing, including lens styles and tints. I buy for the practice and love the frequent complements on our variety. It's vital if we want to continue to grow that we focus on current and traditional styles.
Working in a very busy private practice, burnout can become rampant so it is important to know when it's time to take a few days off. When working with a patient feels like an imposition or I become complacent, I really don't care about their optical needs, it is time for a day or two to recharge.
Looking back, I can't believe I used to try and sell by advertising a warranty. New lens styles and material introductions were the reason manufacturers found it necessary to offer warranties; they were used as incentives for people to try the lens styles, with no financial risk. I no longer do that. I do, of course inform my patient if they inquire, but sometimes offering a warranty as a sale option may imply it is in fact necessary.
This article originally appeared in the October 2016 edition of INVISION.
SPONSORED VIDEO: VISION SOURCE
Optometric Practice in a Small Town
Practicing in a small town gives you the diversity and opportunities to practice full-scope optometry. See how one OD found professional and personal fulfillment in a small town.