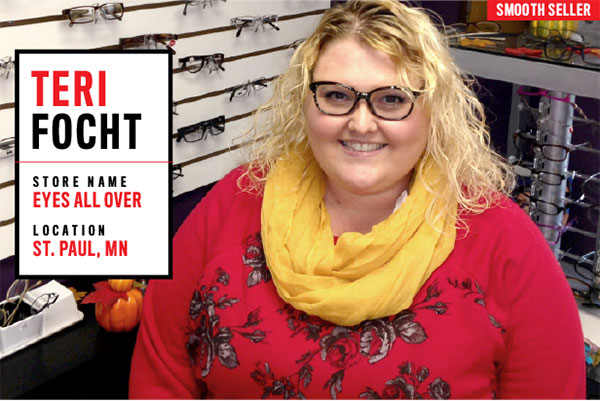 This article originally appeared in the Nov-Dec 2014 edition of INVISION.
Teri Focht is barely out of her 20s, but she's already been in the vision care business a dozen years, starting in the LensCrafters lab at Mall of America and moving on to ABO certification, management jobs, and training in Lasik, pre-exams and refractions. Now she gets to do it all, and then some, at Eyes All Over, which she opened in 2013. "Life is too short to wear ugly glasses" is the shop's motto, and Focht brings both a price-conscious yet style-savvy attitude and absolute passion to her job. "This year I (turned) 30, and there are only a few things in my life that I am 100 percent certain of," she says. "This career is one of them." — JULIE FANSELOW
---
At Eyes All Over, I am the owner, optician, optometric assistant, medical biller, marketing department and HR. I wear a lot of hats!
To get psyched up for a day at work, I usually do my devotions, have some coffee and rock out to the radio.
My favorite eyewear is anything big! (Thank goodness that's in now, right?) I do awful in contacts — more Cyl than Sph — and I can't stand seeing the frame.
My favorite type of customer is trusting, ready for a change and wants to be educated.
I most enjoy selling anti-reflective coating. Ninety-eight percent of our patients complain about nighttime driving — which they should, because no one ever educated them on the importance of a good AR.
My best sales achievement so far was when I had my first sale on Day 2 to a person who walked in right off the street. It wasn't a family or friend!
---
And when I get time off, my favorite thing to do is to spend time with my husband and son ... and go THRIFTING!
---
Even if you view yourself as the best-selling optician, remember there is a medical "bedside" manner that you need to have. Your patients are going to ask you all the questions they forgot to ask the doctor. Know the answers.
The ideal optical salesperson is informative, a great listener and motivated.
My favorite promotion is our $69 frame sale. When patients don't have to sacrifice for the frame they have their eye on, they are able to make better decisions when it comes to their lenses — like finally moving into a progressive, or trying Transitions.
I know it's time to take a few days off when I've made it through all the Post-its and piles on my desk.
I'm most optimistic about the future of our business because we've seen months with an 800 percent increase from last year.
I want my business to be a reflection of of who I am in Christ. Maybe I'm a bit raw sometimes, but I think that is part of what my patients like.
If I met someone on their very first day in optical sales, I'd tell them to take the next 60 days to learn as much as you can and decide if this is what you want to do. If you don't like it, you need to move on because this is a lifetime career and it requires a lot of learning and growth. If it's not for you that's OK — but if it is, you'll find it very rewarding.
My secret weapon for selling is lots of prayer — seriously. (ED: We believe you, Teri. As one Facebook reviewer wrote, "If you live in MN, go by Eyes All Over before you go anywhere else to get eyeglasses. Unsurpassed customer service, great selection of frames and prayer if you need it :) Teri is waiting for you!!")
SPONSORED VIDEO: VISION SOURCE
Optometric Practice in a Small Town
Practicing in a small town gives you the diversity and opportunities to practice full-scope optometry. See how one OD found professional and personal fulfillment in a small town.