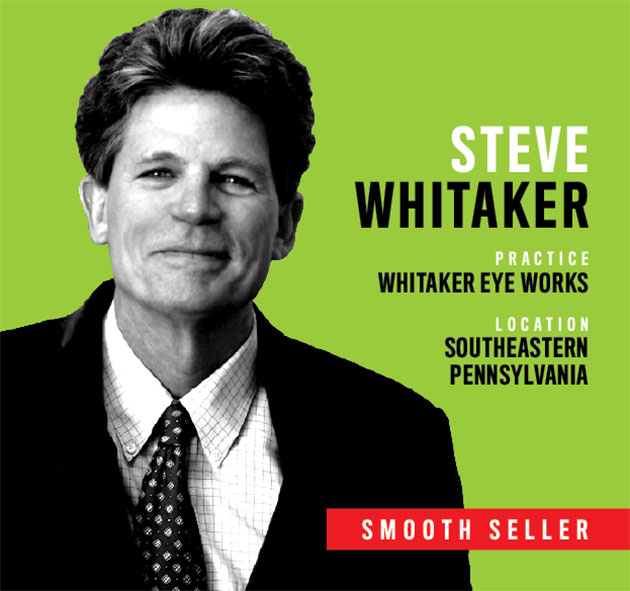 This article originally appeared in the January 2015 edition of INVISION.
When your name is on the business, you have to be good. Steve Whitaker opened his original optical location in 2002 in Wayne, PA, and later added locations at the Einstein Medical Centers in Philadelphia and Elkins Park, PA. These days, he's delegated much of the dispensing to his team of highly qualified opticians so he can network and drive traffic to the three locations. But, he adds, "I still do plenty of selling eyewear, taking measurements, etc. ... and as I'm writing this, I just got a text that an edger is acting up ... so I problem-solve as well." — J U L I E F A N S E L O W
---
I have been in the optical business for 16 years. I was a sales representative for Santinelli and Optical Dynamics, and also a surgical rep with Allergan, Phamacia and 3M, selling cataract implants and associated equipment to ophthalmic surgeons. I wanted to be in business for myself, so working with opticians, optometrists and ophthalmologists within a setting that serves the community where I live seemed like a good idea.
My secret weapon for selling is to invoke trust, find a need and fill it. Specifically, in this market, I am very direct with folks in telling them that we can positively affect the way they look, feel ... and see, with a change in eyewear.
---
My favorite type of customer is fashion-forward or one that is open to the notion that eyewear goes beyond being a medical device.
---
I wear contact lenses and suns from Italia Independent, Maui Jim and Oliver Peoples. I also enjoy Lindberg eyewear, both rimless and fuller front with titanium sides. They just feel the best and I still look like me in them. I also really like and wear Blackfin and Axel S for a funkier look.
The ideal optical salesperson is highly personable, asks the right questions, and allows the customer to speak or even vent about their eyecare needs or past experience. The pick-up offers the opportunity to solidify the relationship. "So what do you do when you're not being outfitted with cool glasses?"
---
In the Wayne location, three days a week, it is "doctor day." The other two locations are doctor-based centers where eye exams drive volume/sales.
---
Music I play is usually stuff you can move to — soulful stuff. Something you ought to know about me is that I often dance between floors on an elevator (when I'm the only rider, of course).
I know a sale is going awry when the customer wants control and doesn't know what they want — so they are walking around trying a zillion frames on. I try to reel them in. "If I told you I was good at this, would you believe me?" "Let me help you." I have a four-frame container and I challenge both of us to get it down to four frames — now. If you can get to one or two (better than one) and close on this type — you're good.
It's time to take a few days off when you're getting a tad jaded toward the human race. When I'm off, I like to hang with my wife and boy, or make music by myself or with friends.
I'm a dreamer and if I keep dreaming and implementing new things, the growth is the reward. Satisfying people with new styles or vision approaches is the journey.
SPONSORED VIDEO: VISION SOURCE
Optometric Practice in a Small Town
Practicing in a small town gives you the diversity and opportunities to practice full-scope optometry. See how one OD found professional and personal fulfillment in a small town.