Articles tagged: Ask INVISION,
What advice do you have for dealing with bad apples and the guilt you feel about possibly firing them? Other than to look past the short-term mental anguish and focus on the ultimate benefits that...
What's the best way to deal with those tech type customers who get into the nitty gritty of lens composition and frame manufacture? Indulge them. And enjoy the opportunity to go mano a mano in...
We have equestrian games coming to town with 100,000 visitors expected in the area. How can I take advantage? Lucky you! This gift horse trotting into town is possibly wearing golden hooves....
What are some spiffs I can use to generate some excitement — and hopefully better sales — from the staff? For inspiration, we can't do better than recommending sales trainer Harry Friedman's...
How do you prevent burnout? (And please don't tell me not to work so much!) OK, how about we suggest you work more, and do it for free? We're being only partly facetious. Pro bono-type work at a...
I'm thinking it could be time to open a second location. What factors should I be considering? There's an adage in retail that if you're going to open two stores you might as well open six;...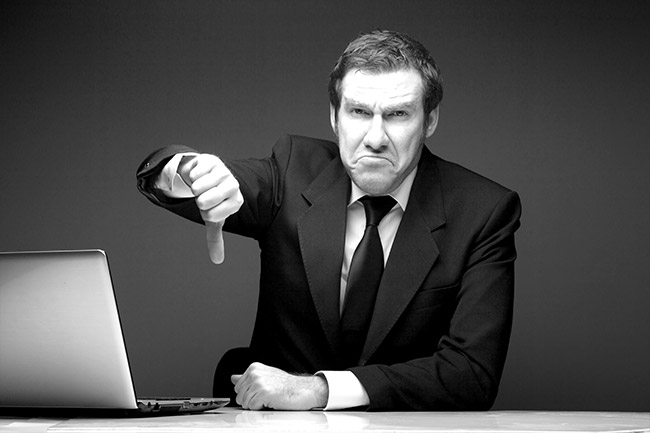 What's the best way to deliver a bad employee review? David Bentley coined the term "naked leadership" to promote the idea of totally honest management and stripping away the emotional...
An employee is starting to show her age. She's losing her hearing and becoming forgetful. She wants to work to age 68 — three more years. What do we do? This is a tough one. You want to be...
Ever come across one of those clients who likes to threaten to sue you whenever they are not happy? How do you handle them? No brainer, says Dr. MyHanh Dang of Gateway Eye Associates in...
Is it true that SBA loans take longer than regular bank loans to be approved? I'd expect as much from a government agency. Actually, the Small Business Administration doesn't extend loans, it...
I've decided to open on Saturdays. It's the right thing to do for our patients and customers, but I know staff won't be thrilled. How can I break the news? Take a cue from Dr. Lyndi Schmidt at...
We need to change the way we do staff meetings. People don't show up, they complain, and once they're in there, they aren't very engaged. There's a reason people don't want to attend,...
What's a good way to cheaply advertise? It's not new, it's not high tech and it's also not done enough by optical retailers: handing out practice-branded cleaning cloths instead of vendor...
Why are Russians checking my website? According to Google Analytics, they're 20 percent of my audience. It's freaking me out. These are not human visitors, says Matthew Perosi, a SEO expert and...
What do you do with patients who contact you via social media or a messaging app seeking medical or other advice? Refer them to your front desk, explaining that you can't discuss such matters via...