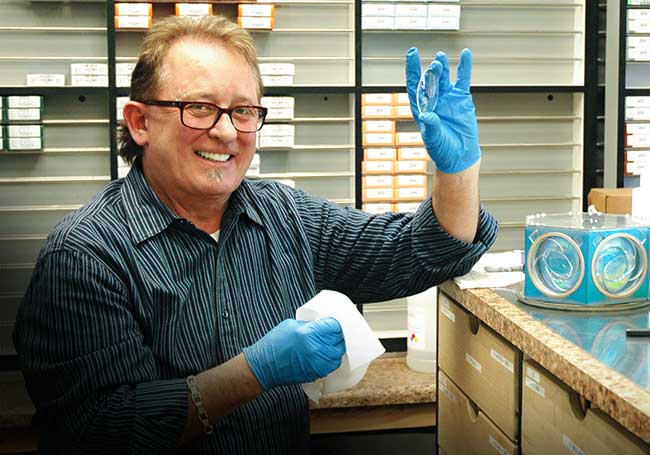 David Ulrich has been working in the optical business since age 18.
Investments help Minnesota business offer truly complete customer service
Whether it's a bedazzled diva, biker or vintage look its customers are going for, Spectacle Shoppe's lab artisans can craft it. Unique lens designs are its hallmark and they can be put into any one of the more than 12,000 frames the business carries across its four Minnesota locations. All have in-house finishing labs, and the original location has a surfacing lab, too. — CAROL GILHAWLEY
This article originally appeared in the September 2015 edition of INVISION.
---
THE IDEA:
The story of Spectacle Shoppe begins with its owner, David Ulrich, who got into the optical business in 1963 when he joined the U.S. Army. For eight months at Fitzsimons Army Medical Center in Aurora, CO, he learned how to fabricate lenses and put in an Rx. Next, he went to Okinawa, Japan, where his unit made eyewear for U.S. troops in Vietnam.
Once out of the service, he worked for Benson Optical before being recruited by an optometrist in Oshkosh, WI, to run his dispensary. After that, he worked at Shoppers City where he laid out optical departments in seven stores, put in equipment and purchased frames. In 1975, he and a partner bought a piece of land in New Brighton, MN, and built his first Spectacle Shoppe. "I knew how to use sophisticated equipment, I had the knowledge and I thought I could do this," Ulrich says.
THE EXECUTION: Many ECPs offer in-house finishing, of course. Spectacle Shoppe's finishing labs have Santinelli International's ME 1000 edgers and Santinelli's Ice 1000 intelligent blockers. Each finishing lab takes up about 10 feet by 10 feet and they each edge about 25 to 35 uncut lenses a day. Spectacle Shoppe took the next step 10 years ago and added a surfacing lab, too. Before that, the business's lab costs topped $30,000 a month. Now, it surfaces between 350 and 450 jobs and completes between 150 and 250 finish jobs every month.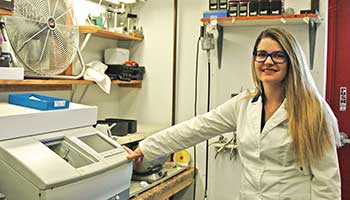 Kristina Winge says in-house lab service helps Spectacle Shoppe stay competitive.
Installing a surfacing lab is a lot more complicated than adding a finishing lab. Spectacle Shoppe's surfacing lab takes up about 25 feet by 20 feet and uses Schneider Optical Machines' DSC Prolab generator, Schneider's digital blocker and an Ultra Optics hardcoater. Incoming jobs are logged by a lab management system. Lenses get taped and blocked before being digitally surfaced and polished. The advantage of a generator like the DSC Prolab is that it can digitally surface, polish and laser engrave, so it replaces three pieces of equipment. Once a lens is generated, a surface technician applies a hardcoat on the back surface. He then inspects the Rx and power, and applies an AR coating if it's requested. Finally, the lens is fitted into the patient's frame.
THE RESULT: Says lab manager Kristina Winge, "Our patients can get a digitally surfaced lens with AR in a day, which is way above most optical stores. It sets us apart because we can do it all right here in-house and not outsource it." Spectacle Shoppe employs two surface technicians and four finish technicians to serve its national clientele.
The eyecare business has been good to Ulrich. His wife, Beth, is the chief operations officer. Their two teenage sons are too young to join the family business just yet, but "I hope the little guy will down the road," Ulrich adds.
DO IT YOURSELF
START OR EXPAND YOUR LAB OFFERINGS
➤ Find out whether you're doing enough lab work to justify an investment in finishing or surfacing equipment.
➤ Kevin Cross of Schneider Optical says you must consider whether your space has the necessary power, water and air for a surfacing lab, plus room to fit machines and staff.
➤ Order uncut lenses and cut them in-house. Edge lenses using your optician's measurements so patients get a customized product.h
➤ Adds Cross: "Adding a lab is a big change and mistakes will happen, so be prepared to go through a learning process and allow for time to really hit your stride."
➤ Talk with other ECPs and get feedback on the performance of lab equipment you're considering.
SPONSORED VIDEO: ESSILOR
Nominate a Difference Maker
Introducing #DifferenceMakers. Recognizing those who improve lives by improving sight.