How many optometrists does it take to screw in a lightbulb? One ... or two? Why do techs live such long lives? Because they di-late! And have you heard the one about ophthalmology jokes? They just get cornea and cornea! But seriously, ladies and gents, it's good to have fun at work. And as these six eyecare professionals show, there are many ways to have a good time on and off the job. Read their stories to see how they do it, then think about how following your own passions might prove entertaining to you, your staff and everyone else you meet all day. — By Marissa Walsh
Steve Grabowski
THE LAST OLD-FASHIONED OPTICIAN
Steve Grabowski is full of one-liners: "Did the nose come with the glasses or did you have to buy it separately?" "Did you hear about the optician who stuck his finger in the edger and made a spectacle of himself?" (Yup, that was him.)
He's quick with a quip, and that's part of his whole persona as "the Last Old-Fashioned Optician." He dresses the part, walking around town in his top hat. And if you enter his shop (The Spectacle Emporium in Laramie, WY, outfitted to look like an old-time, well, emporium), you'll be greeted with a suitably authentic "Howdy, Pard!" In fact, except for the ultra-modern frames he keeps in stock, you might think you've stepped back in time.
In business for 40 years, Grabowski became the Last Old-Fashioned Optician eight years ago, when he realized he needed to do something different to distinguish himself. ("It's tough whenyou don't have a doctor feeding you business," he says.) He attended Destination BootCamp, an immersive program from business coach Jon Schallert, to make his business a "destination," and it worked. Almost every day, someone from outside Laramie walks through his door. Grabowski differentiated himself by emphasizing what he knows best: his hometown and authentic, quality eyewear.
"I've always done things differently. You want your competition to think you are nuts ... and you don't want them to copy you."
As a fifth-generation Laramie resident — his family has been in the town since 1874 — Grabowski loves sharing wild Old West stories with customers while he's working on their glasses. Of course, sometimes people walk in and think it's an antique store or a museum, and he spends a half-hour giving a tour. He doesn't mind, though. He's trying to bring more people to Laramie, so they view it as "not just a place to get gasoline on the way to Yellowstone."
Grabowski enjoys slowing things down for visitors and customers alike, and that sets him apart in today's marketplace.
He figured his older customers would appreciate the vintage vibe. "What I didn't bargain for was that the kids — little tykes to college students — would go nutty over all the antique stuff," he says.
After eight years, his efforts are finally starting to pay off. "I'm hearing I'm just about the only doctor-less mom-and-pop optical left in this part of the country,"
Grabowski says. "It's even more fun now. I've always done things differently. You want your competition to think you are nuts ... and you don't want them to copy you." facebook.com/spectacle. emporium
Dr. Scott Lee
THE CARTOONIST
Optometrist Dr. Scott Lee was looking for a way to combine his cartooning, which he studied in college, and his work as an eye doctor at Atlantis Eyecare in Huntington Beach, CA. "You draw what you know," he says, so he started creating optometry-themed cartoons every week to share with his office. Sight Gags proved to be a hit, and he soon had such a large collection that he decided to publish them as a book. (It's available at invmag.us/5158.)
His patients enjoyed the book in his waiting room when it was first published — sometimes they enjoyed it so much he had to replace the copy. Other patients appreciate that he does creative work in his spare time. Still others feel better when Lee shows them a few cartoons on his phone. (He's found it relaxes patients who might be anxious.)
Of course, a few people are concerned they might do something to inspire a cartoon, and Lee does get some of his ideas from patient interactions. He points out, however: "I want to be the optometrist who draws cartoons, rather than a cartoonist who does optometry. It's very important for me to be a good optometrist and know my stuff. I want to put that first and foremost, and then have fun with the cartooning on the side."
He doesn't sketch at the office, but he does keep a running list of ideas. And the jokes keep coming. Dr. Lee already has 50 new cartoons ready to go for his next book. "It makes work more enjoyable. Everything is more enjoyable when you can laugh at it," he says. "I've always been a funny person. I've always liked to incorporate humor in everything I do, so to be able to do that with family, friends and now work has really helped me keep my career fresh." facebook. com/sightgags
TRACY GROOMS-KEY
THE SINGING TECH
Since she started working in eyecare in 1994, Tracy Grooms-Key has been lightening the mood of her office with song — and her co-workers and patients love it. At Drs. Record & Record Optometrists in Charlottesville, VA, people often come in and ask for "the singing tech." Tray, as everyone calls her, went to school for voice and has been the music director for a local choir for 24 years. "I like to sing, so sometimes to break the silence, or if a patient is feeling nervous or awkward, I would just break out into ..." — Grooms-Key starts singing Minnie Riperton's "Lovin' You" over the phone — "... and they're like, 'O.M.G.'"
Sometimes patients start singing along with her and even dancing with her, but even if they just listen and enjoy, they often tell her it was their best eye exam ever. "By the time they leave, I usually try to put them in a good mood," she says. "But my main goal is never to treat them like a number. I will treat them the same way I would want to be treated and that's as a person, as an individual."
"My main goal is never to treat [patients] like a number."
Over the years, Grooms- Key has learned a lot of people hate visiting the eye doctor — it's like going to the dentist for them. They know they have to get drops and they have to be dilated, so she tries to help them forget where they are. She says she wants them to think, "I'm just hanging out with someone that is cool and crazy. It kind of takes their mind off of it, and by the time they to get to glasses, they want to look for something fun and funky. And I'm like, 'You better do you, girl.'"
Grooms-Key has gotten to know a lot of her patients, and she looks forward to their visits to learn what happened on the person's cruise vacation, or if the new baby in the family is a boy or a girl. Her enthusiasm is infectious, and it comes in handy on the days when she is confronted with those few not-so-nice patients. She loves life, and even if she is having a bad day, you won't know it. Ask her how she is on Tuesday, and she will answer, "I am fantastic. It is almost Friday, boo." A pause. "Don't kill my dream." She laughs.
JONATHAN DONG
THE VIDEO DIRECTOR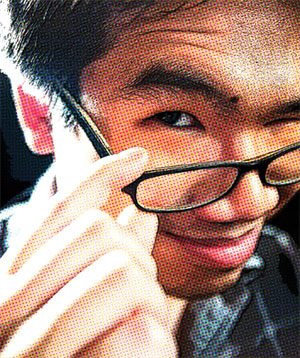 OK, maybe it doesn't have more than 750 million YouTube hits like the video it parodies. But with 136,000 views for his Thrift Opt video filmed during his first year at the Illinois College of Optometry, Jonathan Dong made a clever and hilarious viral video that would make Weird Al Yankovic proud.
Dong got the idea for the parody of Macklemore & Ryan Lewis' 2012 Grammy-winning hit Thrift Shop in part from discovering that so many of his classmates had interesting talents. The star of the video had a theater background; others were choreographers. "Optometry school brings together a whole kind of diverse group of people and you never know really what someone's talented at until you ask them," he says. Dong decided to get everyone together to make something really cool, and he certainly succeeded. The administration and students got on board and more than 60 of his classmates — happy for the study break — participated in the actual shoot.
The video's YouTube rise helped Dong understand just how tight-knit the optometry community is. Ever since its debut, Dong has met people who've watched the video, or showed it at a conference, or even to potential optometry students to illustrate what they would be learning in school. Doctors shared it with their patients and their staff. "Seeing that it was something that the optometry community really rallied around and had a good time with, that was really impressive to me," he says. "We always want to take what we do as doctors and (make it) something that everybody can relate to and that everybody can appreciate."
Dong has been too busy with school — he graduates next year — to make a follow-up video, but he's happy with his chosen field. "Optometry, helping patients, being with people — helping solve their problem and complaints with their eyes — can be just as creative, just in a different way," he says.
Watch Dong's video at invmag.us/ thriftopt. And speaking of videos, we also love the latest one (New Glasses, a takeoff of Good Lovin' by the Rascals) from Drs. Andrew May and Barrett Martin of Johnson Optometric Associates. We profiled this prolific optometric video team in our Best of the Best department last year. See all their spoofs at youtube. com/user/johnsoneye.
DR. DAVE SCHULZ
THE MAN IN SHORT PANTS
Dr. Dave Schultz recently celebrated his 25th anniversary in business, and he has been wearing shorts — or "short pants" as he calls them — to work every day for at least the last 15 years. It used to be an intermittent thing until one of his regular patients referred her 80-year-old mother to him. The mother was disappointed because her daughter had promised that the doctor would be wearing short pants — but he had long ones on. That was the last day he wore long pants to the office.
In fact, his motto is, "Life's too short for long pants." His shorts set the tone for the whole office at Urban Optics in San Luis Obispo, CA; they loosen things up. Women will come in and they'll say, "I've never seen you in pants." He leaves that one alone. Men will come in and say, "Aw, I wish I had a job where I could wear short pants." To which the happily self-employed Dr. Dave replies, "Well, you need a boss like I've got."
"Life's too short for long pants."
He finds this relaxed environment makes his patients more relaxed, too, and it allows him to be funnier than most doctors. "When patients come in, I'll go out to call them in, and the patient will say, 'Do you need my glasses?' and my response will be, 'No, thanks, I already have a pair of my own.' And I have a basic rule for my patients with contact lenses: If you drop them in a gas station bathroom, please don't pick them up."
Schultz acknowledges that he does have more freedom because of the retail end of his practice. His custom space is cool, definitely more retail than medical, and his staff wears neither lab coats nor nametags.
He is clearly a guy who enjoys life, and his business reflects that. But there's another reason for his comic routine at the office: "My staff loves it." It keeps turnover low, too, he says, adding, "I've had staff members leave and make more money doing something else and then come back and ask for their jobs back." urbanoptics.com
Dr. Rachel Holden
THE STAND-UP COMEDIAN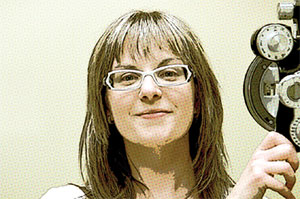 Dr. Rachel Holden is an optometrist by day. But by night, she's Rachel Sommer (her maiden name), an award-winning stand-up comedian. And at all hours she is a mother to her three small children.
Yep, she's basically a superhero. And like Superman, most of her patients don't know about her nighttime identity. Audiences know about her optometry, though; she bills herself as the world's funniest optometrist, and one-third of her act is about her job. The rest of her material is about being a mother, and being married to an Australian. (She sometimes wears her wedding gown on stage because she wants to get additional use out of it.)
Holden's doubleidentity started after graduating from optometry school in Australia. She was in her first year of working when she happened to see a poster for a comedy competition. She had always wanted to try it out, so she wrote some material, memorized it, practiced, freaked out backstage before going on — and ended up winning. It was her first time on stage.
"On average, most people would say their optometrist is not funny, but when you work with people, you have to have some level of a sense of humor to keep your sanity," says Holden, who practiced in Winnipeg, Manitoba, Canada, and is in the process of moving back to Australia. "If you can put a little bit of humor into a consultation it goes a long way. Optometry attracts a wide range of people that have a lot of other interests. A lot of optometrists have dual identities, do other stuff, too. It's cool. It makes for a well-rounded profession."
Both in her office and on stage, she's excited to be "breaking a few of the rules that optometrists are boring and dull and not fun." If she had to choose, though, she would choose comedy. She's currently pitching a TV show with two co-writers. Called Hindsight, it's about — you probably won't be surprised to learn — an optometrist who wants to be a stand-up comedian. Facebook page: invmag.us/rachel