This article originally appeared in the Nov-Dec 2014 edition of INVISION.
SEE AN EYE DOC FOR YOUR LENSES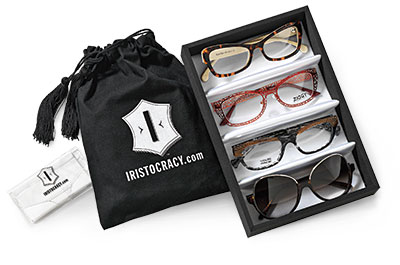 Iristocracy sells frames online. But it sells them without lenses — and connects buyers to an ECP who can help them get the best lenses and an updated prescription. (Users get a $50 Visa gift card in return if they send in proof that they filled their frames at an ECP.) Through its new Ambassador program, Iristocracy ships a retail try-on kit of four frames chosen by the customer to a participating ECP, who earns a revenue share on any frames the customer buys from the kit (plus any profit from lenses and the eye exam). Iristocracy CEO Natasha Vora says the program is ideal for practices that can't stock as much inventory as they'd like, as well as eyewear shops that would like to boost their optical selection of high-end designers. Information: (855) 348-IRIS or

This email address is being protected from spambots. You need JavaScript enabled to view it.
---
EYECARE STARTUPS GET A SHOWCASE

Phoropter-less refraction technology from DigitalVision Systems and presbyopia-reversing eye drops from Encore Vision were voted the "most poised for success" and "most innovative and disruptive" among eyecare inventions showcased at the inaugural Future in Focus event before Vision Expo West. DigitalVision System's Vision Optimizer virtual refraction platform, developed with Georgia Tech, is in clinical trials now. Bill Burns of Encore Vision told participants that the company's eye drops lessened lens stiffening in pre-clinical trials. A day before the conference, the Wall Street Journal reported that startups addressing eye problems drew $848.9 million in 2013, the most for any body part. A second Future in Focus event is set before Vision Expo East 2015 in March. Information: thefutureinfocus.com
---
EYE BIZ LEADERS LAUNCH NEW APPS

Two big vision care companies have recently launched apps, and another should debut soon. VSP Optics' new fitting app, My Eye.D., helps eyecare pros customize Unity lenses and coating options based on each patient's prescription, frame and lifestyle. A UV Protection App from the Vision Care Institute (part of Johnson & Johnson) helps ECPs explain the causes and effects of UV exposure and ways to stay safe in the sun year-round. Both are available now in the App Store. Meanwhile, Essilor is partnering with AllAboutVision.com to create a mobile app, AskAboutEyes. Dr. Paul Karpecki will manage a network of paid ECPs across the country to answer users' questions on eye health. Information: invmag.us/11148
---
FASHION DESIGNERS NAME EYEWEAR TEAM

A dozen eyewear designers — part of a new working group within the Council of Fashion Designers of America — will build awareness of eyewear's growing role in the American fashion industry. Members of the Eyewear Designers of the CFDA are Barbara McReynolds, L.A. Eyeworks; Blake Kuwahara, Focus Group West; Christian Roth, Optical Affairs; Daniel Silberman, Illesteva; Gai Gheradi, L.A. Eyeworks; Grant Krajecki, Grey Ant; Justin Salguero, Illesteva; Larry Leight, Oliver Peoples; Natalie Levy, Grey Ant; Patty Perreira, Barton Perreira; Robert Marc, Robert Marc; Selima Salaun, Selima Optique; and Shane Baum, Leisure Society.
---
HELP PATIENTS CONTROL DIABETES

November is Diabetes Awareness Month, and Prevent Blindness estimates that the number of diabetic retinopathy cases in the U.S. — currently more than 8 million — will grow to almost 11 million by 2032. The organization lists "7 DED-ly Sins" those at high risk must watch for: Not visiting an eye doctor annually if you have diabetes or are at high risk; not maintaining a healthy weight; decreasing physical activity; failing to monitor blood sugar levels; not maintaining healthy blood pressure; smoking; and not getting a dilated eye exam if you become or plan to become pregnant. Information: invmag.us/11145
---
AARP.ORG USERS GET AN EYEFUL

The Vision Council is running a campaign on AARP.org. The ads include information on general eye health, low vision and eyewear as fashion. AARP.org averages more than 6 million monthly visitors.
---
OPTI 2015 SET JAN. 9-11

Since its debut in 1998, Opti in Germany has become a key spot to see fresh optics and fine design trends. The trade fair returns to Munich in mid-January. Last year's show had 500 exhibitors on hand from 34 countries, and organizers expect more than 23,000 visitors to shop the exhibition grounds during the 2015 edition. For tickets , travel information and an online catalog: opti.de/en

Send your product announcements to INVISION at This email address is being protected from spambots. You need JavaScript enabled to view it..