Optical League of Extraordinary ECPs
When Metropolis was menaced by evil-doers, a handsome alien in blue tights and a red cape appeared to protect the city. When Gotham City was overrun by crazy criminals, a millionaire playboy dressed up like a bat to strike fear into the hearts of his foes. And when villains began to roam the streets of New York, its citizens placed their hopes in a wall-crawling teenager in a spider suit.
But what of eyecare customers? Was there no one to treat them with sensational service? To stave off conflict where it rises? To save the most mangled of frames and return them to rights in the blink of an eye? To fight the insurance bureaucracy and rise victorious on the side of their patient??
Never fear, true believer, for a new breed of heroes has stepped boldly into the limelight, ready to take on any obstacle with no hesitation. These optical champions fight for truth, justice and the best possible eyecare experience for all on a daily basis. Some were gifted with powers beyond mortal ken, while others have earned their skills through knowledge, repetition and a dedication to be the very best.
Let those who would perpetrate average service, mediocre dispensing and a lackluster patient experience tremble, for INVISION gives you ... Optical's League of Extraordinary ECPs!
---
ALTER EGO: JON DuCOTE
BASE OF OPERATIONS: EYEWORKS OF ATLANTA, ATLANTA, GA
"I AM THE MASTER OF ADJUSTING! THE ALL-POWERFUL FRAME MAGICIAN!" There is no such thing as ego when you are a superhero who routinely saves the day and loves doing it like ADJUSTOMAN.
"Long ago when I worked at Sunglass Hut, ODs would send their patients to me for adjustments," says Jon DuCote. "I really do love adjusting frames for people. It's one of the most satisfying parts of my job."
One of his best saves comes by way of one of his favorite patients, "Rev. Smith." "He brought in his prescription Ray-Bans and was so distraught! They were very bent out of shape, lens popped out. He thought nothing could be done,and I have to admit, I was a bit shaky about them. But I've never turned away from a challenge to conquer!"
Spoken like a true hero. "Patience and a magical combination of tenderness and pressure with thin metal, I used my powers to bend the frames and put the lens back into the frame in a matter of moments!" says ADJUSTOMAN. "When I handed them to him, he went nuts, going on and on about what a miracle worker I was!
Over the years, people would come in saying, "Rev. Smith told me I had to come see you to get my frames adjusted." When a Reverend calls someone a miracle worker, it's a big deal!
---
ALTER EGO: RICK RICKGAUER
BASE OF OPERATIONS: VISION ASSOCIATES, GIRARD, PA
RICK RICKGAUER earned his superhero identity deep, deep in the trenches. "I'm a freak when it comes to fixing drill mount problems," he says, "because when I worked at a chain we sold so many pairs that came back for repairs I had to learn how to fix them or drown in complaints."
In fact, while working at that retail chain, he literally had to make tools from other tools in order to repair drill mounts. "For example, I had sidecutting pliers covered in transparent tape to remove compression fittings without scratching the lenses; push pins to remove broken prongs; double nylon jaw pliers to compress the fittings," he says.
Now having been with Vision Associates, a private practice in a small Pennsylvania town, for nearly four years, DRILL FREAK uses his powers for good. "Now that I have the proper tools it almost seems unfair. Once I had this lady come with a broken bridge on a drill mount. She was leaving on vacation, and the only bridge I had was one that didn't particularly match. It was close enough, but the prongs were slightly bigger than the original drilled holes." What to do!?!
"I carefully widened the holes without ruining the lenses. It took some time and patience but it was a success and off she went to enjoy a splendid vacation." Crisis averted!
---
ALTER EGO: DR. TEXAS L. SMITH
BASE OF OPERATIONS: DR. TEXAS L. SMITH & ASSOCIATES, CITRUS HEIGHTS, CA
"I HAVE MY PATIENTS laughing within two minutes of every exam — this includes men, women and children. I have a joke for almost every situation, and nothing puts a patient at ease quicker than laughter," says Dr. Texas L. Smith. Truer words were never spoken, and there may be no greater superpower on the planet than giving the gift of laughter.
One of DR. CHUCKLES' go-to jokes? "I once had a patient that thought she had bromyalgia because she hurt everywhere she touched with her index finger. Turns out she didn't have bromyalgia ... she had a broken index finger." Now that's funny stuff.
One experience stands out above all others for DR. CHUCKLES. "I asked a long-term patient during her case history if she had had any recent medical events or surgeries. She lifted her sweater and said 'I recently got these.' As my life, my wife, and my practice all flashed in my mind in an instant, I was composed enough to say 'My compliments to the surgeon.' The rest of the exam gave new meaning to 'Which is better 1 or 2?'" Ba dum bum!
---
ALTER EGO: VALERIE SMITH
BASE OF OPERATIONS: SMOKE VISION CARE, NEW BUFFALO, MI
VALERIE SMITH of Smoke Vision Care is no regular insurance biller. She's earned the nickname HONEY BADGER but, unlike her namesake in the wild, it isn't because she "Don't care." With nine years under her belt at Smoke Vision Care, her superhero moniker came about four years ago, thanks to her fierce ability to ensure all claims are completed and reimbursed correctly. She is one of the greatest assets Smoke patients have and she fights for them daily.
Since taking over the billing in Smoke Vision Care's Buchanan location, she has kept their accounts receivable well managed: Accounts past due over 90 days are rare and average less than 5 percent for the last four years.
In fact, her powers go so far as to find vision insurance for patients who didn't even realize they had it. Recently, a patient didn't know she had EyeMed but, upon hearing the news from HONEY BADGER, purchased glasses. Also, when patients with an ASR under a local university's plan kept repeatedly having their claims screwed up, reducing their material benefits and giving them less to use on glasses and contact lenses, HONEY BADGER went to bat resulting in all the claims being reprocessed in the patients' favor. Her favorite way to save the day, though, is to read VSP their own manual when they screw up the way they cover services.
However, it should be noted, despite her hardhitting ability to fight for patients, Smoke Vision Care counts her as one of the most understanding leaders they have, calling her "fair, calm in the midst of chaos and someone who rarely makes mistakes."
---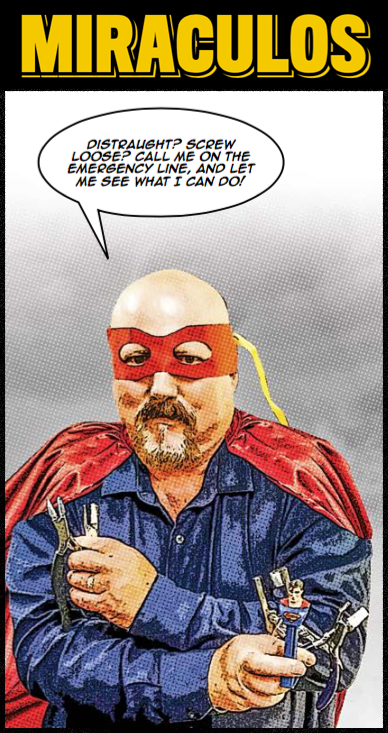 ALTER EGO: JEFF GROSEKEMPER
BASE OF OPERATIONS: CASA DE ORO EYECARE, SPRING VALLEY, CA
SUPERHEROES ARE TERRITORIAL, so similar super powers around the country is only natural and we can never have too many miracle workers. "The good Lord has given me the gift of repairing frames and aligning frames that have been tweaked very badly, even run over by cars," says MIRACULOS, or Jeff Grosekemper to many. "They call me the miracle worker in the office and some patients have even called me that but I'm quick to remind those that the Lord has given me my talent."
MIRACULOS has been a certified optician for 22 years. The last 16 have been spent at Casa De Oro Eyecare helping the good citizens of Southern California battle their eyeglass woes. Like the story of a women who called the emergency line late one Saturday night when the doc was out of town ... "She had just moved into the area up the street from our office and was unpacking. She dropped a box on her glasses and was very distraught. She said she couldn't see to unpack anymore," MIRACULOS recalls. "I told her I would come in the next morning, a Sunday, and see what I could do. The frames were bent at the bridge and the temples splayed out badly and unevenly with a screw broken." Can they be saved?!? Have no fear! "I was able to replace the screw and align the frame. Best of all, she was surprised to hear 'No charge.' I made a patient and a friend that day." Miracle worker, indeed.
---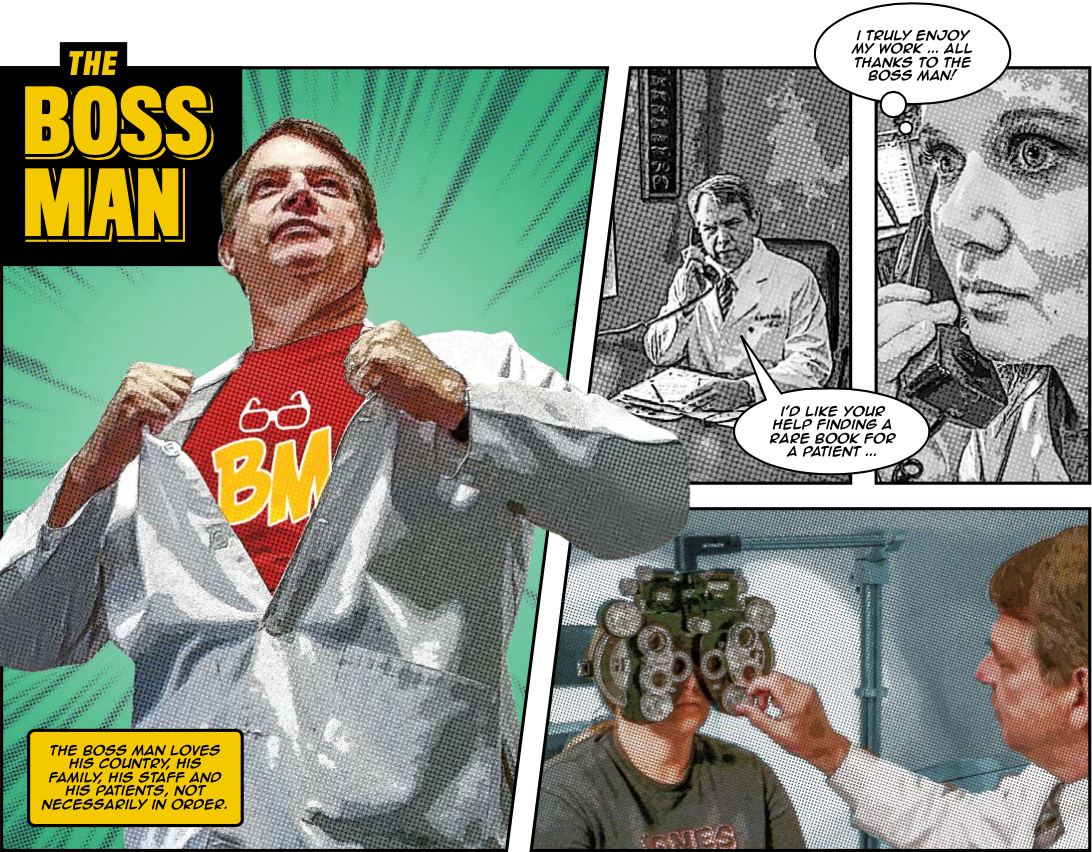 ALTER EGO: DR. MICHAEL PENNEY
BASE OF OPERATIONS: DR. MICHAEL PENNEY FAMILY EYE CARE, POPLAR BLUFF, MO
SOMEWHERE IN SOUTHEAST MISSOURI resides THE BOSS MAN. Having opened his practice in 1987, Penney is now the longest practicing optometrist in Poplar Bluff with a staff of the most loyal, long-term employees around. Lorelei, Debbie, Suzanne and Candice collectively have more than 50 years of experience under their belt working for THE BOSS MAN.
THE BOSS MAN's crew describes his superpowers as "caring, compassion, loving, selfless ... the list goes on and on." Suzanne Pigmon calls Penney the "all-American Superman! He loves our country and does his best to provide care for both his patients and his employees." Lorelei Morris adds, "It's rare to find a job that you truly enjoy. Luckily, I have done so, and that's greatly in part thanks to Dr. Penney. Our office is like a family, with Dr. Penney leading us as the patriarch. He is encouraging, complimentary, motivating, kind, funny, trustworthy, and supportive. He's one of the hardest working and most generous people I've ever met."
One example of THE BOSS MAN's heroics particularly stands out to Debbie Padgett, an employee of 24 years. "We had a 90-year-old patient who was a WWII vet," she says. "In talking with him during his exam, Dr. Penney found out the patient had been in the 4th Armored Division during the war. The patient told Dr. Penney about how each man received a book that detailed the battles they'd been in, kind of like a yearbook. He said that his book had been lost or stolen many, many years ago during the war. Dr. Penney searched and searched until he found an original book, exactly like the one the patient had lost. The next time the patient came in, Dr. Penney presented the book to him. I will never forget the look on the patient's face when he realized the book Dr. Penney gave him was just like the one he'd lost."
Ultimately, what makes THE BOSS MAN a superhero is the love and loyalty of his staff but that's not all, it's also what he inspires in others. "Although I spend almost every waking moment with this man, he never ceases to amaze me," says Penney's wife, Karen. "Being his wife for almost 26 years, and working with him every day in the office, he still remains my hero because of his compassion and generosity for others. I have learned so much and been so inspired by his kindness and desire to be in the service of others." High praise.
---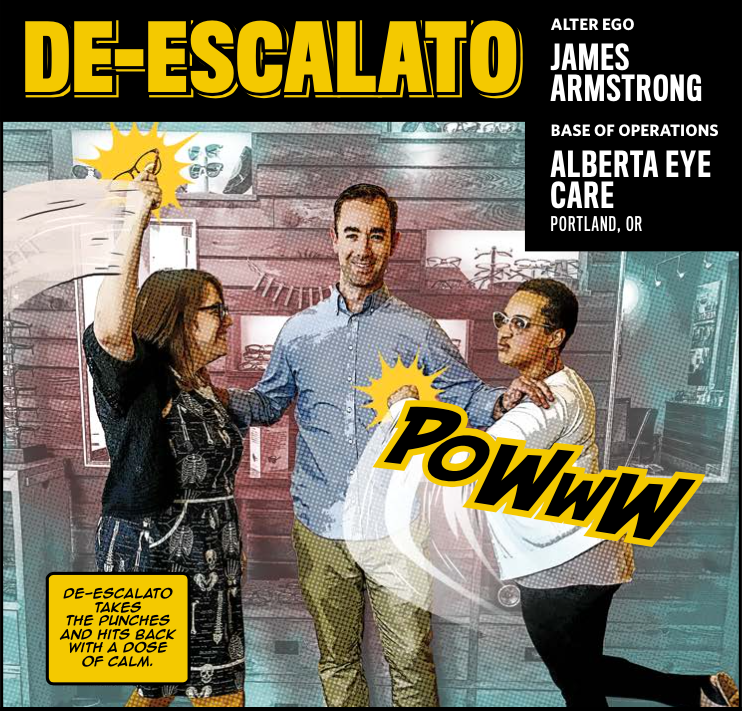 UNDER THE MILD-MANNERED guise of a former forensic accountant lives the soul of a hero. "Give me an upset patient, emotional employee, or feuding staffers ... I have the ability to receive their emotional punches and hit back with a calmer and more productive outcome," says James Armstrong, aka DE-ESCALATO. "With over a dozen staff members, working in under 1,500 square feet of total office space, I usually see at least one set of tears in my office a month.
"The first thing I do is listen, which involves more than you might think: soft eyes, affirming head nods, or anything else I can do to make the employee comfortable so that they keep talking and get everything off their chest. Once unburdened, I usually find myself affirming their story back to them, so they know someone is listening. More often than not, once they have gotten it out in the open and know that management is aware, the problem is solved."
But DE-ESCALATO's job doesn't stop there. "When situations get more elevated, or involve more deeply personal issues, I do my best life coach impersonation. Everything can have a positive spin, and there is no value in focusing on bad news. After reprimanding an employee for breaking a company policy, I make sure to end the conversation talking about what they're doing right. Regardless of how I feel, my job is to make sure they leave my office happy, motivated and ready to help patients."
And DE-ESCALATO is ready to start another day fighting for the greater good!
---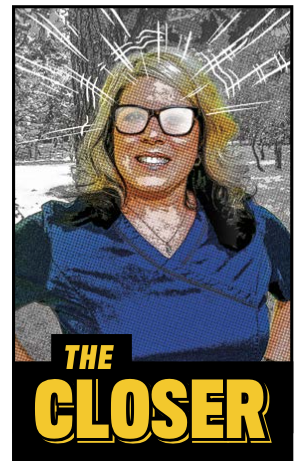 ALTER EGO: REXANNE COLLIER
BASE OF OPERATIONS: TEXAN EYE OPTICAL, AUSTIN, TX
REXANNE COLLIER is a seasoned veteran. She's been in the optical industry since 1994 and the optical operations coordinator at Texan Eye for eight years overseeing three locations, so it's no surprise her superpower shines as the last line of defense in tricky situations. THE CLOSER helps her staff with difficult patients and problem-solving.
"When my staff has done their best helping with a difficult situation and the patient is still not satisfied, that's where I come in," she says. SWOOP! "By thinking outside the box and looking for a solution from every angle, I excel at problem solving and pride myself on being understanding and sympathetic to the patient's needs. I can confidently say I have a tremendous ability to reach patients on their level, explain my position and come to an agreement that satisfies them. The patient leaves with a sense of security and the knowledge that we care about their needs."
Her patients leave appreciative and impressed, when initially, they came in genuinely irritated, THE CLOSER to the rescue!
---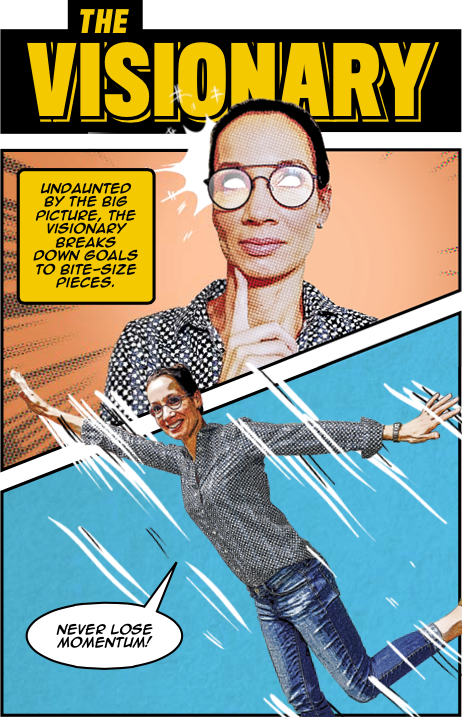 ALTER EGO: DR. SELINA McGEE
BASE OF OPERATIONS: PRECISION VISION, EDMOND, OK
"WHEN I SET A GOAL, sometimes ones my team thinks are crazy and unreachable, we make the goal," says Dr. Selina McGee, the day-to-day alter ego of THE VISIONARY. "I set weekly, monthly, yearly and five- and 10-year goals, and thus far in a 14-year career in the eyecare field I have been very blessed to have met all my goals."
Most recently, THE VISIONARY set a goal for her office to increase gross revenue in 2016 by 25 percent. They grossed $709,962 in 2015, so the new goal was to hit $887,453. "I have found that if you draw yourself a roadmap toward your goal and do it in bite-size pieces it becomes more attainable," she says. "The roadmap needs to also have a very clear endpoint so everyone on the team knows where we are going, why we are going, and what it looks like when we get there." So, she took the gross number the practice needed to reach and began to work backwards: How many patients did they need to see per month? Per week? What did their totals need to be each day? What did they need to average per patient?
"Once I had the hard numbers, then I talked to my team and asked myself and them, 'What do we have right now to attain this? What is missing to achieve what's possible? What tools do we need to get there?' For me, when I break down my goals into what I need to do right now it's not nearly as daunting."
Of course, it doesn't stop there, as a superhero is never off duty. "As a team we revisit and reassess monthly, this allows us to not lose momentum and to correct the course if we need to. We ask ourselves, 'What's working?' That one is usually easy. Next, 'What's not working?' and this one is always harder, but when you build your team and trust each other great things can come from those two questions. Real problems get solved."
The result? Precision Vision hit the 25 percent mark with five months left in the year. POW!
---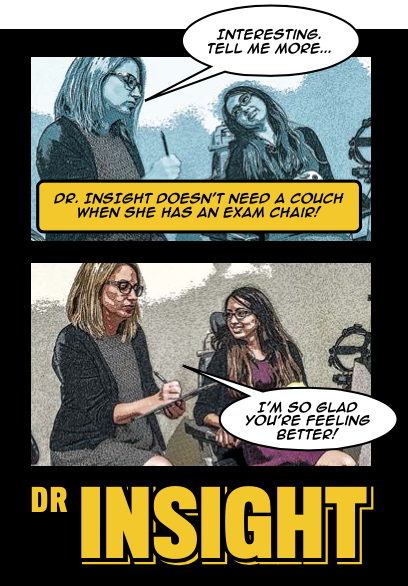 ALTER EGO: DR. CYNTHIA SAYERS
BASE OF OPERATIONS: EYESHOP OPTICAL CENTER, LEWIS CENTER, OH
"MY STAFF TELLS me that I should put a couch in my office because I have a second job as psychiatrist," those are the words of DR. INSIGHT. "I have an amazing ability to turn any patient, no matter how difficult, into a smiling, happy patient. I have a knack for finding out something we have in common to strike up a conversation to make them more comfortable. I think it is my ability to connect on any level that keeps patients coming back."
But Dr. Cynthia Sayers of EyeShop Optical Center is not a trained psychiatrist. She comes by her ability to connect naturally. Take the case of a patient she calls Eeyore. "She is in her late 60s with multiple health issues," explains DR. INSIGHT.
"She came in a wheelchair, with her son pushing her, barking orders! I was a little intimidated at first, but have learned that finding common ground can help break down the walls with these types of patients. I asked her some personal questions and found out the most important thing to her is her French bulldog, Zelda. I too have a French bulldog so we immediately started chatting about our pups." BINGO! "I had to schedule her back for several visits," she says. "On all her visits she would ask about my dog. She was always a bit gruff with her son, which is why I coined her my Eeyore. Instead of getting upset she took it as a token of affection. She would call me occasionally to chat and we became buddies. One day, while celebrating our fifth annual Patient Appreciation Day, she called. She was on doctor ordered bed rest and her son couldn't let Zelda out. She asked if I would. When my staff asked where I was going during the party, I told them I had to help with Zelda. I'm pretty sure they thought I was crazy."
"Eeyore was much appreciative. Moral of the story: you never know what someone is going through and finding common ground can make a loyal patient for life," says DR. INSIGHT. Spoken like a true superhero. But she offers a word of caution ... "Angry patients be warned ... you will leave EyeShop in a good mood!"
SPONSORED VIDEO: VISION SOURCE
Optometric Practice in a Small Town
Practicing in a small town gives you the diversity and opportunities to practice full-scope optometry. See how one OD found professional and personal fulfillment in a small town.